Puget Sound graduates (majors and non-majors) win internships at theatres in the Northwest and around the country; they enter MA, MFA and PhD programs in the States and abroad. Theatre alums excel in many different professions from theatre and film to education and business. Here are just a few examples:
Alumni Spotlight: Casey Oakes, '13
By Ainsley Austin, '23
Image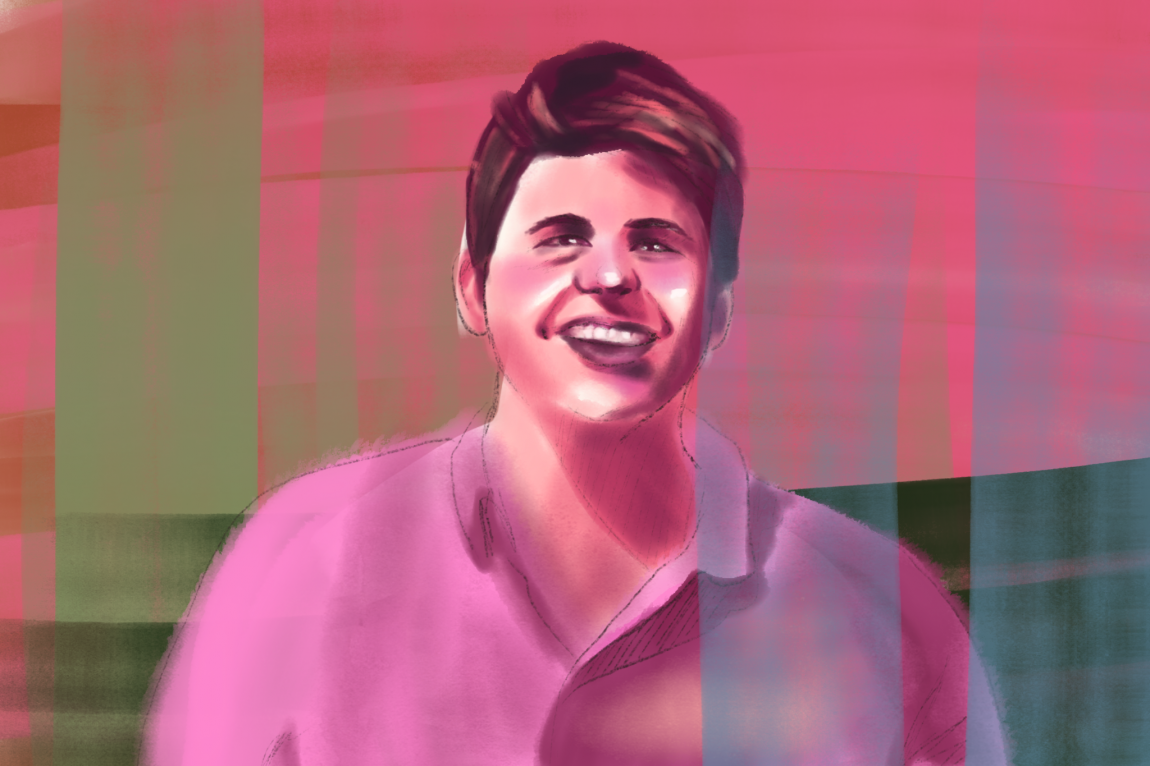 Casey Oakes '13 came to the University of Puget Sound without ever having visited campus. He knew he wanted to attend somewhere far away from his home state of Maine and thought Puget Sound was one of the "most beautiful colleges in the country." He didn't think it would be possible to make theatre his career, so he entered school as a psychology major. But with encouragement from his parents and the expert faculty at Puget Sound (Geoff Proehl, Kurt Walls, & Marilyn Bennett), Casey changed majors and has remained involved in the theatre ever since. Much of Casey's professional work has been in arts administration and he recently completed a master's degree in nonprofit management from the Muskie School of Public Service at the University of Southern Maine. He's considering pursuing his PhD next and says he feels lucky to be able to work in the arts full-time.
While at Puget Sound, Casey was active in many aspects of student life, including being a part of Sigma Chi Fraternity and studying abroad in Dublin, Ireland for a semester at the Gaiety School of Acting. He double majored in Theatre Arts and English with an emphasis in Creative Writing, both of which he uses every day as the Director of Marketing and Communications at Portland Ovations, a performing arts organization in Portland, Maine connecting artists and audiences through diverse arts experiences. Casey was very involved in the Theatre department at Puget Sound; acting, directing, playwriting, and even being awarded two scholarships for stage managing department productions.
The day after graduation, Casey moved across the country to New Jersey to intern at Cape May Stage, a professional Equity theatre company. "I sometimes experienced 100-hour weeks working on two shows at once. It's still one of my very favorite jobs," he said. "When my internship ended they hired me as the Equity Production Stage Manager where I stayed for another year until moving to Massachusetts to be the Director of Artistic Engagement at Gloucester Stage." After working in Massachusetts, Casey moved back to his home state of Maine and worked for Good Theater as an Artistic Associate and Equity Stage Manager and then spent four years at the Bowdoin International Music Festival, one of the world's premier music institutes. In 2019, Casey started in his current position at Portland Ovations.
Portland Ovations presents a wide range of performing arts — including Broadway, dance, music, and theatre. The organization is currently producing and presenting virtual performances and conversations and "evolving with the moment until we can get back to being live," Casey says. In addition to his work at Portland Ovations, Casey also serves on three boards — the Portland Conservatory of Music; a community music school; the Portland Ballet, a nonprofit for dance education and performance; and Visit Portland, the official marketing organization for Portland, Maine.
Casey's double major has greatly impacted his career. "A big part of my work has been marketing, development, and arts administration," he says. "I try to always be telling a story, and  
 that's what marketing is at its best." Casey's love of storytelling is what ultimately drew him to a degree in Theatre Arts and Creative Writing at Puget Sound. His advice to current theatre undergrads is to take full advantage of the Puget Sound community because it goes by too fast. "It's a once-in-a-lifetime experience. You don't get this opportunity twice. Enjoy it all."
You can find more of Casey's work with Portland Ovations here.
News Items, Press Releases, and More
Puget Sound graduates (majors and non-majors) win internships at theatres in the Northwest and around the country; they enter MA, MFA and PhD programs in the States and abroad. Theatre alums excel in many different professions from theatre and film to education and business. Here are just a few examples:
Alumni Spotlight: Ben Shelton, '03
By Ainsley Austin, '23
Sitting in a room filled with theater posters, a University of Puget Sound pennant, and art, Ben Shelton, '03, shares his college experience as a Theatre Arts major and English minor. He is now a filmmaker - writing, directing, and filming a wide variety of artistic projects in addition to being a husband and the dad of two during a time of virtual schooling. Recently, he directed the 2018 Netflix original movie Candy Jar.
Over quarantine, Ben has been working on a variety of new work, including a musical romance that features both deaf and hearing actors. In working on this project, Ben has been studying American Sign Language and immersed himself in Deaf culture, which he describes as "absolutely wonderful" and "life changing." Ben believes that current online limitations have led to more creativity. "Even though Zoom is a bizarre way of communicating, it's pretty damn good...and it's an authentic real interaction," he says. "It's hard, of course, but I'm very inspired by this technology."
Though he was a Theatre Arts major, Ben has known he wanted to make movies since he was in junior high. He says, "making films was something I always wanted to do." His uncle is also a filmmaker and mentor, encouraging Ben to go to college and use his life experiences to make movies. And he certainly listened to this advice.
While at Puget Sound, Ben took advantage of every opportunity offered. He shares that he lived both on and off campus, worked as an RA, was a KUPS DJ, played basketball, acted in four Senior  Theater Festival performances, and served as student body president. Additionally, Ben was on the search committee for President Ron Thomas, who served before current president, Isaiah Crawford. He says being involved in so many activities is what he loved about attending UPS. "I was fully involved in basketball...and I was fully involved in theater and I was not special. Everyone at Puget Sound is involved in multiple things and it's totally normal, it's totally accepted," he reflects.
This love for many art forms is present in Ben's post-college life as well. Storytelling is one of his biggest passions. He says, "theater and film are different mediums, obviously, but [movies are] still storytelling, and still working with actors, and still studying the script, and so, to me, there's a lot of similarities. You still are trying to tell a story with movement, with dialogue, with choreography." He has found that learning how to study characters has helped him develop greater empathy for people with different worldviews. He comments that the ability to understand fictional characters' motives and beliefs spills over into real life, allowing you to have empathy, which for Ben, is "what this whole thing is about…[caring] for other people more than you care for yourself."
Ben finds storytelling to be how he learns about life. "Music, theater, and film -- those three art forms are everything to me. They're my religion. [Art] takes you out of your head, it allows you
 to feel something," he says. He encourages current Puget Sound students to experiment with "really bizarre, strange, heartfelt theater, film, music, storytelling," because college provides an opportunity to create art without having to worry about the business aspect of it. He also encourages students to "be involved in as much as possible," and reminds them that "it goes by fast, so make sure to soak it in and slow down."
You can find more of Ben's work at sheltonfilms.com. Ben is also currently directing an Acting Class over Zoom! You can find all of the information for the Acting Class here.
---
Alumni Spotlight: Liz Frost, '17 
By Ainsley Austin, '23
When Liz Frost, '17, graduated from the University of Puget Sound and moved to New York City, she wanted to be involved in theater, but wasn't sure how to break into such a competitive field. In NYC, she first worked for a moving company and, believe it or not, a chance meeting at pilates class was her foot in the door. After a short conversation, her pilates instructor pointed her to an off-Broadway theater company, The Barrow Group, where she has been for the last three years.
Liz planned to double major in Psychology and Mathematics, but her focus changed after a class with Geoff Proehl, a Puget Sound theatre professor (now Professor Emeritus). In addition to numerous department productions, including directing a show her senior year, she also participated in Barebones Collective, a student-run performance group. Liz majored in Theatre Arts, minored in Mathematics, and finished college with the goal of becoming a director.
Something she appreciated about Puget Sound was how easy it was to experience all aspects of theatre. "I think the cool thing about UPS is that the education gives you a chance to try everything. I think a lot of people take that for granted," she points out. Liz is a freelance producer which can mean a variety of things depending on the company and project.  Occasionally, she will have multiple jobs for a single show, such as front of house manager or facilities manager in addition to producer.
Because her theatre education at UPS was diverse and included directing, acting, and designing, Liz has been able to fulfill a multitude of roles within the theater industry. She says, "I think the reason why I'm good at it is that I'm not afraid to pick up the slack and I'm very good at seeing what needs to be done — both in the short term and the long term." 
Liz has worked on a variety of projects with The Barrow Group, which is a theater production company that also offers various educational programs for theatre professionals. Additionally, she works with the Exquisite Corpse Company (ECC), an immersive NY theater company. Since COVID-19, Liz has continued to work in theater by producing virtual festivals, while considering other career paths. She says, "there's just something about being in person that I would never give up for being behind a screen. I think that a group of people gathering is so powerful...it's really difficult, especially since ECC is an immersive theater company." She switched things up this summer by working at a COVID-safe camp in Maine, but still can't imagine her life without theater.
While reflecting on how the performing arts have impacted her life, Liz says they taught her the importance of collaboration because "in no part of life are you ever doing something completely alone." She also says that the UPS theatre program set her up for success, though she wishes she could have taken classes focusing on the business of theatre. If she had the chance to speak to current Puget Sound theater students, Liz would recommend to "work all over the country" and to try to say yes to everything because each opportunity is a chance to gain valuable experience.
"Liz is a freelance theater producer based in New York City. She's worked with The Barrow Group, FAB Women, The NOW Collective, and Exquisite Corpse Company. She primarily works with companies that develop new work from within their community." You can find more of Liz's work at elizabethfrost.com and at @lizfrosty on Instagram.
---
Alumni Spotlight: Ricky German, '11
By Ainsley Austin, '23
When Ricky German, '11, came to the University of Puget Sound, he planned to be a concert violinist, but soon realized the rigorous practice schedule of a professional musician wasn't for him. He now spends his days at the costume shop manager for the University of Washington, but this career change didn't happen overnight.
While working in the costume shop, Ricky fell in love with costuming and decided to switch his  major to Theatre Arts. He was able to focus his educational path on costume design by working closely with the University's costume designer, Mishka Navarre. He immediately knew he had made the right decision. The University of Puget Sound's Theatre Arts degree is a Bachelor of Arts but Ricky says it feels more like he earned a Bachelor of Fine Arts because of the hands-on design experience. Additionally, Ricky appreciated the interdisciplinary nature of Puget Sound's classes as they encouraged him to have "a really active mind" and to apply his theater knowledge to all aspects of his education.
After graduation, Ricky designed for various theater companies throughout the South Sound for about five years. Through a chance encounter with director Erin Murray at a party, he decided to make the move to Seattle. After designing the costumes for Murray, he would move on to work with directors Ana Maria Campoy, Jay Woods, and Valerie Curtis Newton. That year would culminate in a design for Tim Bond's Pass Over at ACT. The show was originally slated to be directed by Nataki Garrett, who would bring Ricky on to design costumes for Confederates at the Oregon Shakespeare Festival (OSF) a year later. He says this work was exactly what he had been striving for. His show was well into the design and rehearsal process when COVID-19 hit and Ricky's work with OSF was postponed indefinitely.
He could have lost all motivation to keep moving forward, but Ricky didn't back down from the challenge he was facing. "Being a starving artist at the beginning of my career taught me how to pivot well," he says. He got a job at a grocery store but didn't stop looking for his next opportunity to be involved in the theater world. He applied for a costume shop manager position at UW Seattle, even though he never saw himself in a shop manager role. Though it's a change from designing, Ricky was able to get back into theater because of his ability to pivot and keep an open mind.
Now that he is working at the UW costume shop, Ricky is able to connect with a new community. His theater education taught him the importance of interpersonal relationships. He says, "the thing [about theater] that made me a better person is it really fostered an ability to make connections in multiple mediums." He states, "that is what theater can teach you to do; to hold space for ideas that aren't complete, that aren't your own, and really incorporate them into something that you offer back to people." 
Ricky's belief in the power of connection is something everyone could use in the coming months. He envisions a future where the performing arts have undergone structural changes that shift the focus to connection over money, possibly through additional nonprofit programs. He hopes this transformation will lead to more people finding the power of theater for themselves. 
"As a freelance costume and fashion designer, Ricky German's designs are fueled by the sociological and anthropological study of fashion and craftsmanship. He seeks to expose these visual nuances to his audiences through garments that are satisfying and significant." You can find more of Ricky's work at blackgarnetstudio.com and at @ragerman on Instagram.