Experiential learning is the process of learning through experience and is more specifically defined as "learning through reflection on performance."
Learn more about experiential learning.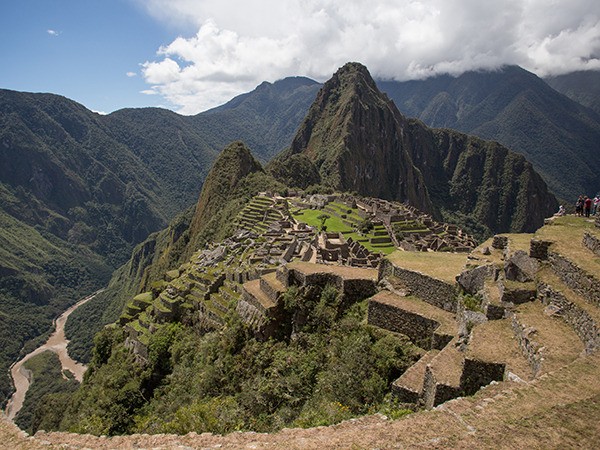 Experiential learning on international business practices - BUS 472 Business in Latin America - a class trip to Lima and Cusco, Peru, with Professor Nila Wiese
Student Membership Groups/Clubs
Entrepreneurship Club

Meet other students exploring entrepreneurial career paths and get the first news about entrepreneurial events. The club meets Mondays 1:00-1:45pm via Zoom - https://pugetsound-edu.zoom.us/j/98173033926

Contact Zachary Mason (zmason@pugetsound.edu) for further information.

PSIC

The Puget Sound Investment Club ​is a student-run ASUPS organization devoted to fostering students' knowledge and understanding of the financial markets within the framework of a liberal arts education. Through the use of stock market simulations, listening to guest speakers, and active involvement in the student managed Pros Ta Akra Investment fund, students are able to gain first hand experience within the financial markets. The Pros Ta Akra Investment fund consists of $175,000 of the school's endowment that gives students the opportunity to pursue their passion for investments by creating stock recommendations and discussing performance on a weekly basis. 

Interested in being a part of managing the PSIC's part of the endowment fund and learning more about investing? Check out our website and email psic.secretary@pugetsound.edu to join our email list!

Meetings occur on Tuesdays at 5pm on Zoom. If you have any questions you can reach out to psic.secretary@pugetsound.edu or contact Professor Ania Kapalczynski for more information at akapalczynski@pugetsound.edu.

Four Horsemen Investments

4HI is a 501(c)(3) not-for-profit organization run by students at the University of Puget Sound. Its mission is to provide meaningful financial education through experience, research, and outreach. The signature initiative of Four Horsemen is running a peer-to-peer (P2P) loan portfolio, giving members real-world, hands-on experience with portfolio management. Financial literacy is the focus of both the research and outreach pillars. For our research program, members collaborate to write research papers on topics such as evaluating creative P2P alternatives to predatory payday lending. We have published eight academic articles in research journals since our founding in 2009 and have presented our work in England, Costa Rica, Spain, and the U.S. In our outreach work, we focus on helping the underbanked in the Tacoma community, that as volunteer income tax preparation and participation in innovative banking programs. For more information, please visit the 4HI website.