This is an abbreviated list of equipment that Faculty, Staff, and students at Puget Sound can utilize. The equipment listed on this page is also available to outside users. If you are not a member of the Puget Sound community and you are interested in using one of these instruments please see our Outside Users page.
If you have questions about other equipment listed on our main page, please contact the Science Core Facility Technician.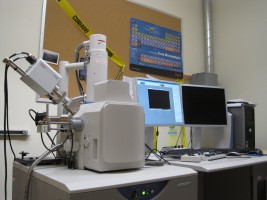 Hitachi S3400N Variable Pressure Scanning Electron Microscope
The S3400N is a powerful, yet user-friendly SEM through newly developed electron optical and automated functions. Variable chamber pressure allows chargeup-free observation of any sample without special preparation techniques such as coating.
The S3400N at Puget Sound is also equipped with Energy Dispersive X-ray Spectrometry, and a Cathode Luminescence Spectrometer.
Nikon D-Eclipse C1 Confocal Microscope
The Eclipse C1 is a modular confocal microscope system from Nikon. The C1 at Puget sound is mounted on a Nikon Ti inverted microscope on a vibration isolation table. It comes equipped with 3 laser lines: 405 nm, 488 nm, and 543nm. We have 4 available objectives; Plan Apo 10X DL Dry, Plan Apo VC 20X Dry, Plan Apo VC 60X WI Water Correction Ring, and Plan Apo VC 100X oil.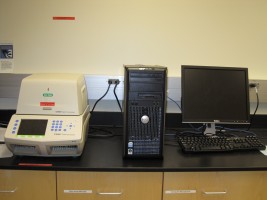 Bio-Rad CFX96 Real-Time PCR Detection System
The BioRad CFX96 is a modular thermal cycler platform mounted on a C1000 thermal cycler base that can accommodate a 96-well plate. The CFX96 system has high ramp rates to target temperatures, which significantly reduces run times. In addition, the system can discriminate up to five targets in a single reaction well for multiplexing experiments. Data is analyzed by the powerful CFX Manager software.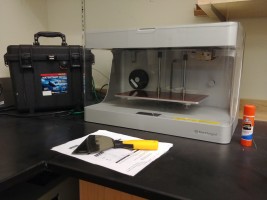 Markforged The Mark Two 3D Printer
The Mark Two prints with two printheads: one builds nylon parts, and the other is a revolutionary, new composite print head to reinforce those parts with continuous fiber. This printer also comes with MarkForged's browser-based 3D printing software, Eiger, which is user friendly, and runs on any computer system. The build volume is 320 x 132 x 160 mm and has a layer resolution of 0.1mm.
GenePix 4100A Microarray Scanner
The GenePix Personal 4100A scanner scans microarray slides sequentially at up to two wavelengths. Has precisely controlled laser temperature and pixel-by-pixel laser correction to compensate for normal variation in laser intensity. Uses 16-bit digitization. Has a dynamic detection range of four orders of magnitude. Has two standard filters. Includes line-averaging mode for enhanced signal-to-noise ratio. Offers two scanning modes: Preview Scan at 40-μm resolution and Data Scan at 5, 10, 20, 40, 60, 80, and 100-μm resolutions. Full integration with GenePix Pro software.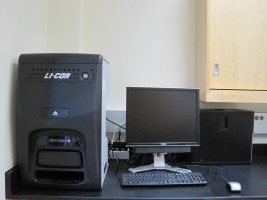 LI-COR Odyssey Fc Dual Mode Imaging System
The Odyssey Fc advances Western blot technology by combining the rich history of chemiluminescence with the power and sensitivity of the LI-COR FieldBrite™XT optical system for exceptional dual-mode detection for both chemiluminescent and infrared fluorescent imaging. Applications include: Western Blots (chemiluminescent, Two-Color Infrared, and In-Gel), Protein Detection with Coomassie-Stained Gels, and Nucleic Acid Detection (SYBR Family, and Syto 60 DNA stains).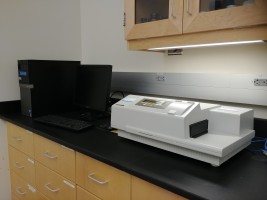 SpectraMax M2 Microplate Reader
The SpectraMax M2 readers provide for easy conversion and optimization of very-low-throughput to medium-high-throughput assays, faster, more precise results and reagent savings. Detection modalities include absorbance (UV-Vis Abs) and fluorescence intensity (FI). Endpoint, kinetic, spectrum and area-well scanning read types and the PathCheck® Sensor allow homogeneous and heterogeneous microplate assays to be performed in one flexible system.
Bio-Rad Gel Doc XR+
The Gel Doc XR+ System is based on CCD high-resolution, high-sensitivity detection technology and modular options to accommodate a wide range of samples and support multiple detection methods including fluorescence and colorimetric detection. The Gel Doc XR+ System is controlled by Image Lab™ software to optimize imager performance for fast, integrated, and automated image capture and analysis of various samples.