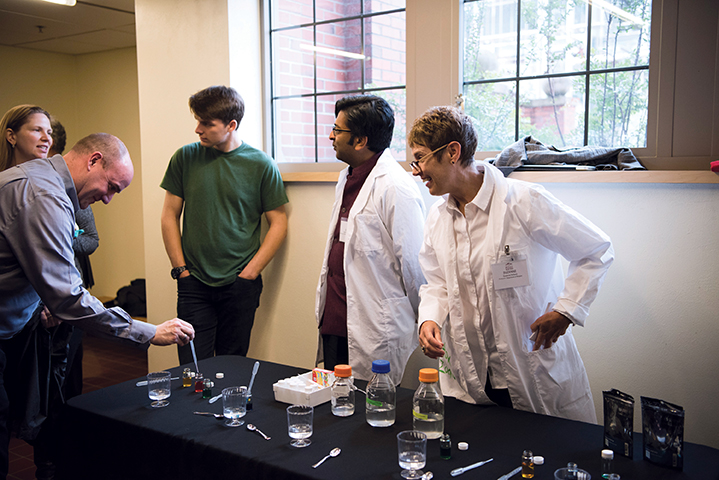 Throughout the morning of President Crawford's inauguration, faculty members and students led a series of presentations showcasing innovative pedagogy, experiential learning, and Puget Sound's commitment to civic engagement. Following the presentations, hundreds of attendees had opportunities to engage in experiments and conversations with panelists. Watch short videos of each of the panels.
Teaching and Learning
Ten students, led by Professor Gareth Barkin, spent three weeks in Jakarta and Central Java, Indonesia, conducting individual research as part of the LIASE 2017 Southeast Asia field school course. The intensive trip followed an on-campus course, and was funded with support of the Henry Luce Foundation. Read about their experience.
As part of the Practicum in Clinical Bioethics, students split time between the classroom and Tacoma General Hospital, learning how to identify ethical issues and how to properly address them in a clinical setting. Hear more about this course from Professor Suzanne Holland on our podcast.
Forty-one percent of the Class of 2016 engaged in at least one internship, and 94 percent of the class gained valuable work experience while attending Puget Sound.
Puget Sound announced two new majors in 2016-17: African American studies and Environmental policy and decision making.
Seventy pediatric and adult clients each year visit the on-site OT/PT teaching clinic. Under faculty and expert clinician supervision, students in the occupational and physical therapy programs provide free, quality health care. Much of this therapy is done with people who otherwise would not have access to occupational and physical therapists.
 
Enrollment
Puget Sound welcomed 677 academically talented and diverse students into the Class of 2020.

Twenty-eight percent are students of color.
Sixteen percent are the first in their families to attend college.
Twenty-three are from Tacoma public high schools—nearly three times as many as before our Tacoma Public Schools Commitment began in 2014.
 
Faculty Scholarship
Robin Jacobson, associate professor, politics and government, was part of a trio of political scientists and sociologists that received a $200,000 NEH grant to explore state-level aspects of immigration.
Geoffrey Block, professor, music, published the new book Schubert's Reputation From His Time to Ours, telling the story of how Franz Schubert has gradually become one of history's greatest composers.
The research team of Amy Fisher, assistant professor, science, technology, and society; Lynnette Claire, professor and director, business and leadership; David Latimer, associate professor, physics; and Daniel Sherman, professor, environmental policy and decision making, received an Independent Colleges of Washington and Puget Sound Energy-Efficiency and Conservation Grant for the project, "Using Citizen Science and Social Marketing to Promote Energy Conservation."
Tanya Erzen, associate research professor, religious studies, examines how and why evangelical Christian ministries are rapidly expanding in prisons in her new book God in Captivity: The Rise of Faith-based Prison Ministries in the Age of Mass Incarceration.
 
Civic Engagement
Thirty-two community nonprofits welcomed Puget Sound interns as part of three summer immersion internship programs. Partners included: Tacoma Public Schools, Northwest Immigrants Rights Project, Mother Earth Farm, and Tacoma Community House.
A selection of 2016-17 campus speakers:

Timothy Egan, New York TImes columnist and author; 2017 Commencement speaker
Julianne Malveaux, labor economist, author, and commentator
Roz Chast, best-selling author, illustrator, and staff cartoonist for The New Yorker
Leonard Pitts Jr., newspaper columnist
Ruchama Marton, founder of Physicians for Human Rights in Israel
Michael Medved, talk show host and best-selling author
 
Recognition
Puget Sound was named among the top 100 liberal arts colleges in the U.S., based on an innovative new ranking system used by The Wall Street Journal and Times Higher Education that emphasizes teaching quality and student outcomes.
Puget Sound was also named the best college in Washington state for getting a job after graduation, according to a new ranking based on U.S. Department of Education data.
 
Athletics
Hans Fortune '17 was one of only two quarterbacks in NCAA Division III to earn Academic All-American. He also holds Puget Sound career records for passing yards (6,852) and passing touchdowns (58).
The women's basketball team made history, earning its first-ever undefeated record in conference play, and later advancing to the second round of the NCAA Tournament. Hear more about the season in an interview with former women's basketball coach, Loree Payne, and Alexis Noren '17.
 
After Puget Sound
Eighteen students and young alumni won prestigious national scholarships and will teach or conduct research in countries including Morocco, France, Spain, China, Cambodia, and Germany.
Seven months after graduation, 93 percent of the Class of 2016 was gainfully employed at companies like Amazon, National Institutes of Health, Boeing, and Microsoft; pursuing graduate study; or engaging in service with organizations like Peace Corps and Teach for America.