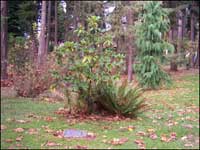 Charles Robbins joined UPS in 1916 as Spanish professor and athletics coach, was the first University Bursar, and retired in 1946.
James Slater was a biology professor 1919-1968. He developed the Museum of Natural History and was awarded an Honorary Doctor of Science degree in 1954.
This rhododendron was obtained and planted in 1927 by Professor Slater and Bursar Robbins.