In accordance with HB 1751 (Sam's Law), starting with the 2022-2023 academic calendar year all University of Puget Sound students and employees will complete an educational training on hazing awareness, prevention, intervention and the university's Policy Prohibiting Hazing.
Online Training Module for Students, Staff, and Faculty
An important step to increase the level of prevention and education for all students (undergraduate and graduate) as well as Faculty and Staff is to offer a training module through Vector Solutions titled "Hazing Awareness and Prevention." This module takes this module takes a short amount of time to complete and provides an overview of hazing as a behavior and the negative impacts it can have on a community. 
To access this training module, please log in using the My Puget Sound portal and look for the following platform accessed through login.pugetsound.edu: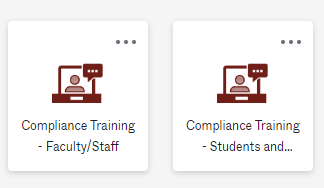 Once you click on this tile you will find the training under "My Assignments." Please complete all portions of the training module and take and pass the quiz at the end. 
Parents, Guardians, Community Members
Non-University members can access the Anti-hazing prevention Training Brochure for more information about hazing awareness and prevention.
Additional Resources
For additional resources about the Policy Prohibiting Hazing and information on how to report hazing incidents, please visit this website.
Questions about the University of Puget Sound's Policy Prohibiting Hazing and the Hazing Awareness and Prevention training should be directed to the Office of Rights and Responsibilities at rightsandresponsibilities@pugetsound.edu.