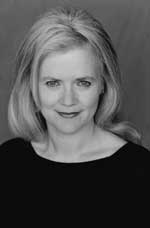 Freda Herseth '77 has traveled far since her student days at Puget Sound. Upon graduation, she attended the Eastman School of Music, where she studied with Jan DeGaetani. Following her work as a Fulbright Scholar in Munich, Germany, Freda spent some of her early professional years in New York City and also participated in the summer music program at Tanglewood. But it was at the Aspen Music Festival, where she auditioned for conductor Dennis Russell Davies, that Freda's career went global.
Davies cast Freda in a number of roles at the Baden-Württemberg State Opera House in Stuttgart, Germany. From there, her career expanded to include performances in other European opera houses as well as with orchestras and chamber ensembles throughout Russia, Israel, and the United States. Freda was not limited to opera, although she did sing most of the major mezzo roles. She also was and continues to be active in oratorio and new music, premiering many works written especially for her. (In a 2008 review of Freda's performance of Pierre Boulez's "Le marteau," David Patrick Stearns of the Philadelphia Inquirer wrote, "In both performances, mezzo-soprano Freda Herseth was a bit of a miracle, lyrically navigating the jagged Boulez vocal lines and coloring the surreal text with a vocal richness I've heard in no other Boulez interpreter.") Freda can be heard in recordings from CRI, Crystal, Gasparo, MMC, South German Radio/Television, Hessen Radio (Frankfurt), Bavarian Radio (Munich), ORF Austrian Radio/Television, RAI Italian Radio, and Northeastern Records. Her alma mater has been duly proud of her and has recognized her twice for her outstanding career. In 2001 she was awarded an honorary doctorate from Puget Sound and, in 2007, a Distinguished Alumni Award.
In 1995, with a desire to return home, Freda applied for a position at University of Michigan, and the Wolverine campus has been her home base ever since. Through teaching voice and vocal pedagogy (she also chaired the voice department for eight years) she has influenced the lives of the next generation of singers through her seriousness of purpose, rigor, discipline, and care that she recounts learning during her student days at Puget Sound.
Other alumni active in higher educaiton:
Rickey Badua, '07, Director of Bands, California State Polytechnic University, Pomona
Neil Berntsen '82, trumpet, Carnegie Mellon University
Gwynne Kuhner Brown '95, musicology, University of Puget Sound
Gerald Berthiaume '74, piano, Washington State University
Daniel Corral '04, composition, CalArts
Michael Delos '74, voice, Cornish College of the Arts
Bill Dyer '89, Director of Instrumental Music, Grays Harbor Community College, Aberdeen, WA
John Falskow '97, trumpet and Chair of Music Department, Tacoma Community College
Richard Frey '02, band, Colorado State University
Jason Gilliam '95, MAT '97, euphonium, Pacific Lutheran University
Peter Gries '67, Emeritus Professor, Central Washington University
Larry Johnson '78, horn, Oregon State University
Duane Karna '82, Director of Choral Activities, Ball State University
Jacalyn Kreitzer '77, voice, California Polytechnic State University
Zo Manfredi, Teaching Artist of Violin, Drake University Community School of Music
Angelo Manzo '96, tuba & euphonium, University of Missouri at Columbia
Esther Morgan-Ellis '06, musicology and cello, University of North Georgia
Yoshikazu Nagai '92, piano, San Francisco Conservatory
Scott Ordway '06, composition and theory, Rutgers University
Jooeun Pak '04, piano, Towson University
Christine M. Padaca Fuoco '95, piano, Baldwin-Wallace College
Forrest Pierce '94, composition, University of Kansas
Eric Rombach-Kendall '79, Director of Bands, University of New Mexico
Greg Simon '07, composition, University of Nebraska-Lincoln
Erik Steighner '03, saxophone, Pacific Lutheran University
Darrin Thavaes '92, flute, California State University Long Beach