Note from June 1, 2023: Facilities Services now uses next-generation software from Brightly Software—called Asset Essentials (AE)—that replaces SchoolDude for work order requests.
FOR URGENT REQUESTS, PLEASE CALL FACILITIES AT 253.879.3713. This includes, but is not limited to broken windows, safety hazards, leaks, power failure, elevator issues, doors that cannot be secured, heating and cooling adjustments, etc.
FOR EMERGENCIES, PLEASE CALL SECURITY SERVICES AT 253.879.3311. The scope of responses includes basic medical, suspicious activities, and criminal response.
To submit a work request, please click the button below to log in. For students, please submit your requests to your Residence Life staff representative.
After logging in using your Puget Sound login information, you will find the new Work Order Request link on the Puget Sound Systems applications landing page: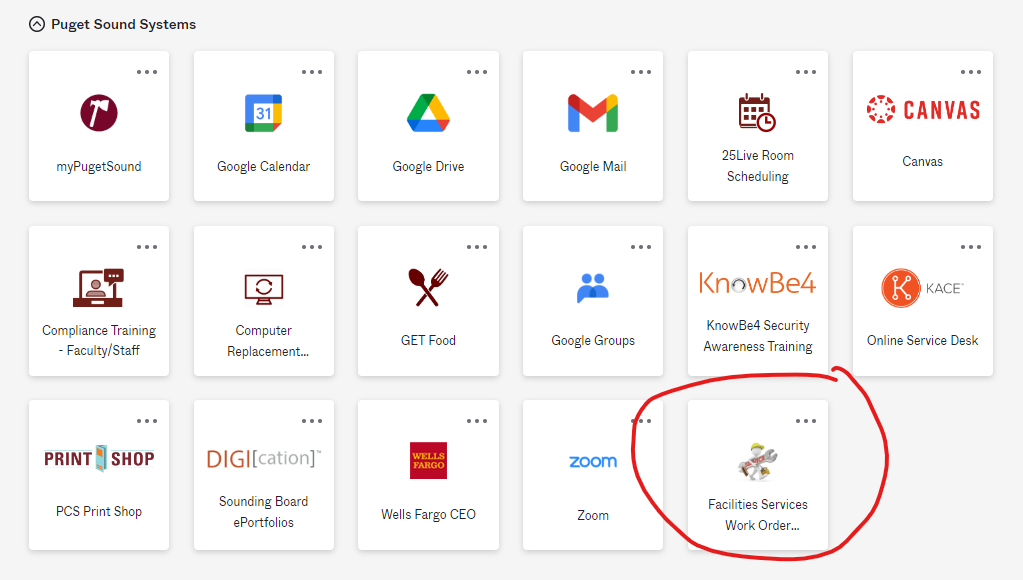 Once signed in, please use the links below to learn more about your role.
Please reach out to Facilities Services (call 253.879.3713 or email facilities@pugetsound.edu) if you have any questions, concerns or are experiencing issues with submitting work requests. Please be sure to provide the location and description of the request and your contact information.
We look forward to serving you through the new system!