School of Music Announces Sphinx Organization Residency
Collaboration with Community Partners for Diversity in the Arts
Jan. 29, 2021
The School of Music is delighted to welcome American soprano and activist Julia Bullock
Q&A session on Wednesday, Dec. 9 | 12:20–1:50 p.m. PST
Join us on Zoom via Schneebeck LIVE
Julia Bullock has a remarkable career as a performer and production curator; well-known for her political engagement and commitment to integrating community activism with her musical life. She is widely recognized as a leader for her "genre-mixing, cross-cultural programming," and for using her talents to raise awareness of Black history and influence change. She is in high demand as a public speaker.
The School of Music, in partnership with African American Studies, Tacoma Public Schools, Tacoma Youth Symphony Association, and the Tacoma Youth Chorus, is hosting a collaborative virtual residency with Sphinx, a Detroit-based national organization dedicated to transforming lives through the power of diversity in the arts. This residency features two public performances, as well as community engagement events with students in the Tacoma Public Schools, Tacoma Youth Symphony, and Tacoma Youth Chorus.
The first public event was a broadcast concert on Feb. 5 featuring the Sphinx Virtuosi, one of the nation's most dynamic professional chamber orchestras, comprised of 18 top Black and Latinx classical soloists. Sphinx Virtuosi performed works by Xavier Foley, Jessie Montgomery, Antonín Dvořák, Andrea Casarrubios, Leonard Bernstein, and Michael Abels. A post-concert discussion followed on Feb. 10.
The next public event is a pre-concert discussion on Wednesday, Feb. 24 at noon with guests from the Sphinx EXIGENCE vocal ensemble. Sphinx EXIGENCE was founded by conductor Eugene Rogers and is comprised of solo performers, educators, conductors, and composers who celebrate the power of community and expression through choral music. The guest artists will discuss the Sphinx organization and their experiences. All are invited to attend on Zoom via Schneebeck LIVE. 
The final public event is a virtual concert scheduled for Friday, March 12 at 7:30 p.m., featuring Sphinx EXIGENCE performing works by Xavier Foley, Joel Thompson, and Philip Herbert, as well as traditional gospel pieces such as Ndikhokhele Bawo. All are invited to enjoy this concert on Zoom via Schneebeck LIVE. 
Puget Sound's support of this residency is made possible through funding from the Matthew Norton Clapp Visiting Artists Endowment.
THE NEW YORK TIMES RECENTLY RECOGNIZED MS. BULLOCK IN "BEST CLASSICAL MUSIC OF 2020" 
AND AS ONE OF THE YEAR'S "BEST AT-HOME DIVAS" 
"Ms. Bullock is an extraordinarily moving performer," said Anna Wittstruck, School of Music director of orchestras and assistant professor of music. "She is a visionary planner for reimagining arts institutions through her approach to curating projects, and is one of the most important voices right now when it comes to discussions about structural racism in classical music."
In addition to her involvement with the San Francisco Symphony, New York's Metropolitan Museum of Art, and other music projects, her various outreach activities benefit women and people of color in the arts, advance medical research, and provide music programs for war-affected children and adolescents.
Q&A Session Agenda
Kicking off the session, participants will hear Ms. Bullock's moving performance of Oscar Brown Jr.'s (1926–2005) Brown Baby.
Ms. Bullock will share information about her career start; different roles she's assumed as a performer, curator/arts counselor, and activist; how she is responding to being a performer during COVID; the intersectionality of race and gender; and ideas on fighting racism and sexism in classical music.
Professor Wittstruck will moderate the Q&A session allowing questions from participants.
Ms. Bullock has participated in numerous panels during this challenging year along with fellow artists engaged in dialogue on how art contributes to changes in society that address equality and inclusion. She is eager to engage in conversation with the Puget Sound community.
Ms. Bullock currently resides in Munich with her husband, conductor Christian Reif. For her complete biography and more information, visit juliabullock.com.
References and Resources
---
School of Music Celebrates Three Students Placing First in Prestigious National Competition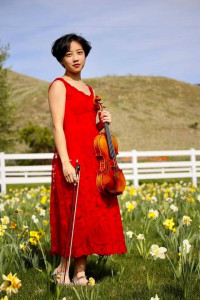 MTNA Announces 2020 State Performance Competition Winner
Nov. 19, 2020 -- Three Puget Sound music students placed first across several categories in this year's prestigious Music Teachers National Association (MTNA) Performance Competition. The annual competition involves thousands of students from across the country and recognizes "exceptionally talented young artists and their teachers in their pursuit of musical excellence."
Each state holds its own competition with participants judged by a panel of professional musicians. Performers must demonstrate a variety of musical styles with varous lengths and other requirements. Winners at the state level advance to the division, and then to the national competition.
MTNA announced the following winners on Nov. 13 in the "Young Artist" tier (ages 19-26):
William Lum '23, euphonium, placed first in the California state Brass Competition. William is a student of Affiliate Artist Ryan Schultz.
Ivan Tarasenkov '23, piano, placed first in the Washington state Piano Competition. Ivan is a student of Dr. Tanya Stambuk.
Jules Tan '23, violin, placed first in the Washington state String Competition. Jules is a student of Dr. Maria Sampen.
All three students will proceed to the Division Competitions in 2021.
"I regularly encourage my students to participate in this competition and other such opportunities," said Professor Maria Sampen. "It's a great experience for them to showcase their talent and creativity on a larger platform, and to receive feedback from other teachers and musicians, as judges provide written comments to all the competitors."
"Through their hard work, dedication, and artistry Jules, Ivan, and William have achieved something special," noted Dr. Tracy Doyle, School of Music director. "They represent the university at the highest level and we are very proud of them."
Competition Despite COVID-19
Planning for the MTNA Performance competition typically starts in spring, when the student and the instructor select repertoire, talk about the competition process, and practice the pieces. It requires strong initiative and drive on the students' part; as well as the ability to think long-term, have nerves of steel, and the dedication to put in hundreds of hours of practice to prepare.
Students' participation in the competition is above and beyond what is expected and is not a curricular requirement. It's a huge feat, even in a normal year, when students perform in-person. This year, with COVID-19, students participated virtually by submitting video files of their performances, which were due by Nov. 2. While it's a challenging endeavor, students who participate find the experience rewarding as they meet fellow performers and gain valuable feedback on their skills.
Faculty Commitment Contributes to Student Success
Puget Sound students have a history of high achievement in the MTNA Performance Competitions through faculty who are passionate about nurturing their students' talents. Several of Dr. Stambuk's piano students have moved on to Nationals, most recently, Brenda Miller '15 in 2018. Jules Tan '23, is Dr. Sampen's third violin student to win the Washington state competition -- Clara Fuhrman '14, and Grace Youn '13, were past winners. Grace won the Division competition as well and also went on to compete in the finals. 
After graduating Puget Sound, Brenda, a double major in biology and music, continued to pursue her dual interests: She earned a Master of Science degree in environmental education at Southern Oregon University while working as a church pianist. Clara and Grace are professional violinists. Clara is completing her Doctorate at University of Oregon and Grace is a very active performer and a teacher in a large violin studio in Austin, Texas.
For more information, visit the Puget Sound School of Music.
SENIOR-TIER MTNA COMPETITIONS
Community Music Claims Winner
Students in Puget Sound's Community Music program also benefit from faculty's commitment to students' success. High-school student, Johnathan Lee, won this year's Senior tier (ages 15-18) in the Woodwind Competition.
Lee currently is a private student of saxophone instructor Fred Winkler and a chamber music student in Puget Sound's Community Music program. For more information, visit Community Music.
MTNA Competitions
The annual MTNA competition encompasses three tiers: Junior (age 11-14), Senior (ages 15-18) and Young Artist (ages 19-26). Competitions normally take place in-person, requiring students (and faculty) to travel to participate. State locations alternate between the west and east side, with Nationals as far away as New York City. Entry fees, travel costs, and accompanists contribute to the expense.
The virtual nature of this year's event resulted in a lower cost burden to participate.
For more information, visit MTNA Competitions.