The University of Puget Sound offers a variety of reunion weekend events to meet the unique needs of alumni. See below for step by step visual instructions and click here to complete registration.
If you have any questions and/or need assistance, please do not hesitate to reach out to the Office of Alumni and Parent Relations at alumoffice@pugetsound.edu or by phone at 253.879.2877.
Click the orange "Tickets" button
First, head to the Summer Reunion Weekend 2023 Registration and located on the right hand side of the screen, click the orange "Tickets" button.  IF YOU WOULD LIKE, YOU MAY ALSO CALL THE OFFICE OF ALUMNI AND PARENT RELATIONS TO REGISTER BY CALLING 253.879.2877.
Enter your promo code (if applicable) and select tickets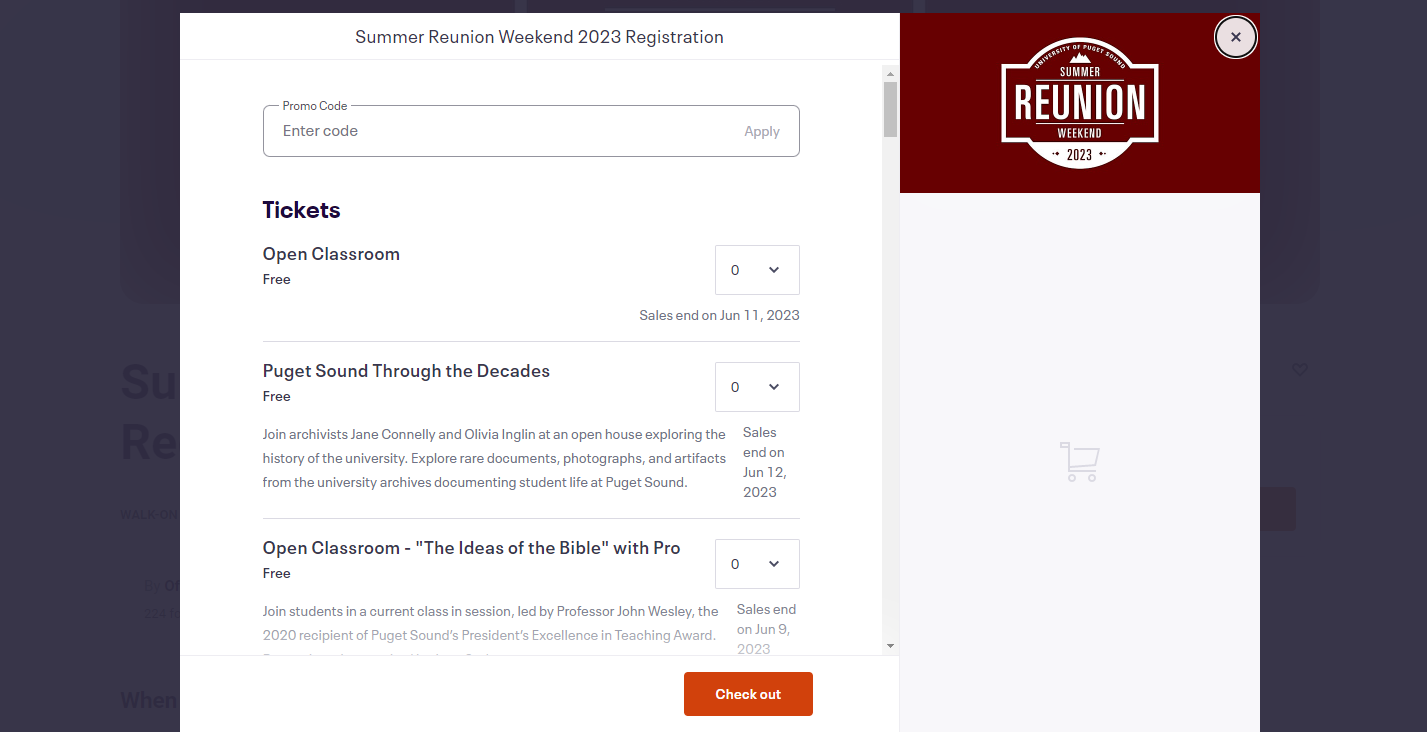 Located at the top in blue, you will be able to enter your promo code if applicable. Once you enter your promo code, you will be able to scroll up and down the scheduled events and choose your desired number of tickets by using the drop down arrows. 
Choosing on-campus housing (if applicable)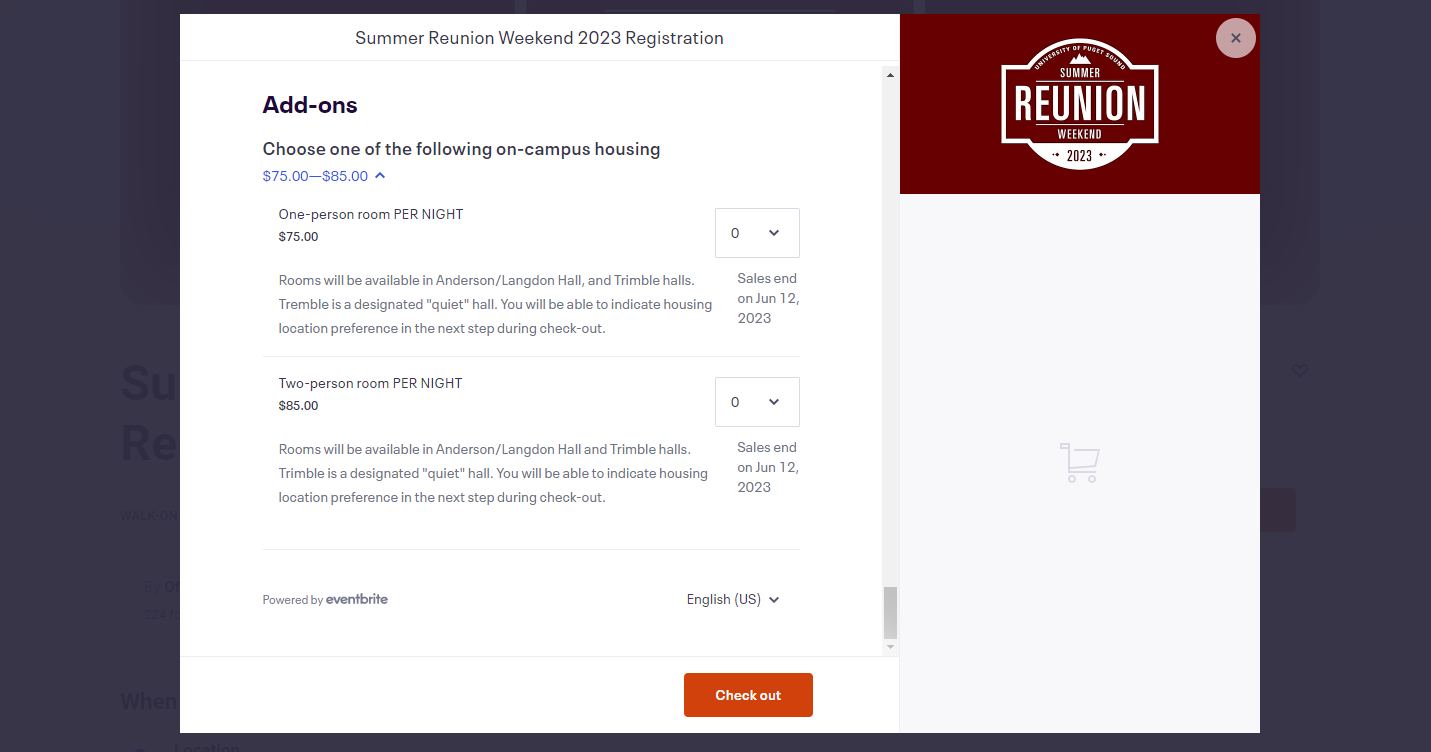 Once you have gone through and selected your desired events and ticket quantities, you will find on-campus housing tickets at the bottom before check out. After you click the blue arrow located immediately next to the price of "$75.00 or $85.00", a drop down menu will appear.  If you are not staying on-campus, bypass this step and head straight to the orange "Checkout" button. 
Select housing preference
Using the drop down menu, you will choose the number of tickets to purchase for on-campus housing. Please note that the number of tickets you purchase indicates the number of nights you are staying on campus. For example, if you purchase only one (1) housing ticket, your dorm access will be activated for one (1) day. Once you are done, click the orange "Checkout" button for next steps. 
Input name and email in checkout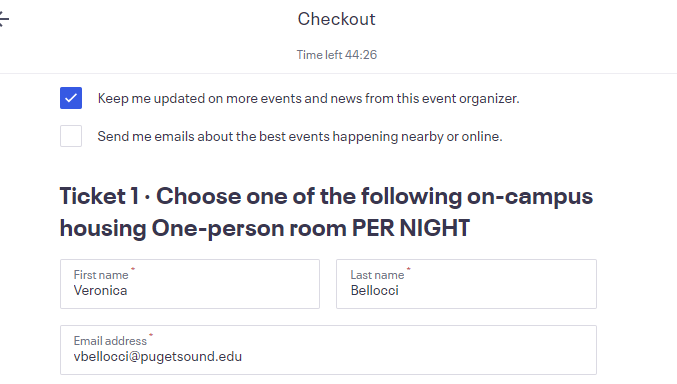 Once you click the orange "checkout" button, you will see your checkout options. Here, you will read the terms and agreements and enter your name and email address. 
Enter payment information
Choose either payment method you prefer and enter your information. 
Inputting information and checking out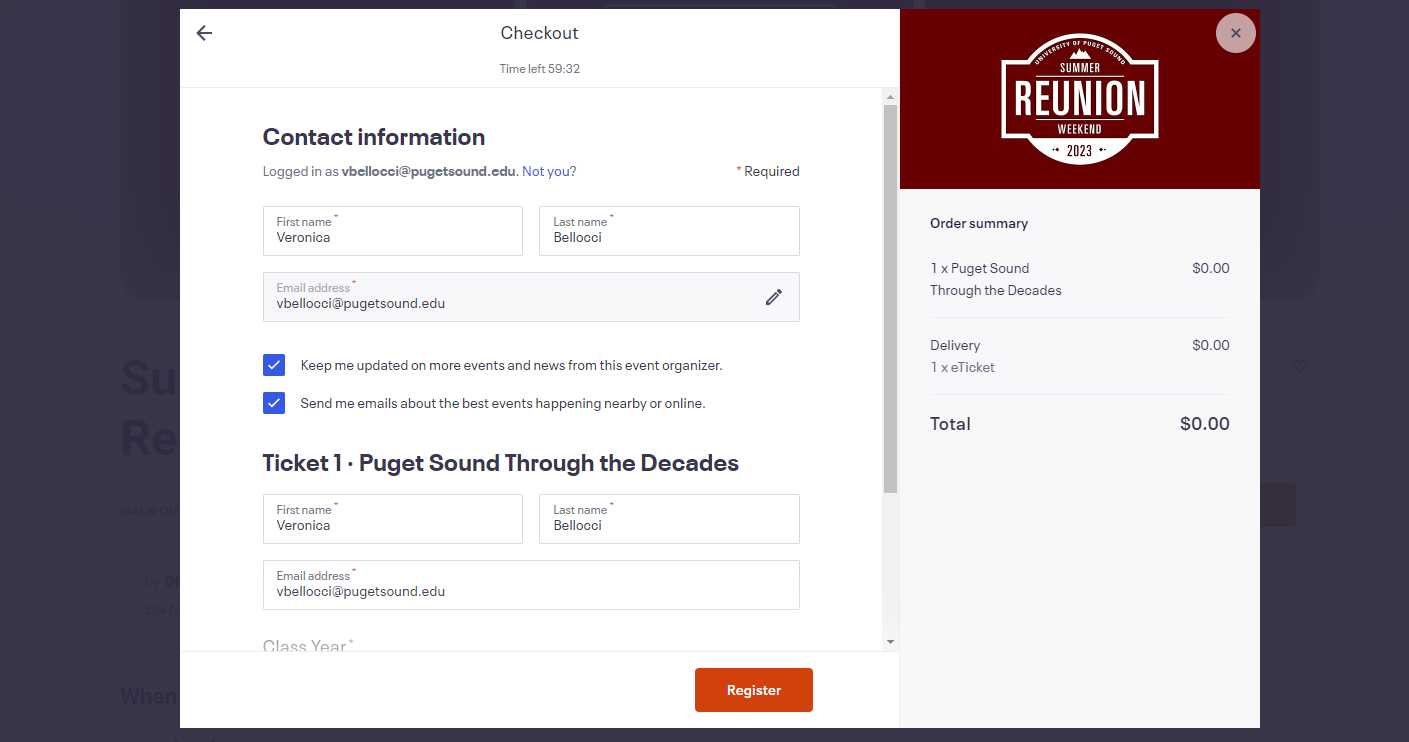 As a final step, input requested information for each ticket. To avoid redundancy, click the drop down menu in each ticket and choose to "copy data from" a previous event you have inputted information. Once you have inputted the required information, follow through to checkout.