Welcome!
We are excited to introduce our annual Occupational Therapy Departmental Newsletter! It is our goal to use this newsletter to stay in touch with our alumni and others connected to our program, as well as keep them updated to what's happening in the School of Occupational Therapy at the University of Puget Sound.
It is hard to believe that I am already going into my 3rd year as Program Director. It has been an easy transition, mostly because Professor Tomlin laid such a strong and stable foundation during his tenure in this role. A lot has been accomplished over the past few years:
After completing a successful accreditation review, the faculty immediately took the data from the review and the recent updates to the ACOTE standards to update our curriculum. After 2 years, the new curriculum is being implemented with our current incoming class. Key changes include addressing newer content areas (e.g., telehealth, physical agent modalities) as identified in the ACOTE standards, moving a hands on course (Performance Adaptations) to the first semester, integrating pediatric content into the Mental Health and Biomechanics courses, and adding more authentic learning opportunities.
We also received a grant from the Franciscan Foundation to outfit the hospital room as part of the adult clinic. We now have a room that has a switch and voice activated electronic aids for daily living (EADLs) so students can practice with the bed controls, TV and phone. And is outfitted with a headwall with appropriate lines and tubes, IV pole, and oxygen tank. Additionally they funded several iPads and tablet based EADLs for the adult and pediatric clinic areas so clients can practice turning off and on lights and other simple tasks.
As many of you may be aware, there has been extensive discussion at AOTA about moving the entry-level programs to a doctorate degree. After much discussion, we have decided that even though this change may occur within the next 10 years, we are not ready to "make the leap" here at Puget Sound. However, we have transitioned our Post Professional Masters Program to a Post Professional Doctoral Program (DrOT). This program articulates with our entry level curriculum but also is designed for clinicians with an entry level degree (bachelors or masters) to further their education. You can read more about this program below.
Finally, if you have not seen our new building, we welcome visitors. We also enjoy hearing from our alum so please keep us posted on what you are doing. If you have not seen our Facebook page, please join us there for updates between newsletters. All the occupational therapy faculty and staff wish you a happy holiday season with your friends and family. We hope you enjoy this first edition….
-Yvonne
---
Program News
New Program Offering: Post-Professional Doctor of Occupational Therapy
We are excited to announce that we will be offering a post-professional Doctor of Occupational Therapy (DrOT) program starting summer 2015! The DrOT Program is designed to fit all levels of experience, whether you are a new entry-level occupational therapist or a seasoned one. The twelve month curriculum is designed to be student-centered and to support the development of advanced practice skills specific to the clinician's career goals. To that end, students in the Program are required to articulate an area of concentration and related learning outcomes that will guide them in:
developing a course of study;
shaping course assignments;
selecting authentic learning experiences; and
developing a doctoral thesis project.
DrOT students will also have opportunities to interact with entry-level MSOT students, developing mentoring, teaching, and collaborative skills in classroom activities, clinic settings, and through thesis projects.
For more information about the DrOT program, visit: www.pugetsound.edu/drot.
Class of 2015 and 2016
The start of the Fall semester marked the return of the Class of 2015, as well as the start for the Class of 2016. We are looking forward to another exciting academic year for our students and are glad to have them back on campus!
| | |
| --- | --- |
| Class of 2015 | Class of 2016 |
Would YOU like EVIDENCE to INFORM your PRACTICE?
Teams of graduate occupational therapy students at the University of Puget Sound are seeking collaborators in current professional practice for a translational research project.
Starting in April 2015, students will perform evidence reviews on topics of interest to their collaborating practitioners. By December 2015, students will present their findings, and then from January through April 2016, they will interview and observe their clinical collaborators as they act to translate the research evidence into their practice.
Timeline:
April 2015 - students paired with interested practitioners
Sept. 2015 - topics to be researched are identified
Dec. 2015 - student team presents findings to clinicians
Jan-Apr. 2016 - students observe response of clinicians
May 2016 - students present on the "evidence translation" process
New teams of students will begin this project each following April.
For further information contact:
George Tomlin, PhD, OTR/L
Professor of Occupational Therapy
University of Puget Sound
tomlin@pugetsound.edu
253-879-3522
Faculty position available
We are currently seeking a doctorally-prepared occupational therapist to teach in our entry-level Masters of Science Program and our Post Professional Clinical Doctorate Program. Additionally, the person in this position will manage the Onsite Pediatric Occupational Therapy Clinic in collaboration with the faculty member managing the Onsite Adult Clinic. We hope to interview candidates in the spring, and hire someone to join our faculty full-time Fall 2015. If you are interested in finding out more about this position, or would like to apply, please visit the Human Resources job board.
---
Faculty Updates
Sue Doyle, PhC, OTR/L is in her second year at University of Puget Sound. This last spring Sue coordinated onsite clinic which included 11 clinical instructors, 32 students and 64 clients seen for 995 visits. This year the OT onsite clinic was able to share some clinic patients and treatment times with PT.
Sue has also continued her busy research and writing schedule with 4 peer reviewed publications this last academic year as well as conducting research on the impact of an interdisciplinary self-management group on persons with chronic pain and the readiness for inter-professional learning of students from both OT and PT. Sue has also been an invited speaker in the AOTA Specialty Stroke Conference in Las Vegas with Glen Gillan, Carolyn Baum and Jan Davis. During the summer break she spent time with her family, boating, and gardening--canning and dehydrating the results.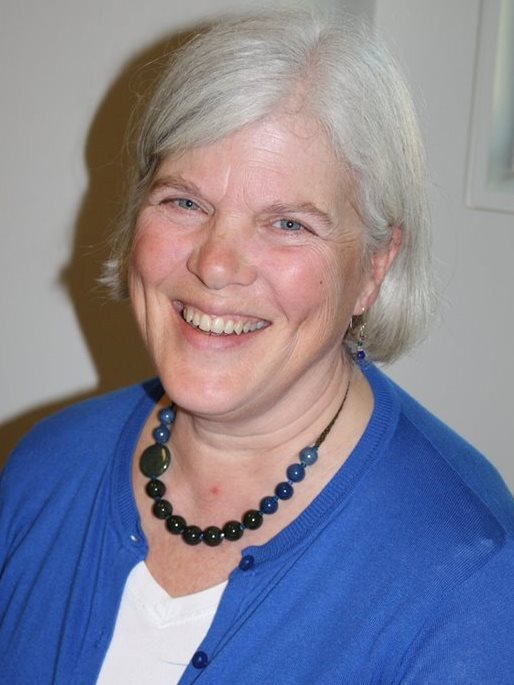 Anne Birge James, PhD, OTR/L has published two chapters recently. Both chapters describe the evaluation and treatment of activities of daily living (ADLs) and instrumental activities of daily living (IADLs) in OT practice. One chapter is in the 12th edition of Willard & Spackman's Occupational Therapy, edited by Schell, Gillen, & Scaffa. The other is in the 7th edition of Occupational Therapy for Physical Dysfunction, edited by Trombly & Radomski. She continues to be active in AOTA, working on the Scholarship of Teaching and Learning Project, to promote evidence-based OT education and as a member of the Commission on Continuing Competence and Professional Development (CCCPD), which is currently focused on revising AOTA's Professional Development Tool.
Anne and her husband traveled to Belgium, France, and Germany this summer to celebrate the marriage of their "German daughter," who spent 2006-07 with them as an exchange student (high school) and to help their daughter, Katy, move back to the US after a year as a teaching assistant in a high school in Brest, France. They squeezed in a bit of bicycle touring, too.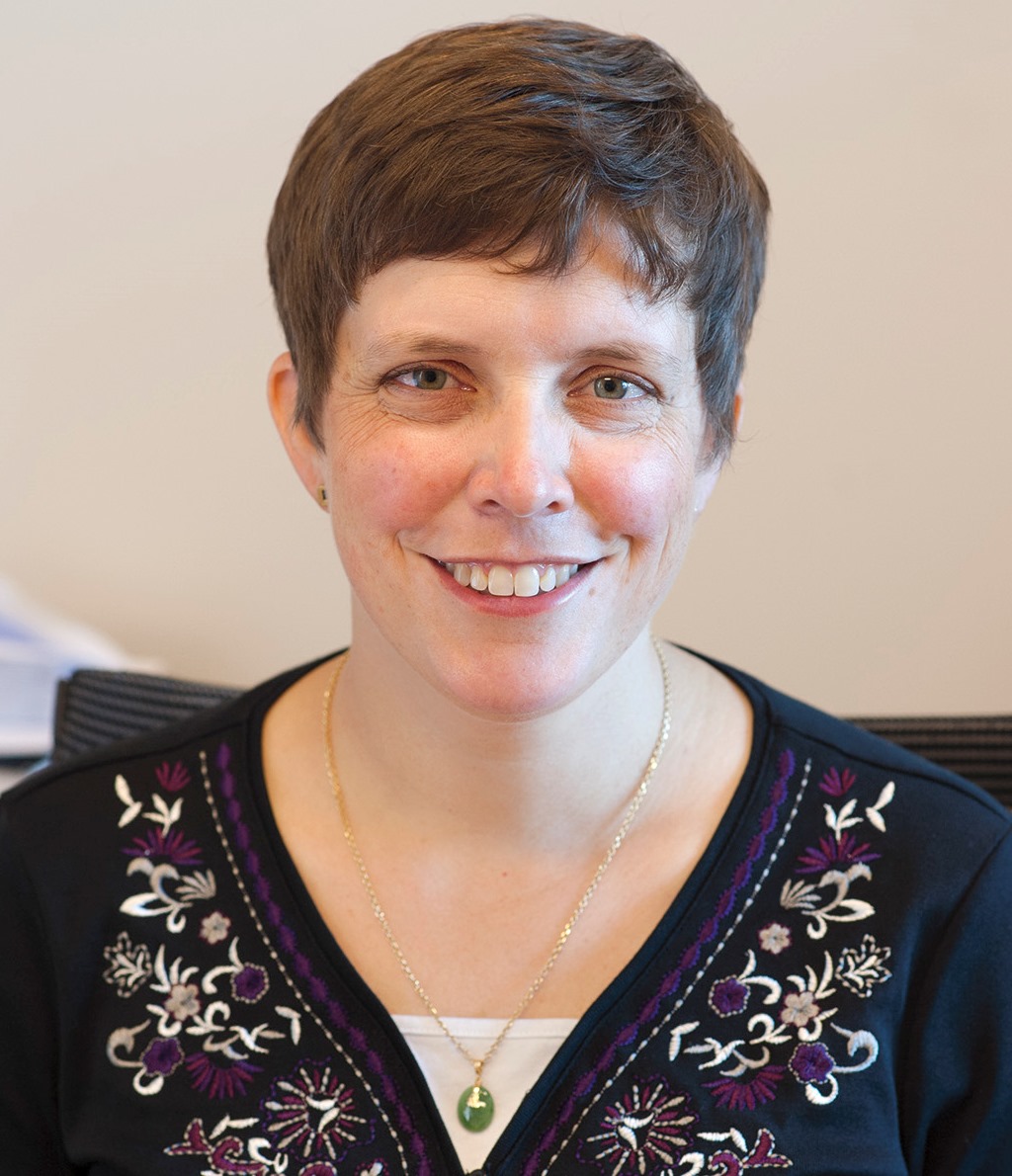 Tatiana Kaminsky, PhD, OTR/L is in her tenth year of teaching in the OT program, with her primary courses being adult neuro and gerontology. She is excited to have the opportunity to serve as a clinical instructor in our on-site clinic in the spring! She is also working on a new edition of a textbook on visual and cognitive rehabilitation for people with acquired brain injury. When not being a professor, she enjoys spending time with her husband, two daughters (ages 7 and 4), and her new dog!
Martins Linauts, PhD, PT is now in his 24th year of teaching the anatomy and neuroscience courses at Puget Sound – whoa – with a few more to go. Obviously, he likes what he does. To commemorate that achievement, (and remind him of the passage of time), his older daughter Arija gave birth to Martins' first grandchild in New York City – granddaughter June was born on July 4th (easy birthdate to remember). With a second trip to NYC in October, coupled with weekly Skype sessions and daily iPhone videos and photos, he is enjoying watching little June's brain proceed with "activity based synaptic re-arrangement." Fascinating.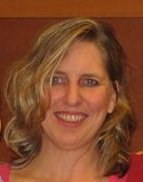 Yvonne Swinth, PhD, OTR/L continues to edit the Journal of Occupational Therapy Schools and Early Intervention and has worked with NBCOT on their new professional competency project. She recently authored a chapter on school-based practice in the new edition of Willard and Spackman. Yvonne has been working in private and public schools to research the effectiveness of dynamic seating to support student attention to task and work completion and continues to serve as co-chair of OTIS (OT in the Schools) for the Washington OT Association. In her free time she can be found in her roles as "taxi driver" and mom as she shuttles her girls between activities and enjoys life with an eight and ten year old.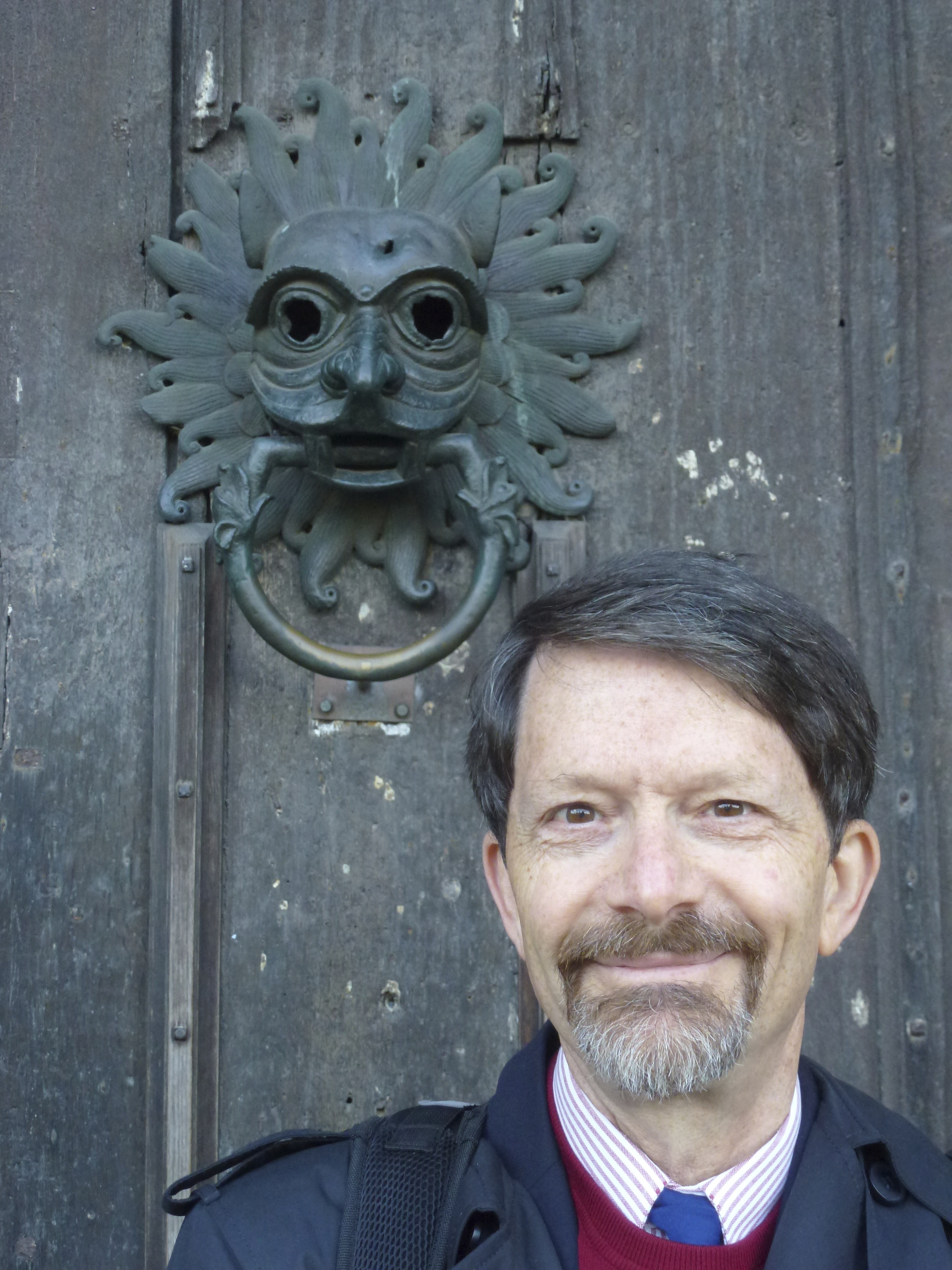 George Tomlin, PhD, OTR/L spent the fall 2013 semester in Europe. He traveled to Germany, the UK, the Netherlands, and Switzerland visiting occupational therapy programs and giving talks on the research pyramid, evidence-informed practice, and clinical decision-making (5 speeches in English and 5 in German!). Through a collaboration with his classmate Deborah Dougherty (MSOT '82), who now teaches at the U of WI-LaCrosse, arose a new model of "evidence" in practice which includes both the external evidence of published research studies and the internal evidence generated through the OT process with a client. A joint paper on this topic will appear in the inaugural issue of the International Journal for the Health Professions, published in Winterthur, Switzerland. George continues to serve on the Board of Directors of the National Board for Certification in Occupational Therapy. He helped organize, facilitate, and spoke at the first international OT regulatory meeting in London, UK, in June, where 24 countries were represented. After enjoying a two semester teaching stint in Performance Adaptation with former graduate student Wendell Nakamura (MSOT '98) while faculty loads were re-organized, he is now excited to have the first semester OTS in "Fundamentals of OT" the successor course to Foundations. Naturally he also still teaches biomechanics and research, giving him annual opportunities to transmit to students the physics of safe lifting and the delights of sampling theory and SPSS.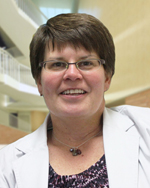 Kirsten Wilbur, MSOT, OTR/L ('83, '08) was selected to present at the Quadrennial Race and Pedagogy conference held the end of September at University of Puget Sound. She spoke on "Institutional Racism and the Struggle for Diversity in the Profession of Occupational Therapy." Kirsten was also recently certified as a safeTALK suicide prevention trainer. safeTALK is a Washington state approved 3 hour suicide prevention training program and qualifies for the 3 hours of suicide prevention training needed for state licensure. If you are interested in sponsoring or taking part in a suicide prevention workshop please contact Kirsten at kwilbur@pugetsound.edu.
---
Special Topic: OT in Japan: Puget Sound Occupational Therapy Students and Faculty Visit Gunma University
By, Martins Linauts, PhD, PT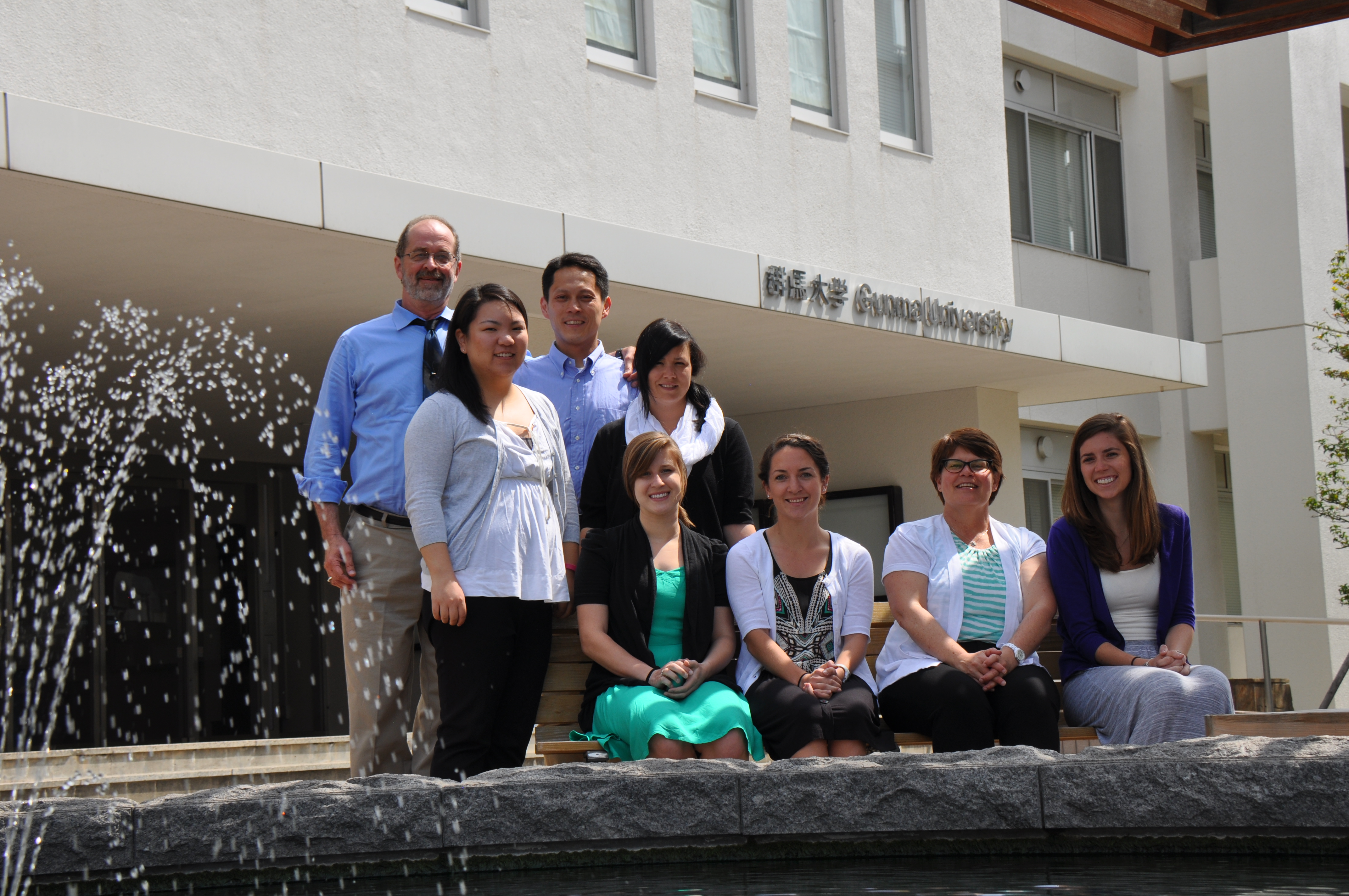 Konnichiwa. Good afternoon. That was a frequently used word as we made our way around Japan. As part of the Gunma University Exchange Program established in 2000 by (now retired) professor Kiyotaka Iwasaki (Puget Sound MOT '84), professors Martins Linauts and Kirsten Wilbur (with their spouses) and five current OT students formed the second contingent from Puget Sound (first was in 2008) to participate in this exchange. Gunma University has visited Puget Sound seven times since 2000. Participating students (current 2nd years) were Kelsey Asato, Megan Caine, Rebecca Miller, Carly Valentine and Heidi Vladyka. After several basic language and culture preparatory sessions with Puget Sound professor of Asian Studies Mikiko Ludden, the group departed for Japan on May 16, 2014.
The group was met at Narita airport in Tokyo by Gunma University OT professor Tadahiko Kamegaya, the lead organizer of this event, who had led the three most recent exchanges of OT/PT students and faculty to Puget Sound. He was the most gracious and enthusiastic host, staying with us as guide and translator for nearly the entire time we were in Japan. The welcome we received by the faculty and students of the OT and PT programs at Gunma University made us feel like royalty. For three days, the group participated in classroom activities, were presented with an outstanding lecture on Inter-Professional Education (IPE) by professor Nana Kururi (PT professor who visited UPS in 2009), and had a cordial and relaxed meeting with Dr. Hideomi Watanabe, Dean of the Graduate School of Health Sciences. Our group of five students gave a very informative and well-attended presentation on "a day in the life of an OT student at Puget Sound," including the program, the campus, Student Occupational Therapy Association (SOTA), OT practice areas, and Tacoma. On the social side, we were treated to a student organized evening event of food, song (our students got swept into participating), conversation and mochi-tsuki (pounding traditional rice "dough" used for Japanese rice cakes and sweets). Many of the Gunma University students who had made the journey to Puget Sound in past years were also in attendance at the evening affair – a reunion of sorts.
On the clinical side, professor Kiyo Iwasaki accompanied the group (along with professor Kamegaya, of course) on outings to several facilities that he has been affiliated with. We visited Kibounoie (House of Hope) Rehabilitation Hospital for severely involved children, many of whom remain at the facility into adulthood. Every one of us in the group was impressed with the compassion and dedication that the large staff shows towards the residents. Colorful activity rooms, live keyboard music, and constant interaction – it was heart-warming. Additionally, we visited a peaceful sheltered workshop for the disabled in a rural mountain/forest setting (Seiyanomori-Gakusya – "Woods of Starry Night"), as well as an urban senior center in Maebashi, where a staff OT taught us to make origami "spinning tops" right along with the local folks.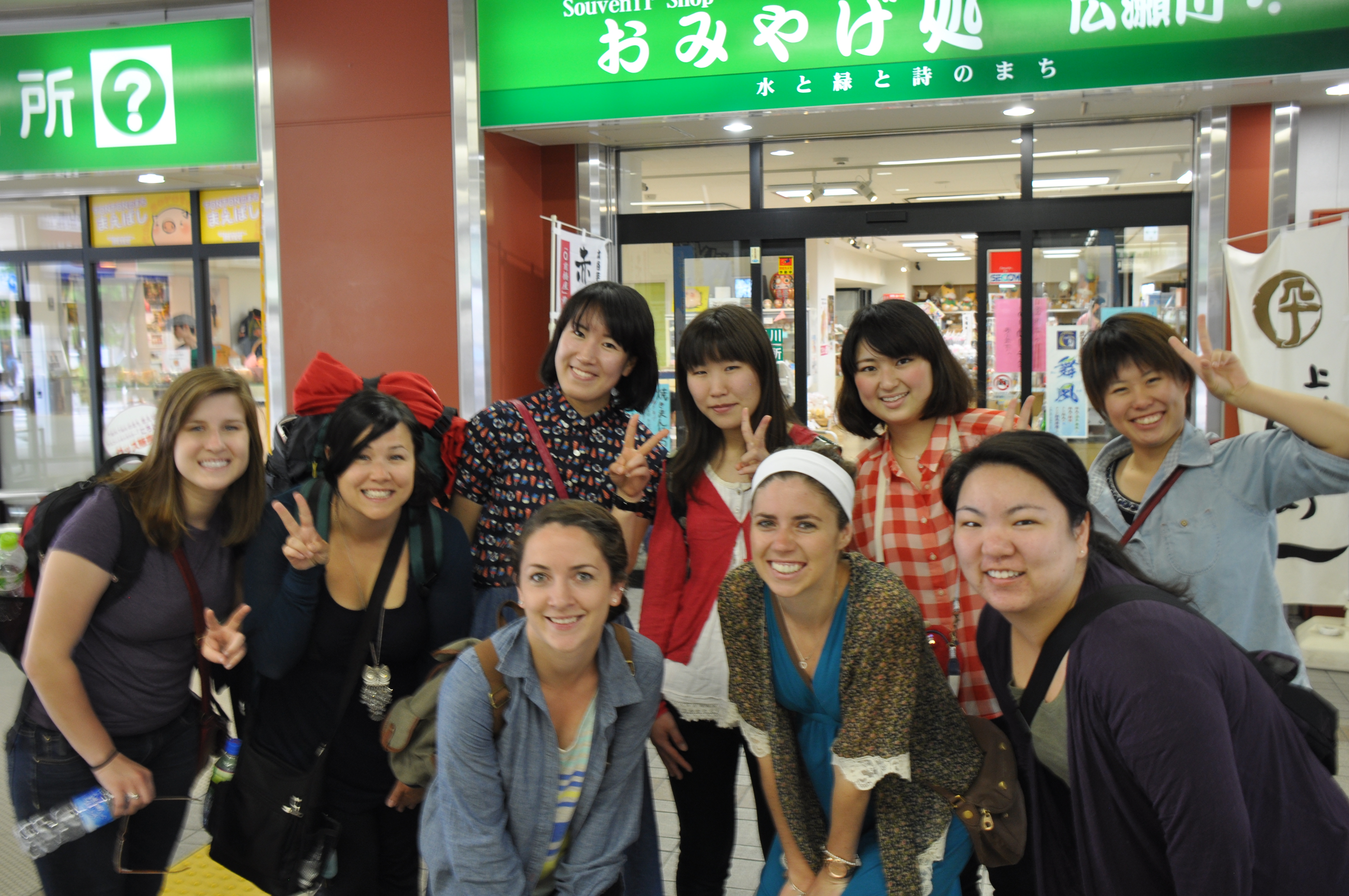 For the weekend, the Puget Sound students were hosted at the homes of Gunma University students, all of whom had participated in the exchange to UPS in 2013. Upon departure for Kyoto on Sunday afternoon, it was obvious that the students had formed close bonds with their hosts – smiles, tears and hugs. For their part, the faculty spent the weekend at a traditional Japanese "ryokan" (small inn featuring the utmost in traditional Japanese cuisine served in your room) in the oldest mountainside hot-springs resort village in Japan. It was a unique experience being the only westerners in the bustling village.
Our journey also included four days in Tokyo (before traveling to Maebashi, home of Gunma University, two hours northwest of Tokyo). We were fortunate to be in town on the weekend of THE largest annual festival in Tokyo (Sanja Matsuri) featuring the climactic parading of portable shrines through the streets by teams of adrenalin-driven men – and lots of exotic food and merriment. A tour of the gardens of the Imperial Palace on another day was a peaceful balance to the energy of the festival.
The final destination as a group was the historic and culture-rich city of Kyoto. Again, professor Kamigaya was our guide, and to make it even better, UPS professor Mikiko Ludden (who presented our preparatory sessions) was in town and joined us in our wanderings. By now, having completed the academic exchange, we were all more relaxed and ready to explore the many sights of this quintessentially Japanese city. Several group members were joined by family/significant others, and remained in Japan for extended travel, while others returned home on May 29. A grand time was had by all.
---
Alumni Spotlight: Jan Zaret Davis awarded "Lifetime Professional Achievement Award"
Jan Zaret Davis '74 was awarded the "Lifetime Professional Achievement Award" during this year's Alumni Awards at Puget Sound. Professional Awards are presented to alumni who have gained regional, national, or international recognition for lifetime professional achievements that reflect positively on Puget Sound and the Alumni Association. See the article about Jan and the other award winners in Arches.
We have been incorporating video clips from the video library subscription offered through Jan Davis's company, International Clinical Educators (ICE). Video clips are used early in the program to help students better understand the occupational therapy process and therapeutic use of self by watching occupational therapists interacting with real clients. Later in the program, multiple clips of a single client become a SOAP note assignment. Compared to the paper-based case-studies of old, videos provide students with a much richer, "multi-sensory" case to support their development of clinical documentation. Recent graduates have watched Jan treat clients for four semesters, giving her somewhat of a "rock star status" with students at the AOTA Annual Conference and Expo - photo–ops with Jan are very popular. Visit Jan's website, ICE Learning Center.
We would like to congratulate Jan on her achievements and look forward to continuing to work with her and ICE Learning Center in the future.
By, Julie Randall, OTS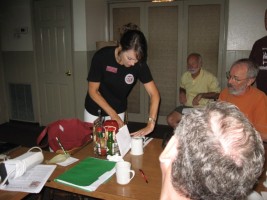 As stated in the centennial vision, we as occupational therapists (OTs) want our profession to be "widely recognized" by people in this country and around the world. What better way to promote this ideal than through community education. I recently had the opportunity to promote occupational therapy in my community of Puyallup, WA. My parents are members of a local chapter of Kiwanis International, a service organization that strives to help children in their community and around the world. Through their fund-raising efforts, the club provides two $1,000 scholarships each year to students attending local high schools. The Daffodil Valley Kiwanis Club meets weekly at a restaurant in Puyallup, and provides its members with a 20 min. "program" highlighting special topics of interest. On August 27, I had the opportunity to present, "What is Occupational Therapy".
I started out by defining our profession using quotes from AOTA and distinguishing OT from physical therapy (the airplane chat assignment came in handy here!). I talked about the MOT program, projected growth of our field, and highlighted 3 key diagnoses that OTs treat, including total hip arthroplasty, spinal cord injuries, and cerebral palsy (CP). Throughout the presentation I passed around different types of adaptive equipment that we may recommend for each diagnosis, and discussed constraint induced therapy for children with CP. During the Q & A portion, several members of the group talked about OT services their families members had received. One member described his 106 year-old mother living independently at home with the help of suggestions from her OT. Another member shared that his wife has multiple sclerosis and an occupational therapist had helped her with energy conservation strategies during a recent flare up to help maximize her independence in dressing and self-care. The sock aid was a popular item, with some members recognizing it and others marveling at the simple solution to maintaining hip precautions. In closing, I talked about our on-site clinic, distributed some flyers, and discussed the different diagnoses we commonly treat. Overall, it was really fun way to spread the word about occupational therapy in my community.
---
Special Topic: The Wiggle Whompers Activity Kits
By, Kari Tanta, PhD, OTR/L, FAOTA and Elissa Worthen Dykman, MOT '11
Children's academic performance and classroom behavior may be negatively impacted by the sensory environment and their individual preferences. For example, a student may exhibit a need for increased auditory input by humming, yelling, or drumming their fingernails. This may reduce his own ability to focus in the classroom, absorb what the teacher is saying, or complete classroom assignments; it may also become a distraction for other students. Studies have shown that specific sensory-based activities implemented in the general education classroom, may help to promote positive classroom behaviors. With this aim in mind, the Wiggle Whomper Activity kits were created as a new classroom tool for teachers at a public elementary school.
Project is based on enhancing participation and engagement in education, which is one of eight fundamental areas of occupation as delineated by the American Occupational Therapy Association
Demonstrates that the skills of occupational therapists can be helpful to all individuals in the classroom, not just those children with specific diagnoses and conditions
Demonstrates the ability of, and need for, occupational therapists to work as part of a team with other individuals essential in the lives of children, such as teachers
The Wiggle Whomper Activity Kit was created by parent volunteer, occupational therapist, and Adjunct Professor Kari Tanta, PhD, OTR/L and graduate student Elissa Worthen Dykman, MOT '11. An instructional manual and kit contain items and activity suggestions for teachers, staff, and parents intended to help students regulate environmental stimuli through the use of tactile, visual, auditory, gustatory, vestibular, and proprioceptive-based tools and activities.
The Wiggle Whomper Activity Kit is available through Pocket Full of Therapy and a portion of the proceeds benefit the Occupational Therapy Program at Puget Sound!
---
Student Occupational Therapy Association News
Past Events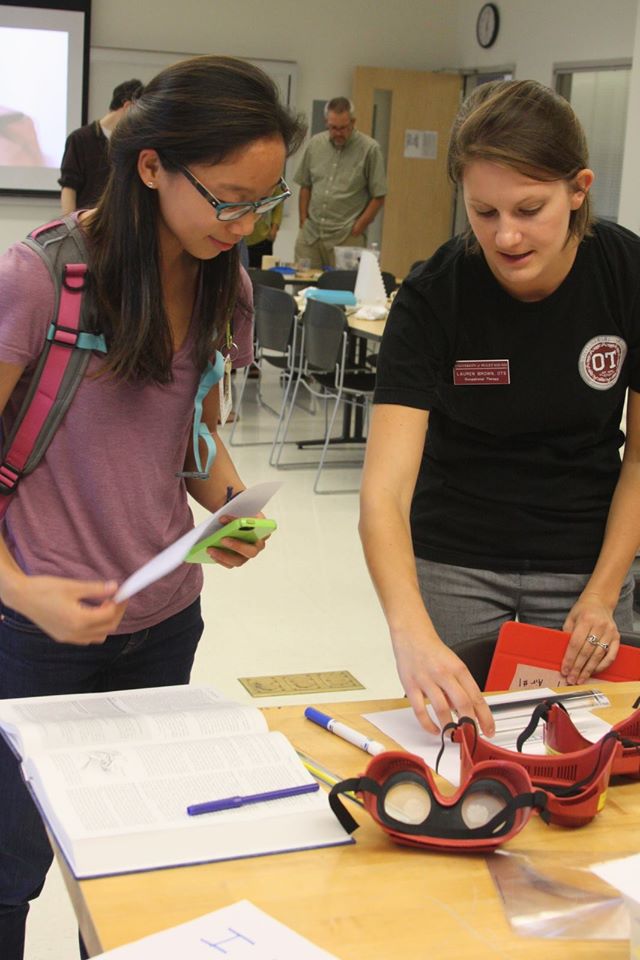 At the beginning of October, the Student Occupational Therapy Association (SOTA) hosted their second annual OT Open House. The event was a great success and attracted prospective students, curious community members, and OTRs interested in becoming clinic instructors. The OT students were able to showcase the onsite adult clinic, pediatric clinic, and the assistive technology lab. If you missed the event and would like to take a tour please contact ot@pugetsound.edu!
The annual Puget Sound OT Joeseppi's Restaurant Take-Over fundraiser was held on November 13th from 4pm-8pm. The OT students "took over" the restaurant by helping to seat customers, serve food, and bus tables. In return, the Students of Occupational Therapy Association received a portion of the profits made that evening. The event also included a silent auction and raffle prizes. Please keep an eye out next November if you were unable to attend this years event!
SOTA Job Fair
Interested in recruiting a Puget Sound OT or PT student? The OT students will host a job fair in the Spring semester, date still TBD. For more information regarding, please contact upsjobfair@ups.edu.
OT shirts for sale!
SOTA designed t-shirts and sweatshirts are now available to order online! The shirt design features part of the World Federation of OT's (WFOT) official definition of OT (which SOTA was granted permission to use). WFOT will also be displaying SOTA's shirt within WFOT promotional activities!
The proceeds from this fundraiser will go towards providing current students monetary support to attend the 2015 AOTA Annual Conference and Expo.
There are 3 different styles of t-shirts to choose from, and one style of sweatshirt. To purchase a tshirt, sweatshirt, and or to donate funds, click on the following link: http://www.booster.com/sotaups. The shirt booster will close for purchase on November 28.
The SOTA students thank you for your support!