Letter from the Chair
Well, this has turned out to be quite a year….the faculty worked hard all fall to finalize the Candidacy Application for the transition to the OTD, and we were looking forward to finalizing the courses this spring. All our plans quickly changed mid-March with Covid-19. I have to say I am proud of the Puget Sound Occupational Therapy faculty, staff and students. Everyone has quickly responded as classes moved to a virtual format. We miss our students but are thankful that we can continue our classes. If you know or see a Puget Sound OT student, give them a 6' apart "high-five" recognizing the hard work they are doing to continue their education online.
Since our last update there has been some changes regarding our transition to the OTD. Last fall, after some discussion, the OT Faculty decided to continue our MSOT degree in addition to adding the OTD degree since AOTA rescinded the OTD mandate. We felt that this would allow us to better address the needs of a larger applicant pool. Additionally, one of our goals has always been to support under-represented applicants and we felt that keeping the MSOT may help keep a degree in OT accessible to this group.
Speaking of the OTD, we just heard from ACOTE that we have been granted Candidacy. We are very excited about our curricular updates, both the MSOT and OTD degrees are entry level degrees. Thus, many classes will be the same for both groups with the OTD having some additional information on program development, leadership and the Capstone experience. Core aspects of our curriculum including socio-cultural awareness, community mental health clinic and onsite clinics remain central to our curriculum. We have reorganized some courses and have worked to make professional reasoning, occupational engagement, and services to populations and systems more prominent.
As you read this newsletter, you will see familiar activities and some changes in our Program. We are saying good-bye to some and hello to others. We have new activities that some faculty have taken on as well as the core activities we continue to refine. We hope some of you will join us at our virtual Symposium when students will present their evidence projects. If you are interested in mentoring students, we have opportunities for adjunct teaching as well as clinical instructors. We also have two faculty positions that are currently posted. You can find more information about these positions at:
Clinical Assistant Professor in Occupational Therapy - Functional Anatomy and Adult Physical Disabilities
CLICK HERE TO VIEW ANNOUNCEMENT
Clinical Assistant Professor in Occupational Therapy - Adult Physical Disabilities
CLICK HERE TO VIEW ANNOUNCEMENT
Please feel free to share these job announcements with anyone you know who may be interested.
As always the OT faculty enjoy hearing about what our alums are doing. Please send us updates and if you are in the area, please stop by to say "hi" (once the quarantine is lifted). Have a great day! This message was sent to our students a couple weeks ago, but it is fitting for our alum as well…
Program and Faculty News
Welcome New Faculty and Staff
Aimee Sidhu, OTD, MA, OTR/L: I have over 20 years of professional experience as an occupational therapist, with most of my clinical practice in both rural and urban school-based settings, working both in Washington and California, as well as in skilled nursing. I completed my initial OT degree from Pacific University in 1998 and pursued my post-professional master's degree in OT from Texas Woman's University in 2007 with an Advanced Pediatric Certification. This student experience highlighted my love of pediatrics, while also prompting my love of the learning process. I continued my education and obtained my post-professional doctoral degree in OT from Mount Mary University in 2018.
For the past 9 years, I have also worked in OT education, having taught at Bates Technical College OTA Program, Mount Mary University Post-Professional OT Program, and here at UPS as an Adjunct Instructor. I also work as a Clinical Mentor in early intervention. I thoroughly enjoy teaching, having taught across the curriculum in each setting, gaining a wide spectrum of teaching strategies and experiences.
My doctoral work centered around the supervisory relationship between OTs and OTAs in clinical practice, with an emphasis on the utilization of reflection to inform best practice. I am interested in continuing this line of research, as well as focusing on the theory-practice gap that occurs as we translate knowledge of evidence-based practice within occupational therapy.
I enjoy spending time with family, whether outdoors hiking and exploring, or indoors playing games and reading. I love cooking all different types of cuisine and traveling throughout the world. My family recently spent three months this past fall living in India, where my husband grew up. This was an amazing opportunity to immerse ourselves in the culture and both of my daughters were particularly struck by the huge differences in schooling between India and the US! I am excited to be joining the UPS Faculty full-time as the Doctoral Capstone & Fieldwork Coordinator. I look forward to thinking about opportunities within our community and our profession to grow research and expand our impact.
Jenny Boyle joined the School of Occupational Therapy in September 2019 as the Program Coordinator. She is always eager to give a helping hand to team members and students. She has particularly enjoyed building relationships with the OT students and looks forward to visits from the students between classes. She is responsible for admissions, department surveys, honorariums, student reimbursements; communicating with prospective students, supporting current students, supporting faculty and staff, scholarships, course evaluations, coordinate department events ex: commencement, symposium, and department marketing. In her off time, she spends time with her husband, three daughters (Lauren (10), Katherine (7) and Charlotte (5)) and her three fur babies Cletus (Pug), Julio (Chihuahua/Jack Russell mix) and Bert the guinea pig. She enjoys watching her daughters play sports, going to their cabin on the hood canal, gardening, going to football and baseball games, laughing and relaxing at home.
We are delighted to welcome you all to the Occupational Therapy team!
A Sad Goodbye to some Faculty and Staff
Pedro Ashford, MS, OTR/L, joined us in the fall as a visiting professor to fill the vacancy left when Anne James retired. He has taught in Neuro, Biomechanics and the Onsite Clinic. Previously he was in Instructor in the OT Program at Eastern Washington University. He has been a valuable member of our faculty this year and we are sorry to be saying good bye as he returns to full-time clinical practice. He has promised that he will take some of our Fieldwork students in the future – those will be some very lucky students!
Wendell Nakamura, DrOT OTR/L: Assistant Professor Dr. Nakamura will be leaving the faculty of the School of Occupational Therapy at the end of the spring semester to teach in the Occupational Therapy Doctorate Program at Rocky Mountain College in Billings, Montana. He is excited about integrating his expertise in adult physical rehab with many teaching and research opportunities available at Rocky Mountain College. Some of these include teaching an occupation-based approach to the study of human anatomy and developing an optical motion capture lab to analyze postural and upper extremity movement patterns during occupational performance.
Valerie Walston: As recent graduates are aware, Valerie had been working on her Masters in Counseling for several years. She graduated Spring 2019 and after spending the summer looking for a job, she was hired by the Bethel School District. Rumor has it that she is doing a wonderful job in her new role. However, she is greatly missed at Puget Sound.
Faculty Updates
Dr. Tatiana Kaminsky: Dr. Tatiana Kaminsky is in her 15th year of teaching at the University of Puget Sound and still loves it. She continues to be the lead instructor in the adult neurological disorders course and took over teaching neuroscience when Dr. Martins Linauts retired. This past year, Dr. Kaminsky was on sabbatical. She got a lot of work done on the textbook she is co-authoring about visual, perceptual, and cognitive rehabilitation with adults after brain injury. She also completed an online course on sensory integration, offered through Ulster University in North Ireland, so that she could learn more about treating children with sensory processing disorders. She wanted to learn about this part of occupational therapy practice so that she could improve the neuroscience class and help students more clearly see how neurological disorders can affect occupational performance for people of all ages. Her final accomplishment while on sabbatical was to initiate an online survey examining occupational therapists' use of everyday technology (e.g. smartphones, tablets, and laptops) with adult clients with brain injury. She is still looking for participants for her study! If you are a practitioner working with adults with brain injury, she'd love to hear from you! You can find her survey through this link: https://tinyurl.com/yygo7d7l. In addition to researching and teaching, Dr. Kaminsky works clinically in the summers, treating clients in a home health setting through Rehab Without Walls. She enjoys spending time with her husband, two girls (ages 9 and 12), and dog. Favorite activities are dancing, crafts, camping, and biking.
Jennifer Pitonyak (Jenny) is in her fourth year on the faculty of the School of Occupational Therapy. With Anne James retirement last year, she took over the role of Associate Director and supports Director, Yvonne Swinth, with a variety of administrative tasks. She continues to teach in the mental health course and serve as coordinator for the adult on-site clinic. In the past year she also took on the role of coordinator for our three experiential learning in context courses. Jenny has also been busy across campus serving on a variety of committees and working groups, including a University Strategic Plan Goal Team and two different groups charged with developing proposals for additional graduate programs at Puget Sound.
Jenny has continued to build a collaboration with the Tacoma Pierce County Public Health Department and developed a family mental health intervention program that she runs at the Eastside Family Support Center and within the Addiction Treatment Services Program at the health department. The program has been so well received that the health department recently contracted with two other local occupational therapists, Jacque Rosquita and Denise Tremblay, to have them expand the programming to other family support centers across Pierce County. Related to this work, Jenny has received several small community grants over the past year to support development and evaluation of the new intervention program. She recently had a health policy perspectives article published in the American Journal of Occupational Therapy discussing policy influences on occupation and life course health development. You can find the article here: https://doi.org/10.5014/ajot.2020.742002
Outside of work, Jenny can be found trail running, reading, and shuttling her pre-teen/teenage children to their activities.
Dawn Yoshimura-Smith is in the middle of her 5th year as Fieldwork Coordinator. Sometimes it is hard to believe that it has been 5 years since she started in this position. When Dawn reflects on the students she has placed and how some of these students are now fieldwork educators, she is amazed at how time flies. Dawn continues to enjoy working with students in this final phase of their formal OT education. It is very rewarding to see the growth in students and to connect with amazing clinicians that mentor the next generation of OTs.
Dawn has been on the road (and in the sky) a lot as she visited students and fieldwork sites. The class of 2019 had been scattered across the country - NY, VT and NC in the east, up and down the west coast from Bellingham to San Diego, high elevations in Colorado Springs and down to sea level in Hawaii.
Last year, Dawn coordinated the visit from the OT/PT students and faculty from Gunma University in Japan. Unfortunately, the planned trip to visit Gunma University in May has been cancelled due to the COVID-19 travel bans. The group had been looking forward to learning about the Japanese health care system and how OT is influenced by Japanese culture. This would have been the third time that UPS is visiting Gunma University since the goodwill program was started in 2001.
Yvonne Swinth: This year has been a busy year at Puget Sound as we prepare to welcome our first cohort of OTD students in the Fall of 2020. The faculty has been busy planning and updating our curriculum. I have also been working on several exciting projects this year…. First, in collaboration with Patricia Laverdure in PA, we have finalized the Quality Indicators for School-Based Practitioners. These will be published soon in the Journal of Occupational Therapy: Schools and Early Intervention. I have also continued to collaborate with a former faculty member, Sue Doyle and NBCOT on a project addressing how therapists use evidence to guide practice decisions. Finally, I completed my training to be a TBRI (Trust-Based Relational Intervention) practitioner and educator in order to support the needs of children with developmental trauma and their families. I have enjoyed using information from my training both in the classroom as well as when I am working with local foster agencies and families. At home I continue to enjoy gardening, walking, paddle boarding, crafts and time with my girls.
Renee Watling: After teaching for four years as a Visiting Assistant Professor, Renee transitioned to the position of Clinical Assistant Professor. She teaches both first and second year students, as well as post-professional students when the DrOT program is active. Dr. Watling's professional expertise lies in pediatric practice with a focus on sensory integration, emotional and behavioral disorders, and autism spectrum disorder. She also enjoys consulting with therapists across the country and teaching continuing education workshops on the topic of challenging behavior. In her personal time, Renee enjoys gardening, hiking, cooking from scratch, and sharing everyday life with her daughters, husband, and the family's labradoodle.
Kirsten Wilbur: This year I have continued to teach in Occupations across the Lifespan, coordinate Mental Health Clinic, and teach in the mental health and gerontology courses. This past December/January I was fortunate enough to help assist with a study abroad program that visited Ghana (more details in the article that appears in the newsletter). I have also continued with my interest in promoting diversity within our OT profession and was fortunate to present at the National Conference on Race and Equity in Portland, Oregon this past May with Juli McGruder. Juli and I presented on the SAW curriculum, the lack of diversity within our profession and what the research says about best practices for diversifying student cohorts and faculty. Additionally, Jenny, Sheryl and I were accepted for a poster presentation about our on-site and mental health clinics at the AOTA Education Summit in Las Vegas in October! Sheryl was in awe with the view of the "Eiffel Tower" from our hotel room! Other than work, my interests have continued with indigo dyeing and sashiko embroidery, as well as reading Nordic mysteries. Finally, check out an article I helped author on diversifying the allied healthcare professions. You can access the article on-line at https://doi.org/10.1016/j.hpe.2020.01.002
George Tomlin: This spring George is on sabbatical. He was to have traveled to Germany, Italy, and France, building the foundation for a multi-nation study of professional reasoning and how it is affected by language, culture, and economics. Due to the SARS-2 virus outbreak, of course, that travel has been postponed- probably to summer 2021.
George continues to work on the big questions of the generation and use of evidence in practice, as well as on questions of research design and its limitations for occupational therapy. He serves on an ad hoc World Federation of Occupational Therapists task force on the topic of evidence in practice. He is collaborating with two faculty from Pacific University (Jeffrey You and Sarah Foidel, both OT Loggers!) on an AOTA-sponsored evidence review update on interventions for persons with multiple sclerosis. He also continues on the Board of Directors of the National Board for Certification in Occupational Therapy. He continues to love teaching.
Sheryl Zylstra: The past year has been a busy one and I began my 5th year working full time at the University of Puget Sound. I again co-taught Occupational Therapy for Infants, Children and Youth, along with Dr. Yvonne Swinth. I love teaching this class and although I was a practicing OT for over 25 years before coming to the University I still learn something new every time I teach! In addition, I manage the pediatric onsite student led clinic which is always an incredible challenge and an immense reward. This year we unfortunately needed to close our clinic doors early which was disappointing for our students and clients, but was the right thing to do in order to ensure the health and safety of our community. We have continued clinical teaching in a variety of non-traditional ways which would not happen without our incredible clinical instructors.
While I maintain an interest in researching social skills and clinical outcomes in our onsite clinic, I have a new interest in researching caregiver administered interventions with children who have cerebral palsy. On a personal note, two of my children have moved out of the house and I expect to have one more move out next year, so this has been a time of transition. In order to keep myself busy I travel as much as I can. My most recent travels were to Italy and Croatia to visit a dear OT friend. I had great plans to visit again this summer, but those plans have been halted temporarily (as many of you all are experiencing as well). Stay safe everyone and keep occupied!
Puget Sound OT Mental Health Presence in Ghana
Associate Professor, Kirsten Wilbur and Professor Emerita, Juli McGruder had the pleasure of accompanying a class from African American studies on a study abroad trip to Ghana December 29, 2019 to January 18, 2020. The study abroad examined the Trans – Atlantic slave trade and African diaspora. While working as group leaders Kirsten and Juli were able to take a small group of UPS students to visit Accra Psychiatric Hospital and meet occupational therapist Sarah Gyau, and her OT students and staff! The Mental Health Clinic experience provides students with opportunities designed to help them transition in their role as students to that of therapists.
Meet our Some of our Clinical Instructors and Fieldwork Educators
Jennifer Jarest, MSOT, OTR/L, graduated from the University of New England Occupational Therapy program in Maine in 2015. She moved to Washington and was a contract therapist for 2 years, working with children in various school districts and with adults in skilled nursing facilities. Jennifer currently works at Apple Tree Therapy, LLC in Silverdale, a pediatric outpatient facility specializing in autism and sensory processing. She is currently completing her post-professional doctorate at the University of Puget Sound, and has recently begun working as a pediatric clinical instructor in the onsite clinic.

Heather (Hudson) Juan, MOT, OTR/L: Heather graduated from UPS in 2004 with a BA in Asian Studies. A Pacific-Rim Asia Study Travel program alumnus and also a 3 years undergraduate, 2 years graduate program student, she also graduated with the OT Class of 2005. Continuing her interest in traveling and experiencing different cultures, Heather completed her first of three OT fieldwork experiences at the psychiatric hospital in Zanzibar, Tanzania, officially graduating with a MOT in 2006.

Heather has been an adjunct faculty/clinical instructor for the OT program for 10 years serving as a clinical instructor for the off-site mental health clinics. Some years she has also taken on responsibility to organize the varied mental health clinic experiences and teach clinical and lab-based skills in the Mental Health in OT curriculum. She believes that an understanding of mental health is at the core of everything we do and impacts how effective we can be as occupational therapists.

Heather has worked in a variety of settings including community-based clinics, private pediatric practice, and early intervention/home-based services. She currently works as a school-based occupational therapist serving children ages 3-21. She has particular interest in working with students with challenging behavior, Autism Spectrum Disorder, mental health diagnoses and those with complex disabilities. Outside of work, Heather spends her time with her three sons doing arts and crafts projects, science experiments or rooting them on at sports events.

Heather Nelson, MOT, OTR/L, CPAM: Heather is new to teaching, but is enjoying the university vibe and classroom environment. Heather received her master's degree from the University of Puget Sound in 2002. Upon graduation she worked primarily in acute care, inpatient rehabilitation and skilled nursing environments in the Tacoma and Olympia areas. In 2011, her husband was transferred to Washington DC with the USAF and her family packed up and moved across country. Heather then transitioned to working in acute care, hand therapy and outpatient neuro in Annapolis, MD where she was certified in physical agent modalities. She also began to work in home health with a national home health agency. The military then brought her home to WA in 2016 and she continued to work exclusively in home health in Thurston County. She loves to work with older adults, their families and caregivers and is passionate about aging in place.

Heather has been a fieldwork II educator on both the East and West coasts and a chance encounter on a Facebook post introduced her to the CI experience with the UPS adult outpatient clinic. She has been a CI since 2017 and is now an adjunct faculty, teaching in both the 1st and 2nd year MSOT classes. The teaching position at UPS has provided her with the opportunity to share knowledge and experience and encourage students as they begin their OT careers as well as stretch herself professionally. Outside of work, Heather enjoys spending time with family, friends and volunteering with her church and local scouting organizations. She loves to read and go to the gym. She is married with three children ages 11, 14, 17 who are all involved with scouts, music and sports. As a family, they enjoy traveling and everything Disney.

Jackie Brown, OTR/L: Jackie has been an occupational therapist since graduating from UPS with her B.S. degree in occupational therapy in 2000, and completed her post-professional doctorate degree in 2019. She has worked primarily in outpatient pediatric clinics throughout her career and has advanced training in sensory integration (Certificate #1602), Certified Autism Specialist (Certification #ACAS172631), DIRFloortime® Provider: Certificate of Proficiency, Reiki Master, and craniosacral therapy techniques.. She enjoys working with clients with sensory processing disorders, autism, is passionate about incorporating a variety of techniques into her practice, and educating parents regarding their child's specific needs. Jackie is also the therapist/ owner of Apple Tree Therapy, LLC in Silverdale, WA, and author of a children's book Meet the Overs and the Unders: Making Sense of Sensory Processing.
Alumni / Fieldwork II Educator Spotlight: Spencer Perry
Before I even began my fieldwork II experiences in New York City, I was already off to a rocky start. As I had guessed, my old clunker of a car broke down on me three days into my road trip east while driving to a campsite in Montana. Stuck in the middle of the mountains with no cellphone reception, I was lucky enough to stumble upon a family of retired ski instructors. They welcomed me into their home, gave me a phone to call a tow truck, and even offered me a bowl of mint chip ice cream. After making it to the nearest town, I waited around for the weekend, hoping a mechanic could offer me good news. Unfortunately, the situation was bleak, my car was unfixable, and I had to sell it for its metal at a local steel plant.
But it was not all bad times! Soon after, I transferred all of my belongings into a rental car and headed east. Camping along the way, I woke up to buffalo roaming the plains, slept under the stars, and drove through a Midwestern torrential downpour; Washington's rain does not compare. When I arrived in NYC, my partner, Rachelle greeted me with open arms and a week later, I started my first fieldwork II placement at Fairview Rehab and Nursing Home in Queens (a borough of NYC).
My FW educator, Dwight, was an occupational therapist in the Philippines for 10 years before coming to the states to practice. Within the first week, Dwight eased me into a steady caseload of 4 clients and at first, I was nervous that I was responsible for all of these people; many whom were medically fragile. However, I felt that Puget Sound's emphasis on evidence-based practice (EBP) helped me become a self-motivated learner in this environment. Anytime I came across a new diagnosis or wanted to provide more effective treatment, I turned to research. Soon enough, I was treating 8 clients per day, performing 2-3 evaluations, and writing regular progress notes. Not only did I learn critical clinical skills, but also the importance of a cohesive team. PT, OT, SLP, nursing, and others all worked hand-in-hand to promote the residents' wellbeing. While it did not always run smoothly, there was never a question that we were all part of a team and needed to collaborate for the best results.
My second placement was probably the most unique of the two. It took place at Ahava Medical and Rehab, an outpatient walk-in clinic in a lower SES community of Brooklyn, NY. Under the guidance of my FW educator, Leo, I learned both the technical aspects of outpatient adult rehab and the importance of cultural safety in this particular setting. Luckily, I walked in with some knowledge of Spanish as for half of my clients it was their only language. I pushed myself to learn more of the language and more of my clients' cultures as I saw how it made them feel more welcome and open to participate in therapy.
This placement was also unique as Leo saw both pediatric and adult clients on a walk-in basis. That means some days we would see up to 50 clients together and others no more than 10 clients would show up. With this level of demand, it was incredibly challenging to balance productivity with quality care. However, I saw the challenge as an opportunity. Again, relying on UPS' foundation in EBP, I turned to research journals to learn specific treatment protocols, contraindications, and best-practice techniques for a broad variety of conditions. Leo emphasized early on that I needed to get creative in providing occupation-based interventions as this facility heavily relied on physical agent modalities. I felt that my experiences in the UPS on-site clinic, gave me a background in addressing performance patterns, which gave me the tools to provide occupation-based interventions to the clients of Ahava. While I would come home exhausted every night from this placement, I could not be more thankful for such a valuable learning experience.
Though my journey to get to New York was not the easiest, I truly felt that my FW II experiences solidified everything that I had learned at UPS. Like that little coffee filter analogy on every UPS syllabus, I was finally brewing some fresh warm java after all of the labors of the program. The coffee tastes good and I cannot wait to make some more!
Experiential Learning in Context (ELiC) Highlight: Wanda Saechin
Iu Mien American Association (IMAA) is a small community based in Seattle that provides youth and senior programs, cultural dance programs, recreational sports, education, and training. In the past several years, there has been a significant decline in both youth and senior participation in community programs. The current IMAA administration recognized the need to bridge the gap between the younger and older generations and for more youth community involvement in efforts to strengthen the local community and maintain cultural preservation. After completing my SAW project in Fall 2018, I was motivated to reengage with the local Iu Mien community and find ways to apply my coursework learnings into practice. After participating in the Iu Mien elections end of December 2018, my colleague May and I were recruited into being part of the IMAA youth board.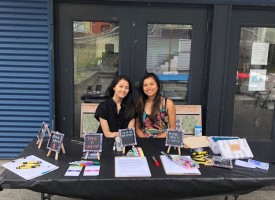 My ELiC experience included spearheading youth community outreach, surveying the needs of the community, collaborating in planning cultural events, and contributing to the monthly board meetings. I had the opportunity to offer my ideas for fundraising, workshops to promote skill development and health literacy, collaborate with other community partners, and take a leadership position to represent Iu Mien youth in Seattle, WA. My colleague and I organized a space for Mien youth and young adults and facilitated a discussion for community members to expresses concerns and needs. From that discussion, life skills programs, youth recreation, and meaningful activities were identified to be motivating factors for the youth to return and be involved in the Mien community. Following, a fundraising event was held to fund the continuation of youth recreational activities, sports, and cultural programs at the IMAA.
Volunteering for the IMAA helped strengthen my leadership, communication, advocacy, and problem-solving skills; all of which contribute to my personal and professional development and future OT career. Through my experience thus far, I learned that my ethnic community is underrepresented, has low health and education literacy, and great occupational needs. This in turn has fueled my desire to become a more active agent and lead me towards my current work of being a representative of the IMAA, Mien International Enrichment Network, and a part of the planning committee for the SEA&PI Education Health Summit. In addition, I have been given the opportunity to share knowledge about the profession of occupational therapy during the health professions panel at the SEA&PI Education Health Summit. Future plans for youth mixers, recreational programs, health and educational workshops for youth to older adults are expected to take place in the late Spring/early summer of 2020.
Upcoming Events
RESEARCH PARTICIPANTS NEEDED
Research opportunity! Dr. Kaminsky is conducting a survey about technology use in cognitive rehabilitation for adults with acquired brain injury. This is a message from her: "Are you an OT practitioner (OT or OTA) who works with adults with stroke and/or TBI? I am conducting a research study on the use of everyday technology (e.g. smartphones, tablets, etc.) with this population and would love to have you participate! If interested, you can follow this link (https://tinyurl.com/yygo7d7l) to an online survey. It has six sections and should take about 15 minutes to complete. The link is generic and your responses won't be associated with your identifying information. You have the option to enter a raffle for a $10 gift card at the end of the survey. I'll need your email address for the raffle. That will be stored in a separate and protected file which will be deleted as soon as the raffle is complete! Please let me know if you have any questions! And feel free to pass this on to OT colleagues who also work with adults with stroke and/or TBI! Thanks so much!"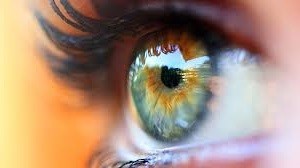 ANNUAL FACULTY & FIELDWORK EDUCATOR'S WORKSHOP - FRIDAY, OCTOBER 30, 2020
Save the date for our upcoming Fall Faculty and Fieldwork Educator Workshop on Friday, October 30, 2020. Our morning session will focus on supervisory relationships in occupational therapy, including student supervision. The afternoon session will focus on current trends in healthcare, where we will break into "Conversations that Matter" based on clinician identification to emphasize what challenges are faced in industry today. If you have questions, please don't hesitate to contact Dawn at dsmith@pugetsound.edu.
THE 2020 OT RESEARCH EVIDENCE SYMPOSIUM IS GOING DIGITAL!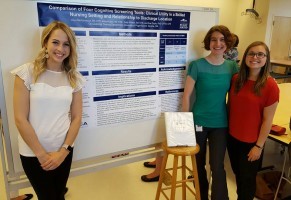 SAVE THE DATE: THURSDAY, MAY 14, 2020 TIME: 6:00 TO 9:00 PM
* Plan to join us and earn up to 3 contact hours for continuing education requirements at no charge.
OT Research Evidence Projects
Each year our 2nd year OT students partner with community OT practitioners to examine the published evidence related to a question of interest to the practitioner. They spend fall semester analyzing, critiquing and synthesizing the published literature and spring semester creating a knowledge translation project in which they develop and implement a first-step in aiding the practitioner to translate (or apply) the evidence findings into the practitioner's practice. This year-long effort culminates in the OT Evidence Symposium in which the students present their work to our community colleagues. We invite you to join us in celebrating their accomplishments and to consider becoming a community collaborator in the years ahead.
- Earn Free CEUs!
To honor the Stay-At-Home mandate the 2020 OT Research Symposium will be online! Plan to join us and earn up to 3 contact hours for continuing education requirements at no charge. The program will showcase 14 poster presentations describing Puget Sound OT students' work on their clinic/university collaborative evidence and knowledge translation projects. These presentations will provide comprehensive literature reviews on a variety of current OT practitioner questions.
Topics include:
effective occupation-based approaches in hand therapy;
home-health interventions for post-CVA;
behavioral management for TBI;
occupation-based treatment for chronic pain;
effective feeding interventions for young children;
sensory processing assessment and intervention in early intervention;
effective sensory strategies in schools;
visual assessments post-CVA in acute care, and more.
To RSVP send email to Jen Boyle at jboyle@pugetsound.edu.
Details regarding how to join will be sent in early May.
INTERESTED IN FINDING EVIDENCE TO INFORM YOUR PRACTICE?
In September 2020 students will begin working on the next set of evidence reviews on topics of interest to their collaborating practitioners. We would love to have a group of students investigate your clinical question! If you would like a team of graduate occupational therapy students to find, analyze, and synthesize research evidence on a topic of interest to you, contact Renee Watling at rwatling@pugetsound.edu.
Anticipated Timeline:
Early September 2020- Teams of graduate occupational therapy students are assigned collaborators.
December 2020- Students present their preliminary findings to their collaborator, discuss implications.
Late Jan/early Feb 2021- Students present the final evidence findings from the literature. Students and collaborator formulate a follow-up involvement plan which "translates" the evidence for use in practice by the collaborator.
Feb-April 2021- Students work under faculty supervision to carry out the involvement plan.
May 2021- Student groups make a poster presentation on the evidence for their topic and the "evidence translation" process at a campus symposium, to which collaborators are warmly invited.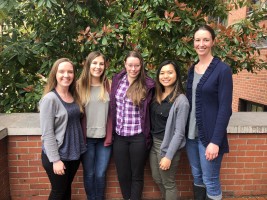 Student Occupational Therapy Association (SOTA)
SOTA has enjoyed a productive and meaningful year providing well-rounded learning opportunities for our students. Board members and committees (Health & Wellness, Professional Development, Advocacy, Social and Fundraising) have been hard at work hosting guest speakers, providing opportunities for our students to volunteer and advocate in the community, and more. Some highlights include:
Undergraduate Q&A: Advocacy Committee hosted a Q&A session for undergraduate students interested in the OT profession. We had a great turn out!
Resume Workshop: Professional Development organized a workshop for writing effective OT resumes. Currently, they are busy organizing the OT/PT job fair coming up this spring!
Stress Relief Dog Day: OT students were invited to bring their dogs and outdoor games to campus for an afternoon participating in some of our own leisure occupations!
George's Sabbatical Party: As Professor George Tomlin is on sabbatical this spring; the Social Committee planned a surprise party to send George off at the end of the Fall Semester. George was surprised, and we all had a great time!
OT Faculty and Students were Prepared for AOTA!
Several faculty and students were prepared to present at AOTA 2020. However, the conference was cancelled due to the Coronavirus. Hopefully we will see some of you and these presentations in San Diego in 2021!
FACULTY PRESENTATIONS
Wilbur, K. (2020, March). Equity requires diversifying the students, the faculty, and the curriculum: Efforts to diversify an OT program at a predominantly white college. Facilitated discussion at the meeting of the American Occupational Therapy Association, Boston, MA.
Zylstra, S.E., Tomlin, G., & Pitonyak, J. (2020, March). Examining student-learning outcomes in an occupational therapy teaching clinic. Poster presentation session presented at the meeting of the American Occupational Therapy Association, Boston, MA.
STUDENT PRESENTATIONS
Jones, A., Kensil, P., Peltzman, J., Petru, E., Pitonyak, J., & Watling, R. (2020, March 26-29). Social-emotional learning (SEL) strategies for students in self-contained classrooms: Creating an evidence informed quick reference guide [Poster presentation]. AOTA Annual Conference & Expo. Boston, MA. United States.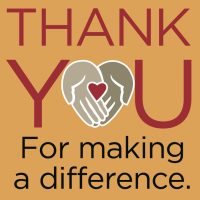 Thank you, Donors!
We want to thank everyone who has given to the OT Gift Account. These donations support student research and the presentation of their projects at Local, State and National Conferences. Your support makes a difference.
Thank you!
Graduate Student Emergency Fund
During this time, Puget Sound has established a Graduate Student Emergency Fund for graduate students experiencing challenges due to loss of a job, etc… Gifts can be made to the fund via our restricted giving page. The page asks for a designation. Please click the "Other" button, and type in Graduate Student Emergency Fund. If you prefer to make a gift by phone, please call 253.879.2923 and someone from the university will be happy to assist you.