Letter from the Chair
Hello!
As you can see by the different articles in this newsletter, faculty, staff and students in the School of Occupational Therapy at the University of Puget Sound have been very busy. We invite you to explore this year's (as well as past year's) student projects at https://soundideas.pugetsound.edu/ms_occ_therapy/. I would encourage you to take some time and browse some of the great work of our students. You will find a variety of theses and critical appraisals of topics that you may be able to use in your own clinical practice.
The OT Faculty have been working hard to develop the entry level OTD with an anticipated start date of Fall 2020. We are excited about the development of an innovative curriculum that continues our commitment to hands-on learning through experiential learning and the community-based and onsite clinics. We realize there has been a lot of debate around the pros and cons of an entry-level masters vs. an entry level doctorate degree. We have chosen to move to the entry-level OTD so that we can better meet the diverse needs of our profession, our students and future clients. The OTD curriculum is strongly grounded in clinical and professional reasoning, leadership and service, and research and scholarship. Our students will be completing a doctoral capstone experience their final semester. The doctoral capstone is designed to provide students with an opportunity to synthesize all they have learned during their OTD coursework and fieldwork experiences. Through this project, students will have an opportunity to address a specific need within the community, a healthcare setting, school or other system. We will be looking for community partners/clinicians to work with faculty and students on these projects. If you are interested, please contact me (yswinth@pugetsound.edu).
We want to hear from you, our alumni. Please send any updates to ot@pugetsound.edu. We will be sharing these in our next newsletter. Also, if you know any alumni that have not signed up on our alumni data-base, please encourage them to do so.
Have a great summer!
-Yvonne
Farewell to Dr. Anne James
In December we said a fond farewell to Dr. Anne James. Dr. James first came to the University of Puget Sound in September of 1991 – May of 1995. After almost 15 years, she came back to the University of Puget Sound in January 2010. Dr. James is famous for her "it depends", humor and love for the classroom. While she will be missed by faculty, staff and students, we are happy that she will have more time to garden, travel, bike and maybe even find a new hobby or two in her free time.
2019 AOTA Annual Conference & Expo
Many occupational therapy faculty, students and alum presented at the recent AOTA conference. We also enjoyed seeing some new alum as well as alum from years past at our alumni reception. If we missed you this year at conference, we hope to see you next year in Boston!
FACULTY PRESENTATIONS
Wendell Nakamura, DrOT, OTR/L & Sheryl Zylstra, DOT, OTR/L, BCP:
Social Media as Occupation: Building a Framework for Understanding Its Impact on Today's Youth Culture
Wendell Nakamura, DrOT, OTR/L, Anne Birge James, PhD, OTR/L, FAOTA, & Susan Doyle, PhD, OTR/L, CFE, CAPS:
Who's Failing Whom? A Pilot Study on Client Adherence With Home Programs in Occupational Therapy Practice
Jennifer Pitonyak, PhD, OTR/L, SCFES:
Scholarship of Teaching and Learning (SoTL) Institute and Mentoring Program
(SIS) AESIS Short course on Fostering Critical Reasoning and Thinking Skills: Four Different Pedagogical Approaches in the OT and OTA Curriculum
Yvonne Swinth, PhD, OTR/L, FAOTA and Jennifer Pitonyak, PhD, OTR/L, SCFES:
(SIS) CYSIS Invited Short Course on Trauma and Adversity: The Role of Occupational Therapy in Improving Outcomes for Children and Families
George Tomlin, PhD, OTR/L, FAOTA:
Case reports & Case Report Journal in Occupational Therapy. Authors: Jessica McHugh, PhD, OTR/L, BCP, Katrina Serwe, PhD, OTR/L, George Tomlin, PhD, OTR/L, FAOTA, Aimee Piller, PhD, OTR/L, Deborah Dougherty, OTD, OTR/L, & Bonnie Riley, OTD, OTR/L
Renee Watling, PhD, OTR/L, FAOTA:
Invited Panalist for AOTA's Choosing Wisely Town Hall
Kirsten Wilbur, EdD, OTR/L:
OT as a Career Choice by High-School Students of Color
Sheryl Zylstra, DOT, OTR/L, BCP, Yvonne Swinth, PhD, OTR/L, FAOTA & Julie Anderson, DrOT, OTR/L:
Social Skills Camp with Parent Coaching for Children with Disabilities: A Pilot Program
Sheryl Zylstra, DOT, OTR/L, BCP:
OT's role in the Use of Social Media Among Adolescents
STUDENT PRESENTATIONS
Ashley Davies, OTS, Julia Shure, OTS, Leilani Jones, OTS, Katrina LaRossa, OTS, Renee Watling, PhD, OTR/L, FAOTA Student Poster:
The Evidence for Sensory-Based Interventions (SBIs) for a School Setting
Claire Ferree, OTR; Amanda Robert, OTR; Alana Yee, OTR; Dillon Oldham, OTR; George Tomlin, PhD, OTR/L, FAOTA; Tatiana Kaminsky, PhD, OTR/L Student Poster:
State of Evidence for everyday Technology Use in Upper Extremity Motor Recovery Post-Stroke
ALUMNI RECEPTION
Faculty Accomplishments
George Tomlin, PhD, OTR/L, FAOTA:
Just in time for AOTA Conference, SLACK published a new edition of Clinical Research in Occupational Therapy (6th ed.) by Martin Rice, Franklin Stein, & George Tomlin. Updating the 5th edition, and adding a chapter on single case experimental design was a two-year process for George, but enjoyed working with Martin and Frank on the project!
Yvonne Swinth, PhD, OTR/L, FAOTA:
Dr. Yvonne Swinth completed her Trust-Based Relational Intervention (TBRI) Practitioner Training. TBRI® is an attachment-based, trauma-informed intervention that is designed to meet the complex needs of vulnerable children. The intervention is based on years of attachment, sensory processing, and neuroscience research, with the core goal of connection. As a TBRI practitioner, Dr. Swinth will be able to further support the needs of children who have experienced trauma and their families in the schools, home and community.
Renee Watling, PhD, OTR/L, FAOTA:
Visiting Assistant Professor Renee Watling was recognized by the University of Washington Division of Occupational Therapy, her alma mater, as Alumnus of the Year for 2019. The award is granted each year to a graduate of one or more of the UW OT programs who with his/her knowledge, expertise, and efforts has made outstanding contributions to the advancement of the occupational therapy profession. Dr. Watling received her BS in and MS degrees from the UW Division of Occupational Therapy in 1992 and 1998, respectively, and her PhD in 2004 from the UW College of Education.
Clinic Update
| | |
| --- | --- |
| Adult Clinic Mat Tables | Pediatric Clinic Mat Room |
We had another successful year in our occupational therapy teaching clinics! This past fall semester the second year students provided evaluations and activity interventions to seven community sites serving individuals with serious mental illness, dementia, traumatic brain injury, and recovery from addiction. During the spring semester we had 34 second year occupational therapy students in our onsite pediatric and adult teaching clinics and served over 70 clients! In addition we had many wonderful community fieldwork educators mentoring and supervising our students.
Our mental health fieldwork educators were Kjirsten Winters, Kay (Robbins) Allgood, Juli McGruder, Liz Burris, Christina Draper, Heather Juan and Kirsten Wilbur.
This year's adult clinical instructors were Christiane Buhl, Brandon Imamshah, Melissa Porras Monroe, Heather Nelson, Shelly Norvell and Deb Zahnow
Pediatric clinical instructors included Denise Trembly, Aimee Sidhu, Jackie Brown, Christina Draper, Kjirsten Winters and Jamie Palmer.
Special thanks to all of our clinical instructors and community members who participated in clinic this year.
Our clinic is growing! If you know of any alumni or community OT's who would be interested in being adjunct faculty in our teaching clinics next year please have them contact us. For mental health clinic contact Kirsten Wilbur at kwilbur@pugetsound.edu, for adult clinic contact Jenny Pitonyak at jpitonyak@pugetsound.edu, and for pediatric clinic please contact Sheryl Zylstra at szylstra@pugetsound.edu.
In addition, If you have any interest, or know someone who might have interest, in being a client participant in our adult or pediatric clinics next year please contact our clinic administrator Twila Hamel at (253) 879-3499, or email us at otclinic@pugetsound.edu. We will start scheduling for our spring 2020 adult and pediatric clinics in November, 2019.
Experiential Learning in Context (ELiC) Highlights
The experiential learning in context course—or ELiC, is an authentic learning experience that helps students make meaningful connections between course content and needs of the community. ELiCs are designed to foster students' ability to 'think like an OT' and professional behaviors such as reflection and the commitment to life-long learning. Students complete 3 ELiCs, each requiring a minimum of 20 hours service in a setting that provides professional development experience relevant to occupational therapy practice and/or with populations served by occupational therapists.
First year MSOT student Whitney Limbach put her prior work experience in community social services and interest in supporting people who are homeless to action in an innovative ELiC with the Vital Program in King County. The Vital Program uses an interdisciplinary approach to support people experiencing homelessness; program services combine legal and housing support with comprehensive mental health services—including occupational therapy. Kathleen Kannenberg, an experienced occupational therapy practitioner in mental health and advocate for the role of occupational therapy in behavioral health services in Washington state, invited Limbach to shadow her work with The Vital Program. In return, Limbach provided Vital with employment resources for clients with extensive criminal histories and created a homelessness-to-housing flowchart for the organization. Limbach reflected, "Seeing what Kathy is doing in Seattle was so exciting. What she's doing is exactly why I applied to OT school. I first learned about occupational therapy when I was working at a housing-first agency – and I knew that most of my clients could benefit from it. However, there were no OTs that I knew of intentionally serving that population. Shadowing Kathy made me so hopeful that I can help replicate and expand on the important work she's doing after I graduate."
Student Adaptive Projects
Within Occupational Performance Adaptations III, students are introduced to the use of a wide array of technology components to support adaptations for a variety of client populations. The recent addition of the MakerSpace here on the University of Puget Sound campus brought along with it the opportunity to utilize 3D printers, laser printers, sewing machines, and more! This simultaneously brings us back to the roots of occupational therapy, by facilitating design components of adaptations, while also introducing us to the newest innovations through 3D printing and design software. The MakerSpace is located across campus in the basement of the Collins Library, and is run by Jada Pelger and Eli Gandour-Rood. As many experienced occupational therapy practitioners know, therapeutic customization is an everyday part of what we do. This semester, students were oriented to the MakerSpace early in the semester and encouraged to utilize it for a variety of opportunities, both through formalized assignments as well as a consideration for onsite clinic clients.
Students got creative! A few highlights include:
TACTILE MAP OF THE PUGET SOUND CAMPUS FOR LOW VISION CLIENTS

Malcolm and Ciara decided to learn the process of using a 3D printer and embraced the challenge of designing a tactile map of the UPS campus for low vision clients. They ended up utilizing a mixed media approach, including 3D printing all buildings (to scale!), incorporating felt and various grades of sandpaper to highlight roads, walkways, and grass, as well plastic lacing to denote edging. The map includes numbering of all buildings utilizing raised numbers with a matching legend, all printed with the 3D printers in the MakerSpace.

COMMON ADAPTIVE DEVICES FOR CLIENTS WITH OSTEOARTHRITIS

Mikayla, Nicole & Jolene generated a case study for clients with osteoarthritis as a diagnosis common for older adults that impacts grip strength. They decided to utilize the 3D printer to generate common adaptive devices at a fraction of the cost. Spending only $6 (including the $2 user fee), students printed a pill container opener, a grocery bag carrier, and a paintbrush holder.

DESIGNING A MEANINGFUL ACTIVITY FOR A CLIENT

Ashley was struggling to find a meaningful activity for a client in the onsite clinic. Through use of a variety of therapeutic strategies, she landed on model cars as a past interest and decided to utilize the 3D printer to generate something ready-made for the client's performance skill capacity. She designed and printed a model car, which the client is in the process of painting, that can later be assembled by the client as a finished product.

CUSTOMIZED DEVICE TO REDUCE RESTING TREMORS

Jared knew his client was interested in a customized device to reduce resting tremors. Although he was less familiar with the sewing machine, he utilized the MakerSpace (and its staff) to learn how to create a custom glove for his client that allows for fingertip touch, and various Velcro parts to increase or decrease weight depending on the task being performed.
Student Occupational Therapy Association (SOTA)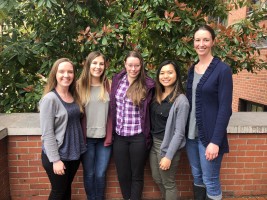 The Student Occupational Therapy Association (SOTA) has had a busy year under the leadership of co-presidents, Cate Hannan and Mikayla Wrolstad. The group has been involved with many projects chaired by active sub-committees. These sub-committees include: Advocacy, Health & Wellness, Social, Professional Development, and Public Relations.Some accomplishments from the 2018 - 2019 academic year are:
T Shirt Fundraiser: 107 Items Sold, 74 Supporters for a total of $1362 raised
Multiple Brown-Bags (Lunch time presentations for students) and Events: Some examples are OT Olympics, Mindfulness, and Kinesiotaping
Helped 8 Students attend the AOTA Conference
Promoting diverse volunteer opportunities ranging from: serving mental health populations, groups to adapt activities for people with specific physical disabilities, as well as events which support their caregivers.
Visit from Gunma University
| | |
| --- | --- |
| Welcome Dinner | Student Activity |
Since 2001, OT/PT students and faculty from Gunma University in Japan have been visiting the University of Puget Sound biennially. This goodwill program was started by now retired Gunma faculty member and UPS alumnus, Kiyotaka Iwasaki '84. The University of Puget Sound and Gunma University officially signed a sister-institution agreement in Feb 2013.
A group of 6 students and 2 faculty members arrived on Sunday March 10 and had a day to get settled before starting their busy week. Over the next 5 days, the group participated in a number of activities which included:
On campus presentations by faculty and alumni
OT and Japanese Studies classes
4 clinic site visits
Tour and activity in the Makerspace lab on campus
Japanese Studies taiko drum practice session
UPS/Gunma student activity night
| | |
| --- | --- |
| Gunma Presentation | Lymphedema Presentation |
The Gunma students and faculty also provided us with presentations about Japanese culture and geography, the OT/PT program at Gunma University and the Japanese healthcare system. The week ended with Gunma students and faculty spending the weekend with American hosts. This is a special part of the exchange program and it was enjoyed by all.
UPS is in the process of making arrangements for a trip to Gunma University in May 2020!
Reflection on the School of Occupational Therapy 75th Anniversary Celebration
by Jessica Stein & Akiko Ketron, MSOT Class of 2020
On Friday June 7th, 2019 the University of Puget Sound's Occupational Therapy Program celebrated 75 years of educating future occupational therapists. Visitors ranged from alumni of the second graduating class of 1948 to incoming students of the class of 2021 to members of the community.
The festivities began with a class reunion lunch where people could connect with past classmates and faculty. The rooms were filled with vibrant energy as people reconnected with old faces and caught up with each other. It was fun to see where the different alumni had been and where they were going. Some had retired from rich careers in occupational therapy, some were preparing to teach future generations, and some were continuing to gain expertise in their chosen settings. It was interesting to see the many different routes one can take as an occupational therapist. After lunch, Professor George Tomlin presented a lecture on the history of the Puget Sound OT program. People were really looking forward to hearing George. Some alumni remembered George when he was a young professor and were excited to see how he had changed over the years .
The presentation was followed by an open house of the occupational therapy clinical facilities in Weyerhaeuser Hall. It was the first time some alumni had seen the new facilities, built in 2011. Visitors could explore the adult clinic and the pediatric clinic, and learn more about the adaptive equipment currently used by Puget Sound OT students. Many alumni were impressed with the new facilities, saying that they were much better than the old barracks where the occupational therapy clinic used to be. At the old barracks, space was limited and it took some planning to have your own space with your client. With the new resources and more established facilities, alumni still encouraged current students to embrace creativity saying that limited resources, both at UPS and in their careers, often led to creative solutions. Many of them shared their great 'OT moments' that had impacted their clients' lives because of their outside-the-box thinking, creativity, and client advocacy.
At the pediatric clinic, visitors could see some of the therapeutic tools used, such as a swing and a ball pit. Some of the alumni said that they loved using swings and wished they had more access to swings in the school system. Research posters from the most recent class of 2019 were also on display in the pediatric clinic. Visitors enjoyed learning about the work that current students were doing.
As alumni walked into WEY 115 where adaptive equipment was displayed, they quickly noticed the display of the splints that were fabricated by the current OT students. Many shared their vivid memories of splint construction including leather materials and high- temperature thermoplastics being quite challenging to manipulate. A recent retiree remarked that she still has her first splint to this day!
Current students created displays that could be seen during the open house, including a photo slideshow, history timeline, and class photo collage. These displays allowed visitors to see how the people and the program at Puget Sound changed over the years. The program has evolved from a Bachelor's degree, to a Master's degree, and the school is preparing right now to transition to Doctorate degree. Students in the early days of the school dissected cats during anatomy; now students study cadavers. Early OT students attended dances and field trips; now students participate in intramural teams and attend the annual AOTA conference. Every edition of Willard and Spackman's Occupational Therapy was also on display. People saw how the textbook has changed throughout the years- from the small and red first edition to the 1264-page long 13th edition!
The 75th Anniversary Celebration was a great time to reunite with old classmates and faculty, while creating new connections. Students and alumni of all ages had the chance to reminisce about old times and learn how the program has evolved. The occupational therapy program at the University of Puget Sound has had a rich history, filled with dynamic students and engaging faculty and is sure to have a bright future filled with innovation and exceptional students!
Teaching Opportunities at Puget Sound
Are you interested in sharing your clinical skills? Have you thought about teaching either in the classroom, lab or clinic? We have several opportunities for clinicians to be a part of our team and to help shape the next generation of occupational therapists. These opportunities include:
Clinical instructors for mental health (fall semester), pediatrics (spring semester) or adult clinic (spring semester)
Help in skills lab, specifically adult neuro
Classroom teaching in adult neuro (fall semester):

From course instructor: "Looking for an adjunct instructor to team teach in our adult neurological disorders course. The content that would be covered would be motor recovery/relearning after acquired brain injury, with a focus on motor learning/task-oriented approach. The position includes teaching two 2-hour lectures and one 2-hour lab twice each week in addition to completing some of the grading in the course. Since it is team-taught course, faculty do not attend all lectures and labs throughout the semester. Additional topics that may be covered, depending upon load and clinical expertise, include traumatic brain injury and degenerative neurological disorders. This class is co-taught with one of our tenured faculty members who will act as the lead instructor of the course, overseeing the administration of the class, in addition to teaching additional topics."

Biomechanics (spring semester).
One or more guest lectures on a topic of expertise
If you are interested in any of these opportunities, please send an email to Yvonne (yswinth@pugetsound.edu) with your resume/CV and a short description of what you would be interested in contributing.