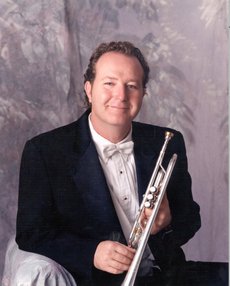 Tacoma native Neal Berntsen '82 received his bachelor of music degree from Puget Sound in trumpet performance, a master of music degree from Northwestern, and since completing his studies he has built an impressive career as a professional musician. He has been a member of the Chicago Lyric Opera Orchestra, Chicago's Grant Park Symphony Orchestra, Chicago Sinfonietta, the Ravinia Festival Orchestra, and the Bamberg (Germany) Sinfoniker. Since 1996 he has been a member of the Pittsburgh Symphony Orchestra, having been appointed at the invitation of then-Music Director Lorin Maazel. His performing credits do not stop there. Other orchestral performances have included the Chicago Symphony Orchestra and the Boston Symphony Orchestra, a tour of Japan with members of the Chicago Symphony brass section, chamber groups that include the Pittsburgh Symphony Brass and the Asbury Brass Quintet, live or recorded performances with Diana Ross, Mannheim Steamroller, and Michael Jackson, and solo engagements as recitalists or concerto soloist around the world.
He was a finalist in both the Maurice André International Trumpet Competition in Paris, France and the Ellsworth Smith International Trumpet Competition in Boston. His recently released solo album (Trumpet Voices, on Four Winds Records) demonstrates his impressive musical versatility with works ranging from the Renaissance to new compositions for trumpet and computer.
Articles penned by Neal have appeared in The Instrumentalist and the International Trumpet Guild Journal. As an educator, Neal is on the faculties of Duquesne University and Carnegie Mellon University, and he has presented master classes both nationally and internationally. Neal expects his students to play at the highest level, "giving them," says Neal, "the freedom to focus solely on making music and connecting with the audience." He also expects his students to play in a variety of styles. Excellence and breadth: clearly, Neal teaches from his own example.
Other alumni active in professional ensembles
Teresa (Smith) Alzadon, '02, soprano, United States Army Field Band
Eileen Bedlington '01, trumpet, United States Navy Band
Erica (Brewer) Johansen '02, concertmaster, Lake Union Civic Orchestra
Linda Cole '76, violin, Seattle Symphony
Mark Dix '93, viola, Phoenix Symphony
Noah Hock '03, viola, Greensboro Symphony
Thomas Joyce '91, bass trombone ,

Charleston Symphony

Danielle Lemieux '98, horn, Pacific Northwest Ballet
Shanda Lowery '94, viola, Detroit Symphony
Charles Noble '90, Associate Principal, viola, Oregon Symphony

Rene Reder

'94, viola, Alabama Symphony

Darrin Thaves

'91, principal flute, Northwest Sinfonietta (Tacoma, WA)
Janet Utterback-Peck '94, violin, Tacoma Symphony Orchestra