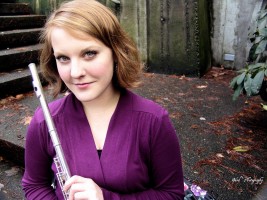 Erin McKibben '06 "Classical music is dying? Oh, that's so Baby Boomer!" Erin McKibben '06 didn't say that, though she may well have thought it. Erin is part of the next generation of talented, highly trained musicians who are breaking down the walls in the music world. In the process she and her collaborators are reinventing that world into something bold and new.
After graduating from Puget Sound, Erin completed graduate studies in flute performance at the University of Michigan. As graduation approached, many of her classmates took the orchestra auditions expected of them, but Erin thought differently. She joined forces with Michigan classmate Chris Rountree and others to form wild Up, a group of musicians dedicated to living aesthetically on the edge—to playing all music with visceral passion. Performing everything from classical fare to modern compositions, from structured repertoire to garage band jam sessions, wild Up is one of the most exciting chamber groups on today's music scene. Calling themselves "a modern music collective" and performing in traditional and improvised spaces, members have released a recording (Feather and Stone), made a string of YouTube videos, garnered more than 1,400 likes on Facebook, and are enjoying critical acclaim.
Performance is only part of Erin's entrepreneurial life. She was also a teaching artist in the Incredible Children's Art Network (iCAN), an after-school program in Santa Barbara, in the visual arts and music. Inspired by the El Sistema movement in Venezuela, iCAN offered music instruction to 120 elementary school students three hours a day, five days a week, through group lessons, orchestra, and choir. Erin described the program as "a special community [that] reclaimed classical music as a means of joyful community-building."
But why stop there? Erin also taught flute at Santa Barbara School of Music, a community music school. In late 2013, when the director announced she was leaving, Erin bought the school. She developed business and marketing plans, hired the appropriate staff to help her run the school, and now employs eight teachers offering instruction in flute, voice, guitar, and piano to 70 students.
And with so little going on in her life, why not perform penny whistle in Dannsair, an Irish band in Santa Barbara? (Erin does that, too.)
Performance artist, founding member of wild Up, mentor, business owner, and teacher: Thank goodness Erin did not take those orchestra auditions after Michigan. She is a shining example of a successful artist in today's music world, part of a new generation of musicians changing the business of music, its reception, and its place in our lives.
Other Alumni Active in Entrepreneurship:
Gary Anderson, '80, Resonation Chinrest
Beverly Brossmann, '08, Teacher, Flutist, and Professional Artist
Dan Corral, '04, Spinal Frog
Brendan Faegre, '07, Composer, Educator, Bandleader, and Percussionist
Julie Knerr '96, founder of Piano Safari
Jacob Thom '11, Big Wave
Jasper Tollefson, '10, JT Music