Academic Advising, in conjunction with your peer advisor and faculty advisor, will host several events to help first-year and transfer students get...REGISTRATION READY!
Attend ANY PeopleSoft Training session (Dates, times, and locations TBD). Check with your PA or faculty advisor for details on your RPM. Come enjoy some pizza and get support with class planning for registration.
If your schedule conflicts with the RPM time set for your advising class, you are welcome to attend any RPM that suits your schedule. Just let your PA know your plans. Check back in October for more RPM details about how to get registered for Spring 2023 classes.
Expect an email from the Registrar directing you to your myPugetSound to find your registration appointment date and time for Spring '23 registration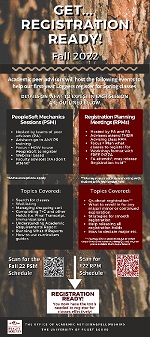 .
The infographic to the right explains details about what is covered at PeoplesSoft Sessions and Registration Planning Meetings and how they both are offered as support for a smooth registration
NOTE: Peer advisors host the PeopleSoft Mechanics Sessions to teach you HOW to register. RPMs focus on WHAT to register for and are usually attended by your faculty and peer advisor....and serve FREE PIZZA!
CONFIRM WITH YOUR FACULTY ADVISOR HOW YOUR REGISTRATION HOLD WILL BE RELEASED.
---