Alumni + Family
Lectures
Sciences
Daedalus Lecture with Dr. Melvin Rouse
Add to Calendar
2023-02-07 17:00:00
2023-02-07 19:30:00
Daedalus Lecture with Dr. Melvin Rouse
Join Dr. Melvin Rouse, Associate Professor of Psychology, for a talk entitled: The Social Self, the Biological Self: How Biological Phenotype and Social Behavior Can Inform One Another. Songbirds have been used as a model to study complex social behaviors and the biological underpinnings thereof for a long time. The social choices a bird makes are bounded by their social history, environmental context, biological phenotype, and so on. However, what is often under-appreciated in these data is the clear evidence that the direction of influence is multi-directional. Yes, biology can influence social decisions, but, social decisions can in turn influence biology. This fascinating truism of the data underscores the importance of nuance and inclusion in the translation and application of basic science. 5:00 pm - Reception 5:30 pm - Lecture 6:30 pm - Dinner Tickets are $15 per person Cash or check only at door RSVP for dinner by Monday, January 30th: tinyurl.com/DaedalusRSVP All members of the university community such as faculty, staff, partners, retirees, and friends are welcome.  Questions? Contact the Academic Dean's Office: 253.879.3207 or academicdeans@pugetsound.edu
Location
Contact Information Kate Peterson 253.879.3207 academicdeans@pugetsound.edu
support@kwallcompany.com
America/Los_Angeles
public
Feb 07, 2023
5 p.m. - 7:30 p.m.
Join Dr. Melvin Rouse, Associate Professor of Psychology, for a talk entitled: The Social Self, the Biological Self: How Biological Phenotype and Social Behavior Can Inform One Another.
Songbirds have been used as a model to study complex social behaviors and the biological underpinnings thereof for a long time. The social choices a bird makes are bounded by their social history, environmental context, biological phenotype, and so on. However, what is often under-appreciated in these data is the clear evidence that the direction of influence is multi-directional. Yes, biology can influence social decisions, but, social decisions can in turn influence biology. This fascinating truism of the data underscores the importance of nuance and inclusion in the translation and application of basic science.
5:00 pm - Reception
5:30 pm - Lecture
6:30 pm - Dinner
Tickets are $15 per person Cash or check only at door
RSVP for dinner by Monday, January 30th: tinyurl.com/DaedalusRSVP
All members of the university community such as faculty, staff, partners, retirees, and friends are welcome. 
Questions? Contact the Academic Dean's Office: 253.879.3207 or academicdeans@pugetsound.edu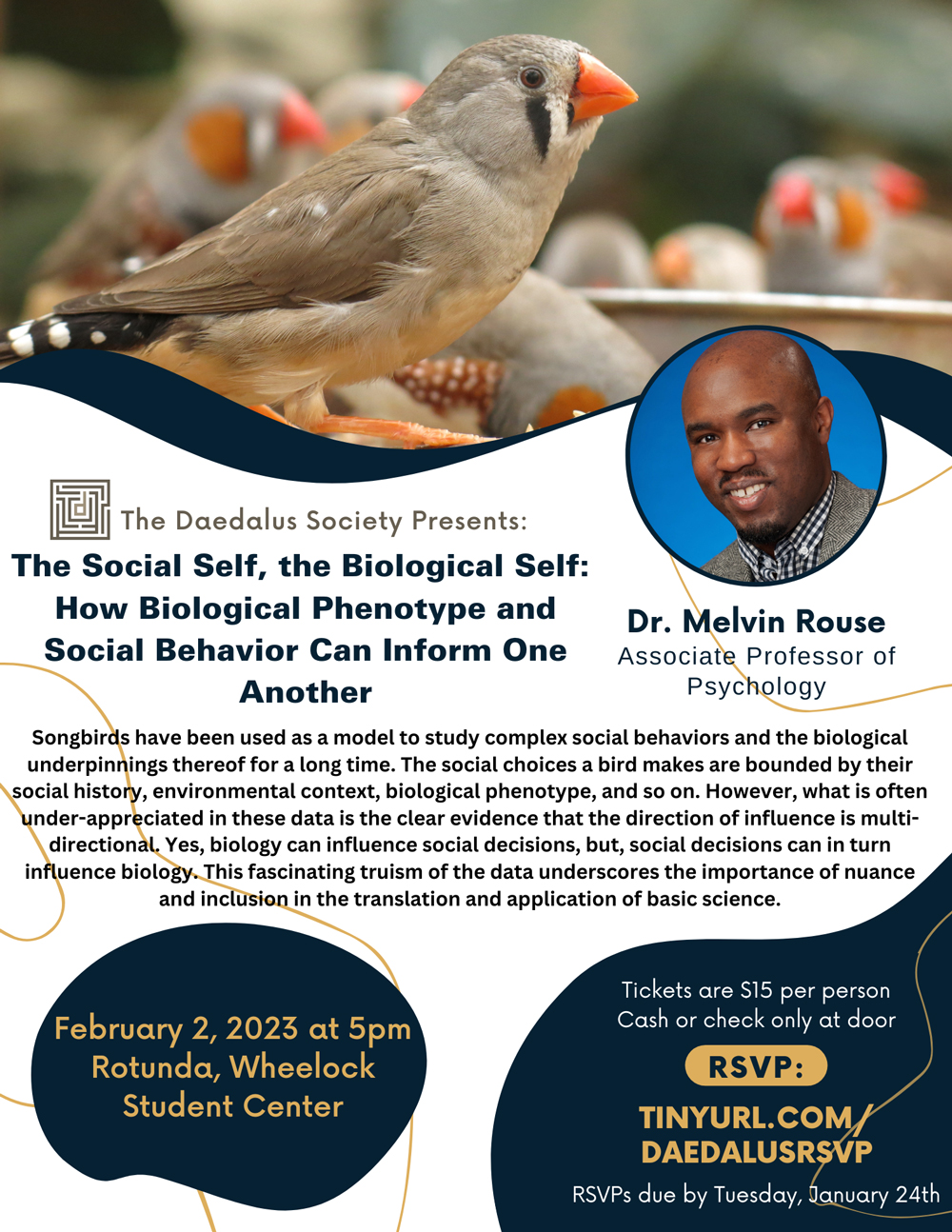 Event Location
Rotunda, Wheelock Student Center
academicdeans@pugetsound.edu