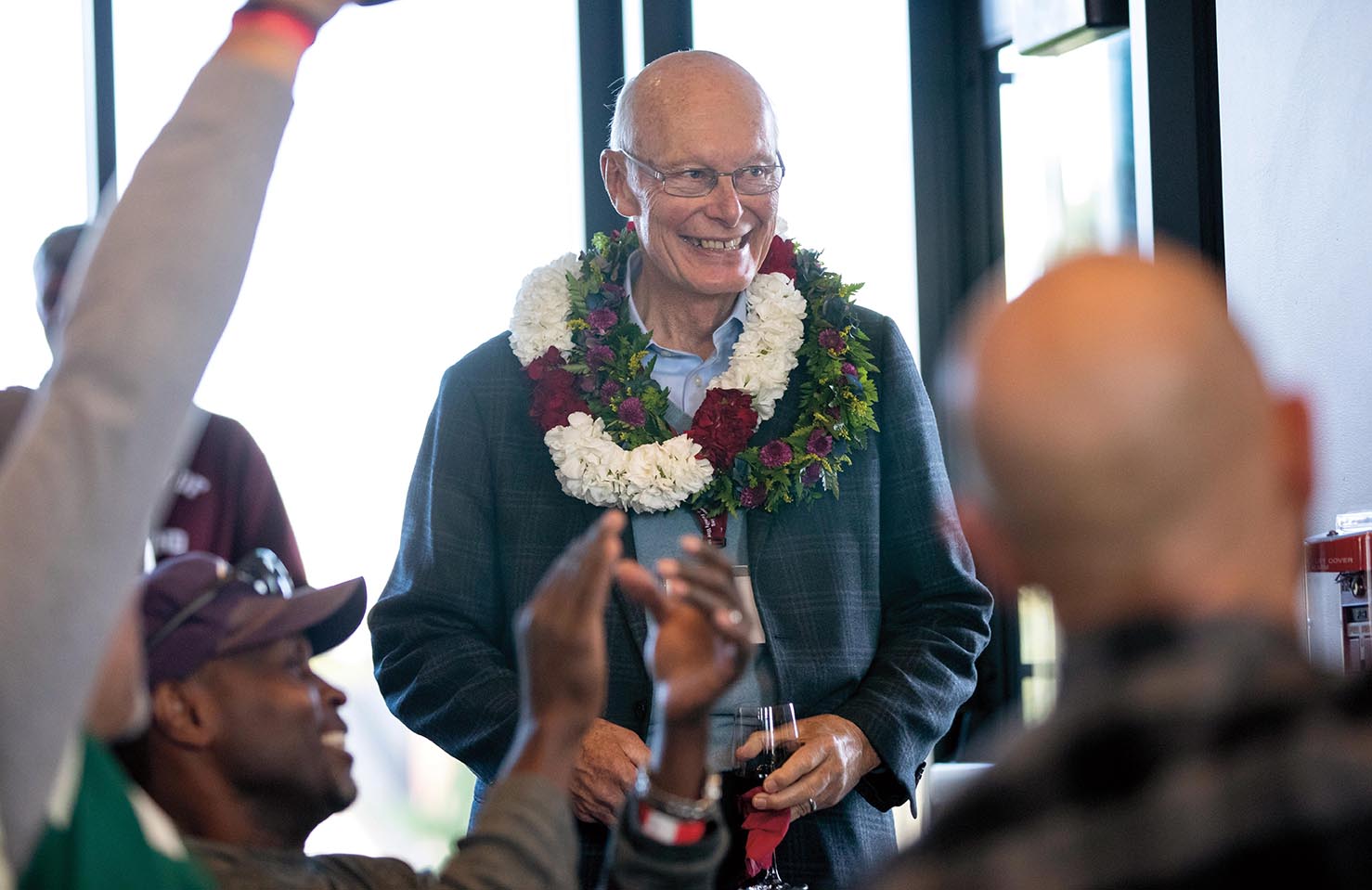 The Puget Sound skyline feels emptier as we mark the unexpected passing on March 19 of George H. Mills Jr. '68, M.S.'72.
Born in Boston while his father attended medical school, George grew up on the island of Oahu and graduated from Punahou School. A young fisherman who loved the sea, he chose to come to college here because he was curious about the Puget Sound; he majored in biology and chemistry, and became part of an ocean racing sailboat crew. In 1970, he became an admission counselor at Puget Sound, then married Nilmah Gray '69, M.Ed.'72. President Phibbs saw his talents and named George director of academic advising, supported his completion of a Ph.D. from University of Washington, and, when the director of admission position opened, appointed him to that role. Forty-two classes of Loggers later (and well-earned promotions to dean of admission and vice president for enrollment along the way), George brought his strong knowledge and personal relationships to success as associate vice president for university relations, the position from which he retired last year— always a Logger!
George was a colleague to many Puget Sound leaders, including Presidents Philip Phibbs, Susan Resneck Pierce, and Ronald Thomas. Always meticulously prepared, fountain pen notes on yellow pad and handouts of admission statistics or class profiles at the ready, George helped us understand not just the world of enrollment but the needs and concerns of the young people we serve. He pushed the big questions, challenging us to see from a different perspective and offering the breadth of his experience to the issue at hand. Sometimes protective, just occasionally a little stubborn, George always put Puget Sound and Loggers as priority one. In a wonderful 2012 Arches feature story, President Phibbs praised George's commitment to honesty in helping students and families make "the right fit" decisions about college, and President Pierce commended George's "well-deserved reputation as one of the smartest, most effective, and most admired admissions leaders in higher education."
George and Nilmah were always gracious hosts in their home, including to the admission team, prospective students and families, or alumni. When George spoke about his family, his pride in Tad, Grayson, and Liz was palpable. The greater Tacoma community knows well the generosity of treasure and time that George and Nilmah shared with their city.
The skyline feels emptier because, in the words of poet Edwin Markham, "there is a lonesome place against the sky." It is as if the tallest among our campus's treasured Douglas firs has gone missing. And yet, we must hold in mind the image of George's ongoing spirit in those locations in our Northwest forests where a mighty nurse log is supporting a whole segment of its ecosystem, other trees already strong and all the surrounding life thriving. Our lives are better, and nurtured, by all that George has done for us.
There are few in our history who have done as much for and meant as much to Puget Sound as George H. Mills. The "H" is for Hi`ilani, which means "held in the arms of heaven." Aloha nui loa, George.
—Kristine Bartanen, professor and former provost
Trustee Emeritus John W. (Jack) Creighton Jr. was born in Pittsburgh and went to college in Ohio, but ultimately made the Pacific Northwest his home. He spent the majority of his career at Weyerhaeuser, from 1970 to 1997, serving as CEO from 1991 until his retirement—the first person outside of the Weyerhaeuser family to head the timberland company. In 2001, in the wake of the Sept. 11 terrorist attacks, United Airlines tapped him to serve as interim chairman and CEO. Later, Creighton served as a strategic director for the Madrona Venture Group, a Seattle-based tech firm, and chair of the Federal Home Loan Bank of Seattle. Creighton, who was the first in his family to go to college, earned bachelor's and law degrees from The Ohio State University and an M.B.A. from University of Miami, and went on to become a champion of higher education: He served from 1988 to 2004 on the University of Puget Sound Board of Trustees, as well as the board of the Washington State University Foundation and The Ohio State University Foundation. At Puget Sound, he also established a scholarship for students from underrepresented groups and helped spearhead the effort that created the William T. Weyerhaeuser Endowed Scholarship. Creighton served on the boards of a number of civic and nonprofit organizations, including the Overlake Medical Center in Bellevue, Wash., and the Oregon Shakespeare Festival; from 1996 to 1998, he was president of the Boy Scouts of America. Creighton died Jan. 29 at his home in Bellevue at the age of 87. He is survived by his wife, a son, two daughters, and two granddaughters.
Virginia Morrison '42 died Feb. 13, at the age of 100.
Walter L. Berg '44 was studying geology at Puget Sound when he was called to active duty in 1943. After his Navy service, Walter completed his studies, going on to earn master's and doctoral degrees from University of Washington and teach American history at Central Washington State College (now University). He was an inspiring—and inspired—gardener, donating more than 50 estate-size rhododendrons from his garden to Bainbridge Island parks in the last few years. He died Dec. 25.
Jane Loren Halver '44 died Dec. 4, at the age of 96.
Ellen Swayne Sherlock '44 died Dec. 2. She graduated from Puget Sound with a bachelor's degree in English.
Robert P. Wederich '44 died Oct. 9. A member of the Army Specialized Training Program, he attended Puget Sound in the midst of World War II, while awaiting deployment.
Retired Lieutenant Donald Park McClain '45, M.B.A.'54 died Feb. 6, at the age of 96. He attended Puget Sound, but received his undergraduate degree from University of Washington, returning to campus to earn his M.B.A. During World War II, Donald served as deck officer, amphibious assault missions, Asiatic-Pacific Theater of Operations. Professionally, he retired as vice president at Merrill Lynch after 28 years. He was an active member of numerous boards and community organizations, taught evening adult investment courses, and volunteered with Big Brothers, the Boy Scouts, and more.
Natalie Hyndman Gilbert '47 passed away on Oct. 9. She graduated from Puget Sound with a bachelor's degree in sociology and a minor in psychology.
Nilmah Magill Gray '47 died Jan. 7, at the age of 93.
Juanita Baumgartner '48 died on Oct. 27. She was 94. Juanita was one of the first students in College of Puget Sound's Occupational Therapy Program and, in 2018, attended her 75th class reunion. During her 30year career as an occupational therapist at Leahi Hospital in Honolulu, Juanita worked with patients who had tuberculosis, leprosy, and cerebral palsy. She was involved in local theater as a stage manager, costume designer, and makeup artist, volunteering for more than 40 years with Hawai`i Opera Theater. Claiming she was born with "itchy feet," Juanita visited all seven continents and more than 60 countries during her lifetime.
Catherine R. Funke Jones '49 died Oct. 17. She was 99. Cathy graduated from Puget Sound with a degree in home economics. While working in Seattle, she met and married Marvin Jones. Together, they drove to Fairbanks, Alaska, and built a home where they would raise three children. A talented crafter, Cathy enjoyed fabric and fiber arts, as well as gardening, baking, and photography. Friends and loved ones remember her as the creative, adventurous, open-hearted hub of her family.
Jeanne Martinsen '49 earned her bachelor's degree in sociology from Puget Sound. She died Dec. 16.
James Richards "Dick" Perkins '49 died Nov. 20, at the age of 95. While attending Puget Sound, Dick was called to serve in World War II, first in the ski troops until becoming a replacement with the first infantry division (Big Red 1) in Europe. He fought in the Battle of the Bulge, receiving a Purple Heart. After graduating from Puget Sound with a major in biology and a minor in chemistry, he served as an educator and administrator in Washington before moving to California, where he earned a master's degree in elementary school administration and served as a principal for 27 years in the Mount Diablo School District. Dick's hobbies included woodworking, hiking, running, and playing with the Straw Hat Pizza banjo band.
Yvonne Marie Drues '50 earned her Bachelor of Arts degree from Puget Sound, majoring in art/design and minoring in literature. She died Dec. 30.
Vonnie Schuler Dickson '51 died Oct. 18, at the age of 90. Known as a lover of life, music, and people, she was an active and enthusiastic member of the Tacoma community. She earned her bachelor's degree in music at Puget Sound and remained a loyal, lifelong Logger.
Bob George Witser '52 died Feb. 7, at the age of 89.
At his high school graduation, Frederick Turner Pedersen '53 played a solo on the violin that was heard by R. Franklin Thompson, then president of Puget Sound, who offered Fred a full scholarship to the college. On campus, Fred was president of the Sinfonia National Music Fraternity and, as a first-year student, joined the Tacoma Symphony (now Symphony Tacoma), playing first violin for the orchestra for 32 years. Fred played tuba in the Army band and, two years after graduating with a degree in music education, became a music and math teacher in Tacoma Public Schools, retiring in 1980. The following year, Fred and his wife, Lisa, began a seven-year adventure teaching in international schools before retiring in Tacoma, where they remodeled homes together.
Donald R. Rogers '54, P'83 died Oct. 9. He was 87. After earning a degree in chemistry from Puget Sound, Don attended the University of Washington School of Medicine and joined the Navy, completing flight surgeon school. He was Alaska's first state medical examiner—a position he held for 27 years—and assisted in the investigation and prosecution of many high-profile cases. Don owned and built planes, including his beloved black-and-white Cessna 180, and helped establish the Alaska Aviation Museum. He and his wife, Georgia, enjoyed 63 years of marriage, raised two children, and traveled the world together.
Born in Seattle in 1932, John Fremont Barker '55 worked for The Boeing Company for more than 35 years, first in inspection, then in industrial engineering. Upon retirement, he and Joan, his wife of more than 60 years, operated Barker's Antiques in Midway until 2004. The couple enjoyed the outdoors, sailing the Adriatic and circumnavigating Vancouver Island in their sailboat, Sofla, and cruising to Alaska in their trawler, Sea Change. He died Feb. 17.
Richard Lund '55 graduated from College of Puget Sound, then entered the Air Force—but not before he and a college friend floated down the Mississippi River, creating their own Huck Finn experience. In the Air Force, Dick flew the 124, C-133, HU-16, and C-5 during more than 30 years of service, completing two tours in Vietnam and earning the Silver Star for gallantry. Dick, who died Feb. 17, loved both the mountains and the water, and will be remembered as a caring, adventurous man.
Phyllis Barbara Sherman '55 died Jan. 7.
After serving in the Army, Delbert Kennedy '56 studied accounting at Puget Sound, earning a bachelor's degree in business administration. He retired from Crown Zellerbach Paper Mill in 1990, after 34 years of service. A longtime member of the Independent Order of the Odd Fellows, Del was a Boy Scout leader for 10 years and enjoyed camping, traveling cross-country, and cruising. He died Nov. 17, at the age of 89.
Laura M. Knapp Otto '56 died Oct. 29, at the age of 87.
William J. Rush '56 died Oct. 8, at the age of 85. After earning his bachelor's degree in business administration at Puget Sound and completing law school at University of Washington, William became a general practice attorney. He worked in personal injury law, specializing in medical malpractice and wrongful death, and, in 2010, was named Lawyer of the Year by the Washington Bar Association. William married Patricia in 1961, and together they traveled to all seven continents.
Miye Morimoto Hikida '57 died Oct. 19, at the age of 90.
Dale W. Platt '57, P'85 spent 10 years in Sitka, Alaska, before moving to Tacoma, where he lived for 78 years. After serving as a cryptographic specialist during the Korean War, he graduated from Puget Sound and began a 37-year career as a beloved history and English teacher at Gault Junior High, where he also served as the school's basketball coach for 28 years. A three-sport student-athlete for the Loggers, Dale served as president of the Kappa Sigma fraternity and the Letterman's Club. He and his wife of 62 years, Sue, met on campus and had three daughters, including Teri '85. Dale died Feb. 2.
Glenn A. Stavik '58 died Oct. 17. He attended Puget Sound, earning a bachelor's degree in business administration.
Elizabeth Mayo "Liz" Austin died Jan. 18, at the age of 82. She attended Puget Sound.
The grandchild of German immigrants, born in Mandan, N.D., in 1937, Melvin John Bullinger '59 settled in South Tacoma with his family at the age of 5. He met Barbara, his future bride, in first grade. They wed in 1959 and spent 60 years traveling the world and sharing Friday-night dates. A craftsman, musician, and self-taught architect, Mel designed and built beautiful homes throughout the South Sound.
Larry "Gene" DeLorme '59 died on Christmas morning. He was 86. After graduating from Grays Harbor College, Gene entered the Navy, where he sailed on the U.S.S. General George M. Randall, logging more than 175,000 miles and visiting 22 ports of call. After his service, he attended Puget Sound, meeting Glorian, the love of his life and a student a rival Pacific Lutheran University. The couple married and raised three children. Gene taught in the Tacoma Public Schools district for 34 years. In the summer, he painted houses and for many years volunteered for Paint Tacoma Beautiful. He loved gardening, Westerns, and watching football.
Thomas Mitchell '59 died Dec. 28, at the age of 82.
Retired Colonel Phillip Mlynek '59 died Jan. 23. He was 82. In more than 30 years in the military, Phillip piloted B-47s, B-52s, and C-118s, and held various command positions in aircraft maintenance and as a Wing Vice Commander. He flew more than 150 B-52 combat missions during the Vietnam War and earned military decorations including the Legion of Merit, Distinguished Flying Cross, and seven Air Medals. In retirement, Phillip was a passionate golfer. He was preceded in death by Jewel, his wife of 61 years, and is survived by their three children.
Barbara Lee Nielson '59 died March 11, at the age of 82.
Bette T. Brandis '60 died Oct. 9.
Raymond W. Monaghan '60 died Nov. 1.
Robert Morris Pierce '60 shagged balls at a golf course and worked at the coal mines near his father's employment site before attending Puget Sound, where he was captain of the football team. After graduation, he worked at Safeco Insurance Company in Seattle, later joining Omar Bratrud Insurance Agency in Tacoma, which eventually became Bratrud Middleton Insurance Agency (now Propel). Bob and his wife, Toni, enjoyed cruising the Puget Sound and beyond on their vessel, the Pierce Arrow. They retired to Palm Desert, Calif., and continued traveling in the U.S. and abroad.
After graduating from Puget Sound with a major in history and a minor in economics, Peter Rippe '60 became the first professional director of the Museum of the Confederacy in Richmond, Va., before moving to Houston, where he directed the Harris County Heritage Society. In 1979, Peter and his family returned to Virginia, and he became the director of the Roanoke Museum of Fine Arts (now the Taubman Museum). He was honored by the American Association of Museums and the Institute of Museum Services. He finished his career by helping P. Buckley Moss found her museum in Waynesboro, Va. In retirement, Peter and his wife, Maria, served on the Arts Council of Randolph-Macon College, wrote articles for Northumberland County Historical Society, and traveled extensively. He died Jan. 19.
Paul Allen Claypool '61 died Jan. 4, surrounded by his family. He worked in the Washington State Employment Security Department for 36 years before retiring in 2001. He and his beloved wife, Janet, were married for 59 years.
Keith L. Robertson '61 died Nov. 13.
Karen MacKay '62 died Dec. 14.
Glenda Watson '62 died Oct. 31, at the age of 79. Born and raised in Tacoma, she attended Stadium High School and Puget Sound, where she was a member of the Delta Delta Delta sorority. She lived and worked for many years in New York City, but met and married her husband, Habib, in Los Angeles, where they enjoyed a large, extended family. Glenda enjoyed reading, playing Bunco, and volunteering at Tacoma Art Museum. She loved to travel and was always looking forward to her next trip.
Born in Tacoma in 1925, Norma Arnold '63 lived in the Tacoma/Fircrest, Wash., area her entire life. After graduating from Stadium High School and College of Puget Sound, she served as a fifth- and sixth-grade teacher and librarian at Wainwright School in Fircrest, retiring in 1987. Norma died Jan. 8, at the age of 94.
While attending Puget Sound, George Wayne Carte '63 worked a summer with a surveyor crew on Kodiak Island, Alaska, where he met and fell in love with Katherine. The pair would have celebrated their 57th anniversary in September. During a career with the U.S. Geological Survey and the Alaska Tsunami Warning Center, George served his community as a Boy Scout troop leader and Scoutmaster, and was involved in youth football and soccer. He became mayor of Palmer, Alaska, in 1981, serving the city for 14 years. In retirement, he and Kathy spent three years in Japan, teaching English to children. He died June 28, at the age of 78.
Ronald Pemberton '63 died Dec. 26. He was 79. After graduating from Stadium High School, Ronald earned his bachelor's degree in business administration from Puget Sound. He was a principal of Western Builders Supply and, in 2018, retired as managing partner of Dwyer, Pemberton and Coulson. Ronald was an avid sailor and enjoyed sailboat racing; he was particularly proud that his team held the record for the Victoria to Maui Race for more than a decade. With his wife, Carla, he traveled extensively and enjoyed playing golf and tennis, and spending time with family and friends.
Elaine E. Perdue Ramsey '63 died Oct. 29. She graduated from Puget Sound as a double major in communication and theatre arts.
Michael Mayes '64 died Dec. 29, after a short battle with acute myeloid leukemia. He was 79. Michael moved to Tacoma at the age of 3 and graduated from Stadium High School before earning his bachelor's degree at Puget Sound and enjoying a 45-year career in advertising and marketing. He maintained strong ties with college buddies, fraternity brothers, and a circle of close family friends.
After graduating from Puget Sound with a degree in business administration, Thomas "Tim" Paul '64 followed in his father's footsteps, going to work at SeaFirst National Bank. He bought Seattle Injector Company, a diesel fuel injection parts and repair business, with his brother, and the pair developed the business, ultimately creating a partner company, Power Distributing, which supplies diesel parts throughout the Pacific Northwest. Tim retired in 2004. While celebrating his 27th wedding anniversary in Hawai`i, Tim suffered a massive stroke, but he was able to spend the last three years with his wife, Debbie, at home, where he died peacefully in March.
Jack L. Quinn '64 died Dec. 5. He graduated from Puget Sound.
Melvin Neighbors '65, M.A.'73 graduated from Clover Park High School before earning his bachelor's and master's degrees from Puget Sound. Mel taught sixth grade in the Clover Park School District for three years, then became an elementary school principal, assistant superintendent for personnel and labor relations, and eventually assistant superintendent for business in the district—a 34-year career. He was a dedicated community leader, founding the Lakewood (Wash.) chapter of the Boys and Girls Club, serving for decades in Lakewood Rotary, and being involved with the Boy Scouts of America for 53 years. Mel died Feb. 23, at the age of 79.
Edward Zabel '65 grew up in Seattle and studied business administration at Puget Sound. He loved his career at the Office of Financial Management and, despite retiring early, kept in touch with many friends and coworkers. Known to live life to the fullest, Ed enjoyed tennis, concerts, car shows, and vacationing in Cabo.
Nancy Wahle '66 died Feb. 2. She was 75. After graduating from Puyallup High School, Nancy completed her bachelor's degree in education at Puget Sound and became a teacher. Treasured by her students, she retired from the Puyallup School District after 26 years.
Audrey Ann Warren '66, M.B.A'69 died Jan. 1, at the age of 92. After receiving her M.B.A., Audrey taught at San Francisco State University, ultimately becoming chair of the business department there. In retirement, she used her accounting skills to help SIL International and Wycliffe Bible Translators set up and update their offices around the globe. Audrey loved to travel and, into her 80s, she drove up and down the West Coast visiting family and friends.
Patricia "Pat" DiAnn Cunningham Hediger '67 died Feb. 26. She was 74. Pat earned her bachelor's degree in business administration from Puget Sound, with an emphasis in accounting, and went to work for Edwin L. Luoma, CPA, and later, Bussert Law and Associates, where she stayed until she retired. She was a proud member of the Daughters of the American Revolution.
Timothy J. Newman '67 died Oct. 27, at the age of 74.
John E. Sumich '67 died Oct. 3. He graduated from Puget Sound with a bachelor's degree in business administration.
Carol Dahlstrom '68 died Dec. 2. She earned her Bachelor of Arts degree in education from Puget Sound.
Allen L. Fuller '68 died Nov. 27. He was 75. Allen graduated from the American School in Iran before attending Puget Sound, where he earned a bachelor's degree in education. He served in the Army for 10 years as a medical service corps officer with assignments in Europe and the U.S., and was awarded the Army Commendation Medal and the Meritorious Service Medal. He worked for ADT Security and was a licensed massage therapist in San Antonio, where he served as a children's literacy mentor in the city's READ program, and he and his three therapy dogs made many visits to local nursing homes and retirement centers.
Donald A. Praast '68 died Oct. 4, at the age of 83. After graduating from Puget Sound with a degree in business administration, he served eight years in the Army. On a blind date in 1962, he met Donna Jeanne Welch, the woman who would be his wife for more than 55 years. Don joined the U.S. General Accounting Office in 1970, and was a congressional auditor for 24 years. In retirement, he began a second career as an amateur genealogist and enjoyed many hobbies, including photography, travel, and reading.
Richard Taylor '68, M.S.'70 grew up in Tacoma and served in the Marines before studying biology at Puget Sound. After graduating, he went to work for what was then the Game Department, where he continued until retirement. With a love of wildlife and animals of all kinds, Dick will be remembered as a gentle, soft-spoken man.
Alvin Meyer '69 died Jan. 1, 2019.
James Curtis Fredrickson '70 died Feb. 8. He was 71. Growing up in Puyallup, Jim graduated from Wilson High School and Puget Sound, where he was a member of the Beta Theta Pi fraternity and an All-American swimmer. He served in the Navy aboard the U.S.S. Wallace L. Lind, later working for St. Regis and, for 40 years, for Simpson Tacoma Kraft. He loved photography, traveling, meeting up with old friends, and spoiling his 10 grandchildren.
(Alfred) Tod D. McKelvy '70 was captain of the Logger men's soccer team, vice president of Associated Students of the University of Puget Sound, and a member of the Adelphian Concert Choir. A talented musician and businessman, he performed with the Kingston Trio and was a studio guitarist for Three Dog Night, in addition to serving as managing partner of McKelvy Properties LLP, president of McKelvy Oil and Petroleum Company, founding director of Diablo Valley Bank, and COO of Berding and Weil LLP. He enjoyed scuba diving, karate, and spinning yarns of his days as a wildcat oil driller. Tod died Oct. 16, at the age of 71.
Born in Greenville, S.C., Gary Smith '70 enlisted in the Air Force before graduating from Puget Sound with a bachelor's degree in music. He died in December.
John Wolfard '70 died Dec. 17. He earned his bachelor's degree in business administration from Puget Sound.
After moving to Port Orchard, Wash., from Nebraska in 1965, Kathleen Wood '71earned her bachelor's degree in elementary education from Puget Sound, and began her teaching career in the South Kitsap School District in the early 1970s. She died Jan. 9, at the age of 79.
Suzanne Darlene Scotchmer '71 died Jan. 14.
Born in California and raised in Australia, William Henry (Bill) Critch '72 returned to the U.S. in 1955 and became an Air Force pilot in 1958. Once out of the military, he worked as an airline pilot until being grounded by heart disease. He subsequently graduated from Puget Sound and worked at The Boeing Company for 20 years. Bill will be remembered for his sense of humor, his love of the Australian bush, and his fighting spirit. He died July 24, at the age of 85.
William D. Main '72 died Oct. 17. He graduated from Puget Sound with a bachelor's degree in history.
Mohamad A. Mattar M.B.A.'72 died Nov. 6.
Marilou Saxby Nelson '72 earned her bachelor's degree in education at Puget Sound. As an English language instructor, she enjoyed working with immigrant students attending public school. She loved learning about each child's culture and sharing her own in creative ways, often through children's literature. Marilou died Oct. 5, at the age of 89.
James F. Closson '73 died in December. He was 85. A decorated paratrooper and educator in the Army, James received a Purple Heart, as well as a Vietnam Service Medal, National Defense Service Medal, Armed Forces Expeditionary Medal, and more. He earned a bachelor's degree in business from Puget Sound and was an enthusiastic volunteer, dedicating his services to help veterans and children.
Constance Winslow '73 died Dec. 15, on her 46th wedding anniversary. After earning an undergraduate degree at University of Washington, Connie studied occupational therapy at Puget Sound. Shortly after graduation, she married Steve, her husband for more than 45 years. Connie had a knack for making people feel special and loved. She was a gourmet cook, a devoted volunteer, and a seasoned world traveler.
Janet Louise Eixenberger '75 died Jan. 24. Born in Ohio, Janet served in the Air Force before marrying and moving to the Pacific Northwest. She graduated with a bachelor's degree in public administration and enjoyed a long career with the State of Oregon Department of Justice. She'll be remembered for her love of family, good food, and the Delta blues, and for her beautiful flower gardens.
Dennis Jorve '75 died Jan. 16, at the age of 85. After graduating from high school, Dennis joined the Navy and served as a hospital corpsman stationed in California. While home in Minnesota on leave, he met Sharon, who would become his wife. The couple relocated to Seattle, where they raised their family. A 27-year veteran of the Seattle Police Department, Dennis retired as a detective sergeant. He earned his bachelor's degree in public administration from Puget Sound.
David G. Neighbors '75 died Oct. 1. He was 64. David graduated from Puget Sound with a psychology degree and spent his early career in banking, though his true calling was education. As a career and technical ed teacher at South Kitsap High School, he enjoyed making an impact on the lives of his students. David and his wife, Kerry, shared 33 years together and raised two daughters.
Daniel Joseph Bader '76, '81, M.B.A.'88 died March 7. He was 68. Dan earned bachelor's degrees in accounting and business administration, as well as his M.B.A. at Puget Sound. He was a determined entrepreneur and an avid sailor, cyclist, and long-distance swimmer.
Donald Emily '78 died Jan. 2. He was 86. Donald earned his bachelor's degree in business administration at Puget Sound. From 1963 to 1974, he was a missionary with the Lutheran Church in Japan. He also worked as a manager at Teijin Seiki, and later worked as a buyer with The Boeing Company.
Ernest Perez '78 died Jan. 1. He earned his bachelor's degree in business administration at Puget Sound.
Lynn Mary Coffman '79 died Dec. 16, at the age of 64. She received her bachelor's degree at Puget Sound.
Carl M. Moore '80 died Nov. 13. He graduated from Puget Sound with a degree in business administration.
Growing up in Alaska, Rudy Gavora '81 was a dedicated football and basketball player. He studied economics at Puget Sound and, after graduation, returned home to put his degree to use for the family business, Market Basket stores, becoming president of the company in 1990. An avid outdoorsman, Rudy loved fishing, hunting, trapping, and hanging out in the midnight sun at Healy Lake. He died Feb. 27, at the age of 61.
John A. Liddell M.B.A. '82 died Nov. 7.
Ferdinand VanDeursen M.B.A.'83 died Feb. 25.
Donald Brenner M.B.A.'84 died March 3.
Raymond Heffernan M.Ed.'85 died Dec. 10.
Richard "Dick" Rabel M.B.A.'85 died Dec. 8, at the age of 71. He served honorably in the U.S. Coast Guard before earning his bachelor's degree in electrical engineering at University of Portland. He earned his master's degree in business administration from Puget Sound.
Wendy Lynn Foster '90 died Nov. 25, at the age of 61. After earning her bachelor's degree in English at Puget Sound, Wendy went to work in Tacoma's social service sector, and then developed a second career as a jewelry designer. Under her label, Winter Sisters, she created thousands of pieces of women's jewelry and was an active vendor at Puyallup and Gig Harbor farmers markets for many years.
Amy M. Jackson '90 died Dec. 5. She graduated from Puget Sound with a degree in art and design.
Laura Stodden '90 died March 10.
In 1995 Vicki Schmidt M.P.T.'97 moved to the Pacific Northwest to study physical therapy at Puget Sound. She spent the last 23 years working as a PT in numerous locations, including 20 years at Swedish Hospital. Warm-hearted and generous, Vicki loved nature and the outdoors, was wicked-good at Scrabble, and enjoyed studying and teaching yoga.