Betty Jane Cappa '47 died June 29, at the age of 95. Born and raised in the Tacoma/Fife area, she was one of nine children. After graduating from Puget Sound, she attended nursing school and worked as a nurse for many years, even caring for her brothers and sisters in retirement, until their deaths.
Frank Hill '48 died July 10, at the age of 93. He attended Puget Sound before completing his education at Stanford University.
Carol Caldwell Thornburg '48 died May 14. She was 96. A lifelong student, Thornburg graduated from University of Washington before earning a second degree from Puget Sound; a master's degree from Northwestern University; a certificate in education from George Peabody College for Teachers in Nashville, Tenn.; and, at age 60, a doctorate in education from Vanderbilt University. She taught multiple grades in numerous schools throughout Peoria, Ill., and Nashville before retiring at the age of 72. An avid gardener, she loved to sew, create with ceramics, and attend the symphony and theater.
Jane Hagen Knapp '49, P'78, P'85 died at the age of 93. After graduating from Stadium High School in Tacoma, she attended Puget Sound, where she met Jack Knapp '49, P'78, P'85. They were married after graduation. Knapp was a social worker for the Washington Department of Welfare and volunteered in the community. She was active in her sorority, Pi Beta Phi, and loved golfing, skiing, gardening, and traveling. Knapp is survived by her daughters, Carolyn Knapp Broberg '78 and Julie Knapp Richards '85, and her grandchildren.
Boyd Bolvin '50 died April 5, at the age of 95. A graduate of Stadium High School in Tacoma, he fought in the Pacific Arena in World War II. After earning degrees at Puget Sound, University of Washington, and University of Southern California, he worked as an educator, then as the associate dean of instruction for library and media services at Bellevue Community College, retiring in 1982.
Leslie Erickson '50 died Feb. 13, after breaking his hip in January. He attended Lincoln High School in Tacoma, and enlisted in the U.S. Navy after graduation, serving as a seaman first class aboard the USS Wildcat. After graduating from Puget Sound, he entered dental school, eventually opening a private practice as an orthodontist and raising four children with his wife, Patricia. In 1977, Erickson took a position as chair and assistant professor in the orthodontic department at the University of Colorado and, in 1984, he moved on to the University of Nebraska, from which he retired in 1996. He enjoyed time with his kids and grandkids, collected books and antiques, and loved to travel.
Beverley MacDonald Ericson '50 died May 9, after suffering a stroke. She was 92. She attended Puget Sound before marrying and completing her studies at Whitworth College.
Richard Lewis '50, M.A.'67 died April 4. He was 93. A track star while attending Puget Sound, Lewis went on to earn his Ph.D. at University of Oregon and serve as a dedicated teacher, professor, and tennis instructor. He retired as the head of the English department at Tacoma Community College. He was preceded in death by sister Marijane Lewis Paulson '43.
Mary Moon Long '50 died May 19, at the age of 92. A founder and the director of Pacific Care Center, which provides care and training for those who are developmentally disabled, Long spent her life in the service of others. She volunteered her time and expertise with numerous community groups, including the Greater Tacoma Foundation. Through her church, she operated the Phoenix Housing Network and Food Bank for many years, earning her Tacoma's City of Destiny Award. Long enjoyed reading, gardening, traveling, and spending time with her family.
Sterling MacDonald '50 died June 27. He was 93. In 1944, MacDonald joined the U.S. Navy and served as a helmsman on the USS Saratoga. After World War II, he attended Puget Sound, where he was a member of the Sigma Chi fraternity. After earning his degree in business administration, he started his own company, Statewide Builders. MacDonald enjoyed hunting and fishing with his family, was an avid golfer, and was a member of several local organizations, including the Shriners, Masons, and Tacoma Elks Lodge.
Gerald Petersen '50 died April 10, at the age of 92. A World War II veteran and retired engineer, he at-tended Puget Sound.
Mel Gidley '51, P'72, P'81 died April 12, at the age of 91. He graduated from Lincoln High School in Tacoma, and earned a degree in education from Puget Sound. During his first year teaching, he was drafted into the U.S. Army and served in counter-intelligence for two years. Upon his honorable discharge, Gidley began a 42-year career as a beloved elementary teacher and principal in Tacoma Public Schools. He loved playing cards, camping, fishing, bowling, and going to Tacoma Musical Playhouse. He is survived by many friends and family members, including daughter Cheryl Allen Henderson '81 and stepson Douglas Carlson '72.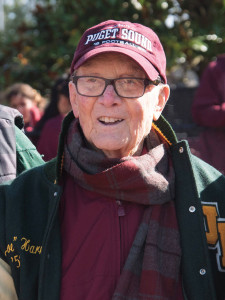 H.C. "Joe" Harned '51 grew up in poverty in Pennsylvania during the Depression. Later, when he became a successful businessman in the Tacoma area, he shared his wealth with others. "It makes my spine tingle when I know I have helped someone," he once told the Puyallup Herald. Born in 1917, Harned enlisted in the Navy during World War II and served on an aircraft carrier in the Pacific; he was discharged in Tacoma and decided to make his home in the region. He started as a real estate agent, then became a developer—his projects included the Lincoln Plaza shopping center in South Tacoma, the city's first Costco, the area around Meridian Avenue in Puyallup, and low-income housing in Graham and Lakewood. He was a generous benefactor to his alma mater, establishing the H.C. "Joe" Harned Endowed Scholarship Fund and contributing substantially to the Class of 1951 Scholarship. He also made a major gift to help construct a science building, which was dedicated in 2006, and which the university named Harned Hall in his honor. At the time, it was the school's largest single gift ever for a building project. Two other buildings in the region bear his name: the Harned Center for Health Careers at Tacoma Community College and Harned Hall at St. Martin's University in Lacey. And, back in his hometown of Ursina, Pa. (population 250), he helped build a church—complete with a basketball court for the town's youth—as well as helping fund the restoration of the community center in nearby Confluence, Pa. Harned was known for his self-effacing humor, along with his gifts of home-grown tomatoes from the large garden at his Puyallup home. Harned died June 2 at the age of 102. He was preceded in death by wife Vida and son Lynn; he is survived by son Keith. 
Kenneth Jernstrom '51 died May 5, at the age of 95. After serving in the Navy during World War II, he attended Puget Sound on the GI Bill.
Bansy Tuttle Johnson '51 died April 6, following a short illness. She at-tended Puget Sound, where she met James Johnson '49, her lifelong love and best friend.
Donald Mozel '51 died April 27, after a brief struggle with cancer. Following graduation and a stint in the U.S. Army, Mozel began working for the Internal Revenue Service and settled with wife Dolly in Olympia, where they raised four kids and were active in the community. In 1967, he took a position for the state Office of Fiscal Management, where his specialty was improving complex accounting and auditing systems for large state agencies receiving a special commendation from Gov. Booth Gardner for his expertise and diligence. He retired in 1989, and enjoyed golfing, tending his garden, and visiting family and friends.
Gordon Voiles '51 died July 15. He was 93. A choral director for 59 years, Voiles enlisted in the Army Air Corps and served in postwar Germany before studying choral and instrumental music at Puget Sound. He was a popular crooner on campus and was voted the "King of Song" by fellow students.
David Gossard '52 died June 7, at the age of 90. He attended Puget Sound before transferring to University of Washington.
Ruth Wallen Christensen '53, '54 died at the age of 88. She studied occupational therapy at Whitman College before attending Puget Sound and working as an occupational therapist for 40 years, most of that time with Villa Care Rehab Centers. A well-respected OT, Christensen was appointed to a task force to define Washington state's standards for occupational therapy in nursing homes and rehab centers. She was active in her church and loved water-walking, knitting, crocheting, playing bridge, and doing crossword puzzles.
Harold Broman '57 died Aug. 4, at home in Seattle. A teacher, he attended Puget Sound, University of Washington, and University of Mexico, and belonged to Phi Delta Theta.
Mary Louise Hansen Hager '57 died June 17, at the age of 84. After earning her degree in occupational therapy, she worked at hospitals in New York before beginning a teaching job at Puget Sound. She was recruited to run the Occupational Therapy Assistant Program at Green River Community College, and later led the OT department at Good Samaritan Hospital in Puyallup, Wash. She retired in 1995, after running the anatomy lab at University of Washington for 25 years. Hager dedicated time to mission work for the Methodist Church, was an avid skier, and belonged to the "Piece Makers" quilting group.
Gail Attwood Wood '57 died Dec. 27, at the age of 85. She graduated from Puget Sound with a degree in education.
Helen Chapman Green '58 died Aug. 7. She was 85. Born and raised in Tacoma, she was the youngest child of Coolidge Otis Chapman, a professor at Puget Sound from 1932 to 1959. After college, Green worked in New York City and traveled Europe before returning to Tacoma. She enjoyed collecting books, teaching art, and doting on her cats.
Elizabeth Patterson Austin '59 died Jan. 18, at the age of 82. While she attended Puget Sound, from 1955 to 1957, she was active in the drama department, was a Loggers cheerleader, and was a member of Delta Delta Delta. She is survived by her partner, two daughters, and sister Jeanne Patterson Mazzoni '66. She was preceded in death by her mother, Dorothy Patterson M.A.'57, a Puget Sound music professor.
Matthew N. Clapp Jr. '60 died May 27, He was 87. While majoring in communications at Puget Sound, he met Marion Willett Rawlinson '59, P'86, and they married in 1957. He served stateside in the U.S. Army and, upon returning to Tacoma, raised three children with Marion in Lakewood, Wash., while building a radio station business, eventually owning 13 stations throughout Western Washington and Alaska. A generous philanthropist, he served on the Medina Foundation Board for 50 years and was a great sup-porter of the Seattle Rep and Puget Sound. Later in life, he embraced his artistic side, creating a series of colorful collages, some of which he donated to Puget Sound.
Joe Devish '60 died May 18, at the age of 82. He started his career at Demick Electric, moving to Madsen Electric in 1959, working his way up and eventually becoming president and CEO of the company. A respected businessman, he was a member of the Tacoma Chamber of Commerce and Tacoma Urban League. He also was a master mason, a member of the Scottish Rite, and past potentate of Afifi Shrine Temple. In junior high school, Devish met Sally, who would be the love of his life and wife for 40 years. Together they enjoyed international travel, boating, crabbing, and volunteering for many community service organizations.
Wayne Glaser '60 died March 22, due to complications from a stroke. A teacher in the Puyallup School District, Glaser spent most of his career teaching art at Ballou Junior High School. He served in the Army and National Guard, and was known for his penchant for brightly colored clothes and socks, his love of wine and old cars, and his quick wit.
Charlotte Hunt Henke McGrath '60 died May 15 at the age of 82. She attended Puget Sound, where she was active in the sorority Delta Delta Delta.
John Peter Whittall '60, P'79 died Sept. 2, at the age of 86. He worked for Weyerhaeuser for 17 years, but left in 1980 to start his own company, Whittall Management Group, retiring in 1998. He served for 12 years on the Auburn City Council, and was president of the Auburn Rotary Club and local homeowners' association. He was active in numerous local charities throughout his career and endowed a scholarship at Puget Sound for independent married students, particularly with children. Whittall led a joyful life and loved traveling. He is survived by his wife, children (including John Whittall '79), and many grandchildren and great grandchildren.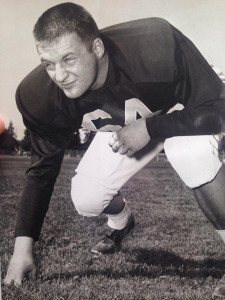 James Creighton '63 died Nov. 29, after a long battle with Parkinson's disease. He was 80. A football player in both high school and college, he played for West Seattle High School, Everett Community College (All-Coast Conference and All-American Small College), and Puget Sound, where he also served as an assistant coach. Creighton was a member of the Kappa Sigma fraternity and graduated with a degree in history and education. He went on to teach history and coach, primarily at Seattle's Garfield High, where he developed the Advanced Placement history program. He is survived by his wife of 57 years, Diane, and children and grandchild.
Elvera Lange Heritage '63, P'66, P'69, P'75 died March 28, at the age of 95. After graduating from high school at age 16, Heritage attend Knapp Business College and worked as a bank teller in downtown Tacoma. She met Sam Heritage '48, M.A.'49, P'66, P'69, P'75 when he was on leave from the Army, and the couple had two children: Kathleen Heritage Fisher '66, '69 and Len Heritage '75, J.D.'84. She returned to school in the 1950s, earning a bachelor's degree from Puget Sound and a master's degree from Central Washington University before teaching elementary school for more than 20 years. Heritage was an avid reader, artist, and world traveler, as well as a published author.
Richard Lawrence '63 died April 3, at the age of 80. At Puget Sound, Lawrence was a two-year starter on the football team and held many Logger records. After graduation, he became a teacher, then joined International Harvester as a field and branch manager before moving to Seattle and beginning a career as a financial advisor. He helped establish Columbia Pacific Securities and served on its board of directors. Lawrence was an avid golfer and will be remembered as a kind and generous man who loved to laugh.
George Jean Erickson '64 died July 3. A lifelong resident of Washington, she loved to travel, visiting Europe, Asia, Africa, and locations throughout North America. Erickson spent her early career in the Boeing wind tunnel, then worked for NASA at Langley Air Force Base before returning to Boeing. After retiring in 1999, she volunteered for nearly 20 years at Bloodworks Northwest and the Nordic Heritage Museum. She also served as a math tutor and beach naturalist, and enjoyed working in her garden, reading, and spending time with her family. She is survived by many friends and family members, including sister Elizabeth Erickson Bailey '64.
Joseph Baldassari '68, M.Ed.'71 died April 5, at the age of 79. He served in the Army National Guard, achieving the rank of first lieutenant. He earned a bachelor's degree in business administration and a master's degree in teaching at Puget Sound, working as a teacher in Tacoma for 35 years. Baldassari loved boating, amateur radio operation, and playing golf, volunteering regularly for more than 15 years at American Lake Veterans Golf Course.
Sandra Mostoller '68, J.D.'82 died May 20. She was 74. A longtime Tacoma attorney, Mostoller will be re-membered for her endless curiosity, lively imagination, talent for photography, and not-to-be-missed Thanks-giving dinners. At Puget Sound, she studied English literature and political science before earning her M.A.T. from University of Washington. She taught English, journalism, and social studies until earning a law degree. She established a private practice and later joined the Pierce County Department of Assigned Counsel, serving on the boards of L'Arche Tahoma Hope Community, Puget Sound Legal Assistance Foundation, and Allied Arts.
Barbara Nichols '68 died July 14, at the age of 93. A longtime resident of Rochester, Wash., Nichols began teaching at Rochester Elementary School in 1966, teaching third and fourth grades. She received her bachelor's degree in education from Puget Sound, and continued teaching until her retirement in 1989. In 2015, she was named Distinguished Educator by Rochester Alumni Association.
Raoul Ancira '69 died May 9. Affectionately known as "Rule" (Rulay), he was a devoted son, husband, father, and friend. At 17, he enlisted in the U.S. Marine Corps and served as a radio operator with the Air Section of the Fourth Marine Regiment in Japan. His second tour was in Honolulu, where he was recruited into the Corps' professional football organization, known as the Hawai`i Marines. He finished his military career at the rank of chief master sergeant. While attending Puget Sound, Ancira earned varsity and All-Conference honors in football and wrestling, and was the starting running back on the only undefeated football team in the university's history. As a member of the Kappa Sigma fraternity, he found his biggest life passion, coaching, and went on to teach and coach student-athletes for more than three decades.
David Cook '69 died April 29, at his home in Bordentown, N.J. He was 73. After graduating from Puget Sound, he worked for a short time with the Daily Olympian before moving to the New Jersey/New York City area, where he worked in the metals industry and lead recycling, and cheered passionately for the New York Yankees.
Kenneth Fisher '69 died March 19, after a long battle with cancer. He attended Puget Sound.
Robert Leeper '69 died June 2. He was 73. Leeper graduated from Puget Sound with a degree in business administration. Concurrently, he was commissioned into the U.S. Air Force, serving two tours, including one in Saigon, Vietnam. He completed his service with the rank of captain. In 1989, Leeper married Jeannie in their home on Bainbridge Island, Wash. He built several custom homes on the island before moving to Portland, Ore., in 2005. An experienced hiker, he traveled to Patagonia, the Pyrenees, Nova Scotia, and across the U.S. to find the best trails, and was known to greet everyone with a smile.
Donald Mansfield '70, J.D.'75 died July 21, at the age of 77. After graduating from Stadium High School in Tacoma, he entered the U.S. Navy and served aboard the USS Menhaden. When he returned to Tacoma, he attended Central Washington University before earning his business administration degree at Puget Sound. After completing law school, he went into practice specializing in personal injury and family law. Mansfield loved being on the water and spent much of his free time in the San Juan Islands and exploring the Puget Sound.
Darrell Matz '70 died March 22, after a brief and courageous battle with cancer. Affectionately known as "Papa" to his children and grand-children, Matz never missed an opportunity for a hug, a loving word of encouragement or gratitude for his family, a Notre Dame or Seahawks football game, or a good chicken-fried steak. After graduation, he began a lifelong career as an accountant, working for several government entities, including the Pierce County Library and the Office of the Washington State Auditor. In 1980, he started a tax-preparation business, serving more than 200 clients each year. He was 77.
Stephen Tarzan '72 died March 12, at the age of 87. He earned bachelor's degrees from Puget Sound (anthropology) and The Evergreen State College (psychology), and served in the U.S. Army during the Korean War. Professionally, Tarzan was a draftsman/editor for the Washington State Department of Transportation and maintained a private hypnotherapy practice in Olympia. In addition to his family, he loved boat building, painting, music, movies, and cooking.
Mark Scott '74 died April 27, at the age of 67. Upon enlisting in the U.S. Army in 1979, Scott served as an infantryman, but his true calling was serving in the U.S. Army Security Agency and the Army Intelligence and Security Command as an EW/SIGNIT analyst. Once discharged, he continued his career as a civilian analyst and led teams at the National Security Agency. In addition to his degree in political science from Puget Sound, Scott studied security policy at George Washington University and strategic intelligence at National Defense Intelligence College. He had a wide array of interests, but particularly enjoyed researching the Challenger disaster and historical military events.
Ronald Knaack '75 died March 24. He was 69. Knaack served in the U.S. Air Force in Vietnam before marrying his high school sweetheart and graduating from Puget Sound. Settling in Amanda Park, Wash., he operated Rubie's Wines, Spirits, and Country Emporium, making friends with nearly everyone who came in the store. A community advocate, Knaack coached T-ball, gave to numerous charitable causes, and served as a water commissioner for Neilton, Wash. He enjoyed the outdoors, had a nickname for everyone he met, and never found a John Deere tractor he didn't like.
Harold Rush '76 died March 15, after a 10-month struggle with cancer. He graduated from Mount Tahoma High School in Tacoma before attending Puget Sound as a Leonard Howard Science Scholar, where he earned a degree in geology and physics. As a junior, he joined a group of geology students, led by Professor Al Eggers, on a field study of the active volcano Pacaya in Guatemala. After graduation, Rush worked in the insurance industry, first with PEMCO, and then 28 years with State Farm, where he led the legal claims department for the Woodinville/Snohomish office before retiring. He spent retirement traveling with Saundra, his wife of 40 years. He was a connoisseur of single malt scotch and took delight in always returning from long weekends in Las Vegas with enough house money to pay for the trip.
Allan Lima '77 died March 21, at the age of 81. After graduating from Lincoln High School in Tacoma, he enlisted in the Navy, where he was assigned to naval communications in Guam. Once out of the service, he attended Western Washington University, then was hired by the Seattle Police Department. He took night classes at Puget Sound, and was proud that his wife and children were able to watch him graduate. Eventually, Lima became a homicide detective with SPD and earned a reputation as a "bulldog" for his work ethic and tenacity.
Judy Walker Clark '79 died May 26, at the age of 67. A native of Denver, she graduated from Colorado Springs School before earning a degree in communications from Puget Sound, and enjoyed years working in television broadcasting production. She was devoted to her family, loved nature and wildlife, and dedicated herself to advocating for people struggling with kidney disease, serving on the patient affairs committee for the Northwest Renal Network and the United Network of Organ Sharing.
Eric Arthur Polzin M.B.A.'79 died March 27. He was 69. Polzin attended University of Washington and served in Army intelligence before completing his master's degree at Puget Sound. A CPA for many years, he worked for King County as an accountant and financial systems analyst until his retirement in 2017. Devoted to his family, Polzin loved traveling with his wife, Trudy, and enjoyed outdoor activities, such as hiking and cross-country skiing.
Garner Thomas M.B.A.'79 died April 26, at the age of 91. Born in San Antonio, Texas, Thomas will be remembered for carrying "a mighty fine spirit" throughout his life. He is survived by four of his children, three grandchildren, and two great grandchildren.
Gary Payne '81 died Aug. 12. He was 70. Payne enlisted in the U.S. Army in 1972, and after achieving the rank of staff sergeant, was commissioned as an officer in 1977. He held a variety of command and staff positions, retiring in 2004 at the rank of colonel. In addition to completing his bachelor's degree at Puget Sound, Payne earned a master's degree from Babson College in Wellesley, Mass. He found great joy in his family and enjoyed football, hunting, fishing, golf, and his Harley.
Lenda Crawford '82 died March 31, after a traumatic fall. She was 61. As a young mother in 1980, she moved from Mississippi to the Seattle area and put herself through school, studying business at Puget Sound, and eventually earning both her CPA and M.B.A. She spent 30 years in state and city government, most recently serving as deputy city manager for the city of Vancouver, Wash. She also served as a community leader through her work with the Seattle Thrive by Five program. Known for her grit and determination, she battled and beat cancer three times.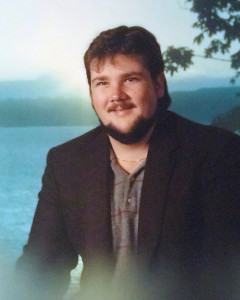 Mark Anderson '85 died Jan. 23, at the age of 57. After earning a degree in art and religion from Puget Sound, he joined the family business in development and real estate on Harstine Island, Wash. At the age of 55, he was diagnosed with Alzheimer's disease. Anderson will be remembered for his good humor and passion for golf.
Lori Link '89 died March 19, the victim of a hit-and-run accident. She attended Puget Sound.
Carlyn Matson '02 died Aug. 10. She was 66. For 22 years, Matson battled cancer, refusing to let the disease keep her from living life, creating memories, traveling, and hosting "Nana Camp" with her five grandchildren. She graduated from Curtis High School in 1972 and dedicated her life to the Girl Scouts as a troop leader and trainer. In 2002, she earned her degree in occupational therapy from Puget Sound.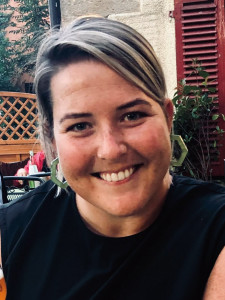 Whitney Ulvestad '09 was a varsity swimmer for four years at Puget Sound, and team captain her senior year. Coach Chris Myrhe remembers the way she cared about her teammates: "A bad race or training session, she was right there to console you," he says. "A great race or workout, she was there to hug and celebrate it with you." Ulvestad majored in Spanish language and Latin American studies at Puget Sound, then went on to earn a master's degree in holistic health studies at St. Catherine University in Minnesota. She worked as a language and culture ambassador for the regional government of Andalusia, Spain; a community out-reach specialist in Ecuador; a vineyard manager in California; and a field guide for Minnesota-based Wilderness Inquiry. She also volunteered for many years with the Courage Kenny Rehabilitation Institute in Minneapolis. Ulvestad, who had swum competitively since age 4, was also an avid triathlete and certified scuba diver, and enjoyed fly fishing. While pursuing aggressive treatment for a rare brain tumor, she traveled extensively and was very intentional about spending time with family and with friends. Ulvestad died May 8 in Excelsior, Minn., at the age of 33. She is survived by parents Nancy and Rolf and sister Lauren. Two weeks before Ulvestad died, Coach Myrhe let her know that he had created the Whitney Ulvestad Teammate Award to honor annually a Puget Sound swim team member who exemplifies her selfless qualities. 
Melissa Quin McDougall '11 died Aug. 23, at the age of 31. After graduating from Puget Sound, McDougall went on to earn her Ph.D. from Oregon State University in 2017, and complete her postdoc at Cornell University in 2019. Most recently, she was a nutritional scientist at Pharmavite in California. As a child, McDougall swam competitively and participated in synchronized swimming through high school. She loved her family, had a passion for learning, and enjoyed the outdoors.