While it is true that the global health pandemic is a time unlike any other for current members of the Puget Sound community, we know that over our 132-year history Loggers have been resilient in the face of world wars, depression, recessions, and yes, even a flu pandemic. In 2012, our colleague Nancy Bristow, professor of history, wrote the book on it: American Pandemic: The Lost Worlds of the 1918 Influenza Epidemic. Over the past few months, you may have heard or read her sought-after commentary on National Public Radio or in The New York Times, The Washington Post, and other news outlets as we as a nation and a world community have tried to make sense of our lives in these uncertain times.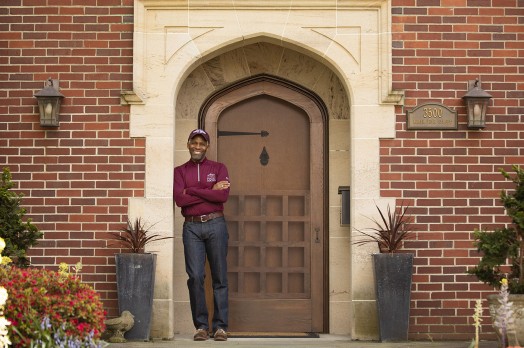 President Crawford was happy to see university photographer Sy Bean from a distance outside the president's residence in April
The pandemic became a reality here at Puget Sound when we were forced to radically alter campus life in early March, closing our residence halls to all but a few students; moving to virtual instruction, academic support, student engagement, and remote business operation; recalling our students from abroad; and postponing many of the spring and summer rituals that we hold dear.
This is the time of year when we should be preparing to gather for the biggest ritual of all, our annual Commencement Ceremony, followed by Summer Reunion Weekend. It was with heavy hearts that we made the decision in late March to postpone the ceremony in accordance with guidelines from state and local officials, supporting the call for social distancing to slow the spread of the persistent and deadly novel coronavirus. I look out over Karlen Quad and close my eyes, imagining a sea of caps and gowns, proud parents with cameras flashing, graduates jostling to find their places in line for the ceremonial journey along Commencement Walk to Baker Stadium, and seeing for the first time their class year engraved in bronze along with all the graduating classes that have gone before them, dating back to the class of 1892.
Of course, that graduating class of 1892 did not make that historic walk here on our current campus, which was built under the watchful eye of President Emeritus Edward Todd in the early 1920s. Todd assumed the presidency in 1913 for 29 years of leadership, seeing the fledgling college, then known as the College of Puget Sound, through the Great War, the Spanish Flu, the Great Depression, and the first half of World War II. Talk about fortitude!
The pandemic hit while World War I was still in progress. Looking back over issues of The Trail, I am struck not only by the unfolding calamity ("Alumni Greetings: One-Thing After Another," reads one headline) but the spirit of resilience in the student writers. In the December 1918 issue, they wrote:
"The fall term opened with the largest enrollment in the history of the College. Work was just getting under way when the flu struck us. Our regular students were sent home, and the S.A.T.C. [Student Army Training Corps] men were quarantined on the campus. A total of 32 of the 100 men were ill – some seriously. The Boy's Dormitory was converted into a hospital, a physician and nurses were engaged, and the boys were brought thru without the loss of one life. … After 5 weeks' suspension, academic work was resumed."
The June 1919 Commencement issue of The Trail continued on with an almost surprising surge of optimism, writing that despite the pandemic, members of the previous fall's entering class "caught the spirit of College life remarkably well, and seem anxious to do their part. They have made good in athletics, classes, and Literary Societies, and they are fast becoming loyal members of C.P.S."
It is heartening to know that although the times and circumstances have changed, the character of our Puget Sound community has not. Our current generation of Loggers is just as loyal and resilient. Our students have impressed me beyond measure in how they are making their way through this challenging, and perhaps defining, moment in their lives. Our faculty and staff members have been nothing short of heroic in pivoting the university to remote learning in short order, providing person-centered and high-quality Puget Sound learning experiences, student support services, and engagement activities. We have been strengthened by the unfailing support and wisdom of our board of trustees, our faithful and generous alumni and parents, our innovative and creative faculty, our resilient staff, and our capable and resourceful students.
We have done and will continue to do all in our power to support our students, allowing those to remain on campus (with appropriate social distancing) who literally have nowhere else to go; transitioning our beloved dining hall to carry-out only; continuing to provide support from Counseling, Health, and Wellness Services; providing prorated room and board credits and refunds to students who left so unexpectedly in the middle of the semester; and donating our excess supply of N95 masks to local hospitals. Our top priorities remain to care for our students and support our faculty and staff members, and to be of service to the broader communities we are called to serve.
Although our celebration of the graduating classes of 2020 this month was virtual, we look forward to welcoming them back to campus for their own formal ceremony next year, as well as to many years of class reunions that will be made all the sweeter for the simple pleasure of being able to join together in person to share stories, fellowship, and the bonds of lifelong friendship with one another. Pandemic willing, we also look forward to seeing all alumni for Homecoming and Family Weekend in the fall.
I hope to be able soon to say, in the words of President Emeritus Todd, that "the riot of war-madness and many emotions is passed." In the meantime, your alma mater is steadfast in its commitment to the residential liberal arts experience and will continue to prepare its students to become the leaders our world needs. Thank you for the important role you play in supporting this campus community as we continue to fulfill our mission, transcending the current moment with the grace and fortitude of the generations of Loggers that have preceded us, and laying a strong foundation for the generations to come.