1969
Ambassador George Obiozor '69 was elected president general of the Igbo socio-cultural group Ohanaeze Ndigbo, reported PM NEWS Nigeria, decisively defeating his opponent by nearly 290 votes. Obiozor is a professor of political science and former Nigerian ambassador to the United States (2004–08). 
1973
Robert Huey '73, professor of Japanese literature at University of Hawai`i at Manoa, was awarded one of the Japanese government's highest honors for non-Japanese citizens at an Imperial Decoration Conferment Ceremony at the Consulate General of Japan in Nu'uanu, Hawai`i, in July. Huey was presented the Order of the Rising Sun, Gold Rays with Neck Ribbon by Honolulu Consul General Koichi Ito for his "contribution to the development of Japanese studies in the United States of America and strengthening the friendly relationship and mutual understanding between Japan and the United States," according to the consulate's official announcement. Widely recognized for his expertise in classical and medieval Japanese poetry, Japanese culture in the Ryukyu Kingdom, and Okinawan studies, Huey is currently researching how traditional Japanese literature and culture was practiced and deployed in the Ryukyu Kingdom. 
Clay work by Reid Ozaki '73 was featured earlier this year in show of new works by the potter and fellow artist Fumiko Kimura at Bainbridge Arts & Crafts. Ozaki's work is influenced by Japanese gardens, Ikebana (flower arranging), and Chanoyu (tea ceremony) practices. See his work at reidozaki.com. 
1976
A generous gift from the Schlesinger Family Foundation recently completed the foundation's pledge to fully fund an endowed scholarship in support of students in the Master of Arts in Teaching program at Puget Sound. The gift also completes a commitment to give $1 million in endowed scholarships to eight institutions of higher education in Washington, Oregon, and California in 2020. For 35 years, the foundation has honored the legacy of its founders, Ralph and Bunny Schlesinger. Logger members of the Schlesinger family include: Mark Schlesinger '76, P'09 and Patricia Norris P'09, Katie Schlesinger '09, Barry Schlesinger P'06 and Hazel Schlesinger P'06, and Caleb Schlesinger '06.
1977
Julie Yeager Arthur '77 retired in December 2020, after 43 years in the field of student financial aid. She began her career while enrolled at Puget Sound as a student staff member working for George Mills '68, M.S.'72 in the academic advising, career planning, and placement office. After graduation, she worked as a financial aid administrator at five colleges and universities over the course of 22 years. Active in regional, state, and national professional associations, Arthur served as president of the Western Association of Student Financial Aid Administrators. In 1999, she joined the Department of Education's Office of Federal Student Aid, completing the second half of her career as a branch chief in the Office of Program Participation and Oversight. Arthur shares that she's grateful for the opportunity to help thousands of students pursue their education goals over the years and is enjoying retirement from her new home on Harstine Island, Wash. 
"After about 40 years in the music business, I decided to give somebody else a chance," writes Steven Wehmhoff '77. He retired to Las Vegas (followed shortly after by the Raiders), and is hoping to connect with fellow Logger alumni in the area. 
1978
Two years ago, Eileen Galt Baratuci '78, J.D.'81 accepted an appointed position as a Jefferson County Superior Court Commissioner. Because she had long specialized as an employment attorney, she says, it was a steep learning curve to become an expert in so many aspects of the law. Baratuci and her husband, Bill, have a small trawler in which they enjoy exploring the Salish Sea. They're looking forward to the reopening of the Canadian border so they can further explore. The couple have two dogs, "who are only tolerant of the boat," she says, "but love the beaches once we arrive." 
Paul Baugher '78 was profiled in Washington's Tri-Cities Area Journal of Business after retiring as head of the ski patrol at Crystal Mountain Resort after 32 years. "The National Ski Areas Association calls him a 'legend,'" writes Wendy Culverwell '86 in the article. In addition to his work for Crystal Mountain, Baugher co-founded the Northwest Avalanche Institute, serves as partner and director of International Mountain Guides, and is recognized as a leader in educating skiers about the danger of getting trapped in tree wells. During his career, he has summitted Mount Rainier more than 100 times. 
1981
"We are doing well and are grateful for our many blessings," writes Doranne Long '81. "We, fortunately, remain COVID free and in good health!" During lockdown, Long provided end-of-life care for her mother and brother, both of whom died in 2020. A physical therapist, Long retired at the beginning of last year and says she's feeling more retired every day! 
1982
Monica Fox Elenbaas '82 and Jamie Elenbaas '82 share this update: "We recently celebrated five years since moving aboard SV Grateful full time to sail the world. Due to the pandemic, a 12-day trip to check on family in the U.S.A. early in 2020 left us stranded away from our boat/home for over half a year. The trip to return to Grateful in a marina in Tunisia required travel through Amsterdam, Turkey, Malta, and Italy before we sailed Jamie's brother's boat to Tunisia in mid-September." The Elenbaases began planning their dream to launch this "grand adventure" on their second date at Puget Sound in 1979. Catch up with Niki and Jamie—and their 40-foot catamaran—at facebook.com/svGrateful. 
On Jan. 1, Diana Fields '82 was elected a partner in Kutak Rock LLP. Fields returned to the partnership after having been a Kutak Rock partner from 1991 to 2000. She specializes in employment law and has represented corporate clients and senior management in federal and state courts and in alternative dispute resolution and administrative agency proceedings involving employment-related disputes. She has years of experience representing business clients in general and complex litigation, and understands clients' needs from a variety of industries. 
1984
Timothy Gould '84 was appointed CFO of Charles Wright Academy in Tacoma. He has more than 25 years of experience in corporate finance and more than 10 in nonprofit finance, most recently holding the position of CFO for the Make-A-Wish foundation chapter serving Washington and Alaska. 
At the November 2020 congress of CILECT, the Centre International de Liaison des Ecoles de Cinéma et de Télévision (International Association of Film and Television Schools), Francisco Menendez '84 was named the recipient of the CILECT Teaching Award. The award was established in 2014 to recognize and reward excellence in film and television pedagogy as part of the organization's efforts to promote innovation and rigor in film education. Menendez is a professor in and artistic director of the Department of Film at University of Nevada, Las Vegas. 
1985
Martin Sparks '85 was named director of engineering for WineBid, the premier global online auction for fine and rare wines. He brings to the position more than 20 years of experience managing purchasing analytics, inventory platforms, and supply chain logistics—in addition to more than 10 years discussing wine on his Lucha Vino wine blog. Visit the blog at luchavino.blogspot.com. 
1986
Cynthia Bixby '86 was named chief engineer at NASA's Armstrong Flight Research Center in Edwards, Calif., in October. She began her career at Lockheed Martin, where she participated in integrating aircraft systems in preparation for flight and planned and executed developmental and experimental flight tests on several aircraft. In 2002, she joined NASA Armstrong as a contractor, and four years later began her federal career with the research center, where she has served as deputy director for the Research and Engineering Directorate, chief of the Systems Engineering and Integration Branch, and chief of the Flight Systems Branch. Bixby is the recipient of a NASA Outstanding Leadership Medal. 
Katherine Weaver Kehrli '86 was featured on TODAY for her efforts to help feed her community. Through her project Community Loaves, Kehrli and more than 500 home bakers turned the pandemic-inspired hobby of baking bread into an effort to donate more than 1,300 loaves to Hopelink, a Seattle food bank, last year. The project expanded during the 2020 holiday season, with Community Loaves group members making thousands of rolls for Thanksgiving dinners and nearly 4,000 pecan finger cookies, using Kehrli's grandmother's recipe. 
1987
Suzie Hall '87 was named a 2021 CEO of Influence by Idaho Business Review. A 29-year entrepreneur, Hall is the founder and CEO of The Cornerstone Collective, Cornerstone Design, and Cornerstone Procurement, focusing on the hospitality, multifamily, and commercial markets. She also is a founder and managing member of Open Spaces NW, a sustainability and energy efficiency consultancy. A Dean's Scholar in the business school at Puget Sound in 1986 and 1987, Hall says she realized her passion for entrepreneurship during her time on campus. She currently lives in Boise, Idaho. 
1990
Kim Pine Dougharty '90 and W. Houston Dougharty '83 were the subjects of a story in The Long Island Advocate profiling their efforts to address neighborhood food insecurity by offering a "Sharing Table" on their front lawn during the pandemic. Part of the Sharing Tables of the USA network, the Doughartys' table is one of 45 in New York—and the only one in their community. The couple stocks about half of the food, toiletries, and other supplies offered each day on the table, with neighbors, friends, and other community members pitching in the rest. 
Julie Jacobson Gates '90, director of communications and policy for TransLoc, was recognized with a Women in Business Award from the Triangle Business Journal, a leading provider of business news for North Carolina's Triangle area. The Women in Business Award celebrates outstanding women in the Triangle area with significant accomplishments in business and community service. 
1991
Rachel Ruggeri '91 stepped into the role of CFO at Starbucks in February. In her 16- year tenure with the company, Ruggeri helped launch the first Starbucks Card and served in numerous roles, including vice president of corporate financial planning and analysis, vice president of finance in support of the U.S. business, and senior vice president of finance for global retail. 
1993
CEO at RealTime Performance Inc. Sean Murray '93 interviewed fellow Logger Nabil Ayers '93, U.S. general manager of music label 4AD, on his podcast The Good Life. The two discussed entrepreneurship, music, writing— and Puget Sound. Find the podcast at theinvestorspodcast.com/the-good-life. 
1994
Sara Pritchard '94, associate professor of science and technology studies at Cornell University, co-authored the book Technology and the Environment in History (Johns Hopkins University Press, 2020) and partnered with two former teaching assistants to publish a collection of Cornell undergrad work in the journal Minding Nature, "Climate Change, Coronavirus, and Environmental Justice." 
1995
Derek Wong '95 and John Lindquist II '95, roommates their first year at Puget Sound, teamed up to help mutual friend James Boanerges edit and publish the critically acclaimed suspense novel Guised Passage. Inside this engaging story are a wide array of perspectives and social ideas, as well as myth and culture. 
2000
Cecilia Olivares '00, director of Transfer Center & First Generation Student Initiatives at University of Missouri-Columbia, was elected 2020–21 president of the board of directors for NACADA: The Global Community for Academic Advising. 
2002
In September, Regan Wilson Nelson '02 launched This or Something Better, a podcast dedicated to the stories of innovators and positive changemakers committed to making the world better. Each week, Nelson interviews founders and CEOs, health and wellness professionals, authors, motivational speakers, and those whose passion and work are dedicated to something better. Nelson's own quest for the "something better" comes through her work as senior director with Beautycounter, where she is advocating for more health protective legislation over the personal care industry. 
2005
In April, BNP Paribas Asset Management appointed Alexander Bernhardt '05 as global head of sustainability research within its Sustainability Centre. Recognized as a thought leader and innovator, Bernhardt previously was director of innovations for Marsh McLennan and principal and U.S. responsible investment leader at Mercer.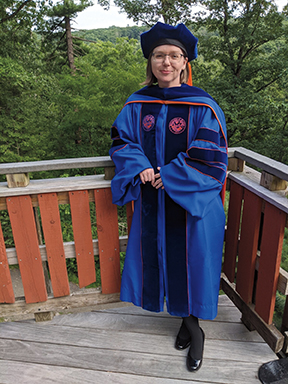 2008
Ten years after graduating from Puget Sound—and in the middle of the COVID-19 pandemic—Madeline Gangnes '08 received her Ph.D. in English from University of Florida and was hired as an assistant professor in the English and Theatre Program at University of Scranton in Pennsylvania. "I currently follow in the footsteps of my advisors at Puget Sound in teaching courses on 19th-century British literature and culture and English studies more broadly," she writes. Here, she's pictured in Nay Aug Park in Scranton, as her in-person graduation ceremony in Florida was canceled. 
Dance Adventures: True Stories About Dancing Abroad, an anthology by Megan Taylor Morrison '08, debuted as the No. 1 book in dance and No. 3 book in travel on Amazon. The book features stories from renowned performers, dance educators, and dance scholars—50% of whom represent BIPOC communities. One of the authors, Khalila Fordham, a psychologist and multicultural support specialist in Puget Sound's Counseling, Health, and Wellness Services, writes about her experience traveling to Ghana with the AFAM 310: African Diaspora Experience class. Morrison was inspired to reach out to Fordham after reading about the Ghana trip in the spring 2020 issue of Arches. 
2010
Alexander Lippert '10 recently published his first book, afterwork: An honest discussion about the retirement lie and how to live a future worthy of dreams. Lippert shares that the book "explores the intangible, unquantifiable sides of the retirement equation." He and co-author Joel Malick have a combined 30 years of wealth management and financial-planning experience and are co-founders of Steadfast Wealth Co. Learn more at theafterwork.net. 
2012
Ardea Smith '12, under the penname Anna Linnea, wrote the children's book Baba Marta. Currently living in Sofia, Bulgaria, she was inspired by the famous mythical figure of Baba Marta and the tradition of martenitsi (thin, double-strand bracelets made of twisted red and white yarn). Smith earned her bachelor's degree in politics and government, with a minor in Spanish, and has worked in Paraguay and Bulgaria for several years as a preschool and K-12 librarian. 
2015
A fourth-year Ph.D. student in art history at New York University's Institute of Fine Arts, Louisa Raitt '15 has served as the Jan and Marica Vilcek Curatorial Fellow for Colonial Latin American Art at the Metropolitan Museum of Art since October. 
2018
Ari Taublieb '18 writes to share that, after working for global investment manager Nuveen, he realized he wanted to implement more of the values he learned at Puget Sound, so he joined the firm Root Financial Partners. He now works with clients to help them reach their financial goals and loves making an impact in people's lives. Frustrated with the jargon and lingo of the financial industry, Taublieb created the Personal Finance Redefined podcast to offer a straightforward, simplified approach to money management. Check out the podcast at personalfinanceredefined.co.