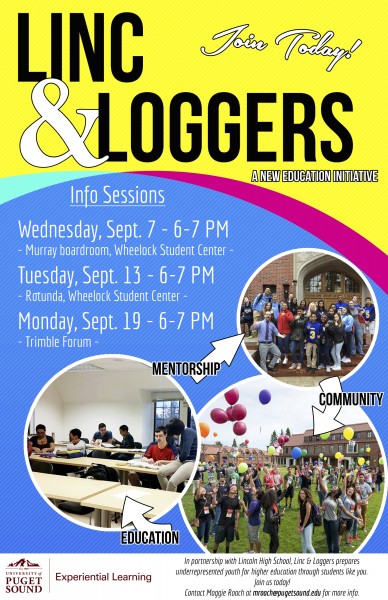 Program Overview
Link & Loggers connects Puget Sound students with juniors and seniors at Tacoma Public Schools (TPS) to provide mentorship through the college application process.
Tacoma schools serve a diverse population of students, many of whom will be the first in their family to pursue higher education. Students who do not come from a college-going culture frequently do not have the necessary tools, resources, and guidance to navigate the college application process in such a way that allows them to meet their own potential. A mentorship program focused on the college application process that starts early enough to offer meaningful advice and assistance is one way in which this need can be met.
Puget Sound students who serve as mentors undergo extensive training to foster a deep relationship with their mentees and to ensure stability and fidelity of instruction. Mentors strive to be there for their mentees through every step of the college application process.
Program Structure
For Puget Sound students serving as mentors, the program begins with specialized training on both mentorship and the college application process. At the end of the fall, they meet their mentees for the first time, but the real work begins in the spring. From that point on, student mentors will meet with their mentees about twice a month to work through the college application process and to build their relationship. On weeks when they are not meeting with their mentees, student mentors will have the opportunity to discuss and reflect on their experience as mentors as a group, as well as to receive continued refreshers on their training. This process continues through the following year as they support their mentees on every step of the college-going journey, from the first inklings of where they might like to go to college to submitting their applications to celebrating their acceptances to beginning to develop college-level study skills.
For more information, contact Experiential Learning at explearn@pugetsound.edu.