Dear Members of the Campus Community,
I am writing to remind you that on June 8, Technology Services will be introducing a new way of logging in to campus systems that will enhance user experience and security. Between now and then, you may notice certain Puget Sound systems utilizing a new login page while we transition to this newer solution. An example screenshot of this new page is as follows: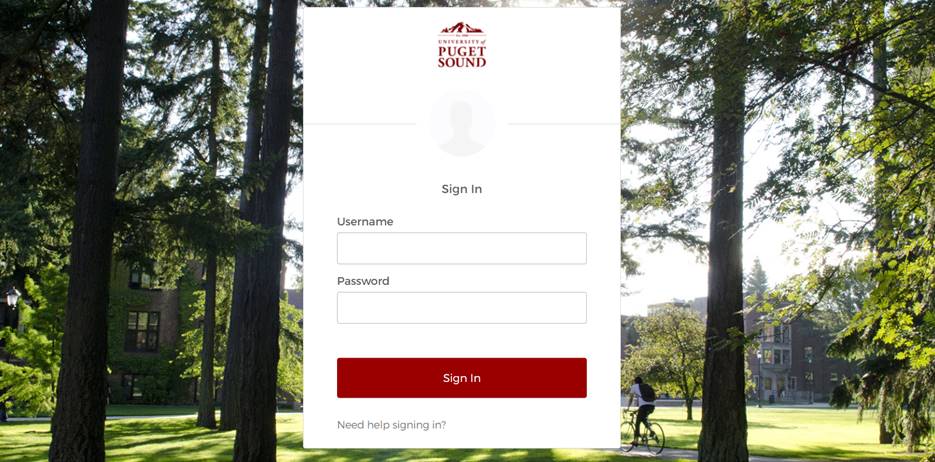 Through a system called Okta, we will be implementing single sign-on (SSO) and multi-factor authentication (MFA). SSO will allow you to access many of Puget Sound's information systems without needing to individually enter your username and password into each system. Some of these systems include myPugetSound, Canvas, Google, Zoom, and many others. The MFA component of this system will add layer of security to protect your accounts by prompting you to confirm your login with the second step of verification. 
Why Will MFA Be Required?
Due to the prevalence of cyberattacks aimed at higher education, we must take proactive steps to better protect our accounts and data. Without MFA, a cybercriminal that guesses or steals your password can use it to infiltrate and hack university accounts without being noticed. MFA will dramatically reduce the risk of these types of hacks and make your data and the university's systems more secure. This MFA system will be very similar to systems you are already familiar with and use, such as banking, insurance, and healthcare systems.
How Will This Be Easier?
By connecting Puget Sound systems to a unified login solution, you will have one-click access to certain applications without needing to sign in again for the remainder of the day. A new dashboard, accessible from https://login.pugetsound.edu, will also eliminate the need to remember numerous website URLs to access university resources. Please note that these systems will not be available on the dashboard until June 8. However, you can access this system currently and begin the setup process in advance of the official launch. If you would like to do this and need additional assistance, please contact our Service Desk for support.
What Should I Expect?
You will need to enroll in MFA on or before June 8 by setting up a second factor of your choice. Though only one additional factor is required, we recommend enrolling more than one as a backup in case your primary method becomes unavailable. The first time you log in to https://login.pugetsound.edu, you will also be asked to set up a security question and provide a secondary contact method in case you forget your password and need to reset it. The process of changing or resetting your password will transition from myPugetSound to Okta on June 8 as well.  
After June 8, when you log in for the first time each day in your browser, you will go through the new two-step login process and will have one-click access to Puget Sound systems through the new Okta Dashboard. 
Where Can I Get More Information?
In partnership with Human Resources, Technology Services is offering multiple open Q&A sessions the first week of June. Additionally, more information, including step-by-step guides and an FAQ, are available on the TS website. 
As always, if you have any questions or need help, please feel free to reach out to us at servicedesk@pugetsound.edu or by calling 253.879.8585.
Thank you,
Jeremy
Jeremy Cucco | Associate Vice President for Technology Services and Chief Information Officer