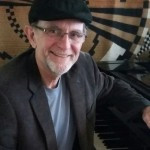 Tim Strong is a native of Tacoma and an undergraduate of the University of Puget Sound. He received his B.Mus. from the University of Texas in Piano Performance. He received his M.Mus. from the University of Texas, and CPHIL from UCLA - both in Composition.
Mr. Strong has performed nationally in both solo and ensemble capacities. He collaborated with a vocalist, Robert McFerrin, and flautist, J.P. Rampal. Presently, Mr. Strong directs with his wife, two vocal groups: A New Tapestry and Diverse Gems. Most recently, Mr. Strong co-produced, composed, and arranged vocal training CD's with his wife, Karen Oleson.
At the age of 19, Mr. Strong appeared in the second Van Cliburn International Competition and was runner-up in the Brewster-Allison National Piano competition. Among his piano teachers are Leonard Jacobsen, Arthur Loesser, William Doppmann, and Aube Tzerko. Hunter Johnson and Roy Travis instructed Mr. Strong in Composition. John Chowning instructed in computer music synthesis and Mantle Hood in ethnomusicology.
Mr. Strong has given public workshops with subjects regarding:
"Achieving the uniquely beautiful performance"
"Successful practice - virtuous practice"
"Playing by ear and the fundamentals of improvisation"
Mr. Strong began teaching piano in 1968. He was Assistant Professor, Music at Central Washington University. Associate Professor at Pierce College, and Affiliated Faculty at the University of Puget Sound. Mr. Strong has taught with the Community Music Department at the University of Puget Sound since 1986.
Learn about noncredit Community Music lessons with this instructor.