Associate Director of Career and Employer Engagement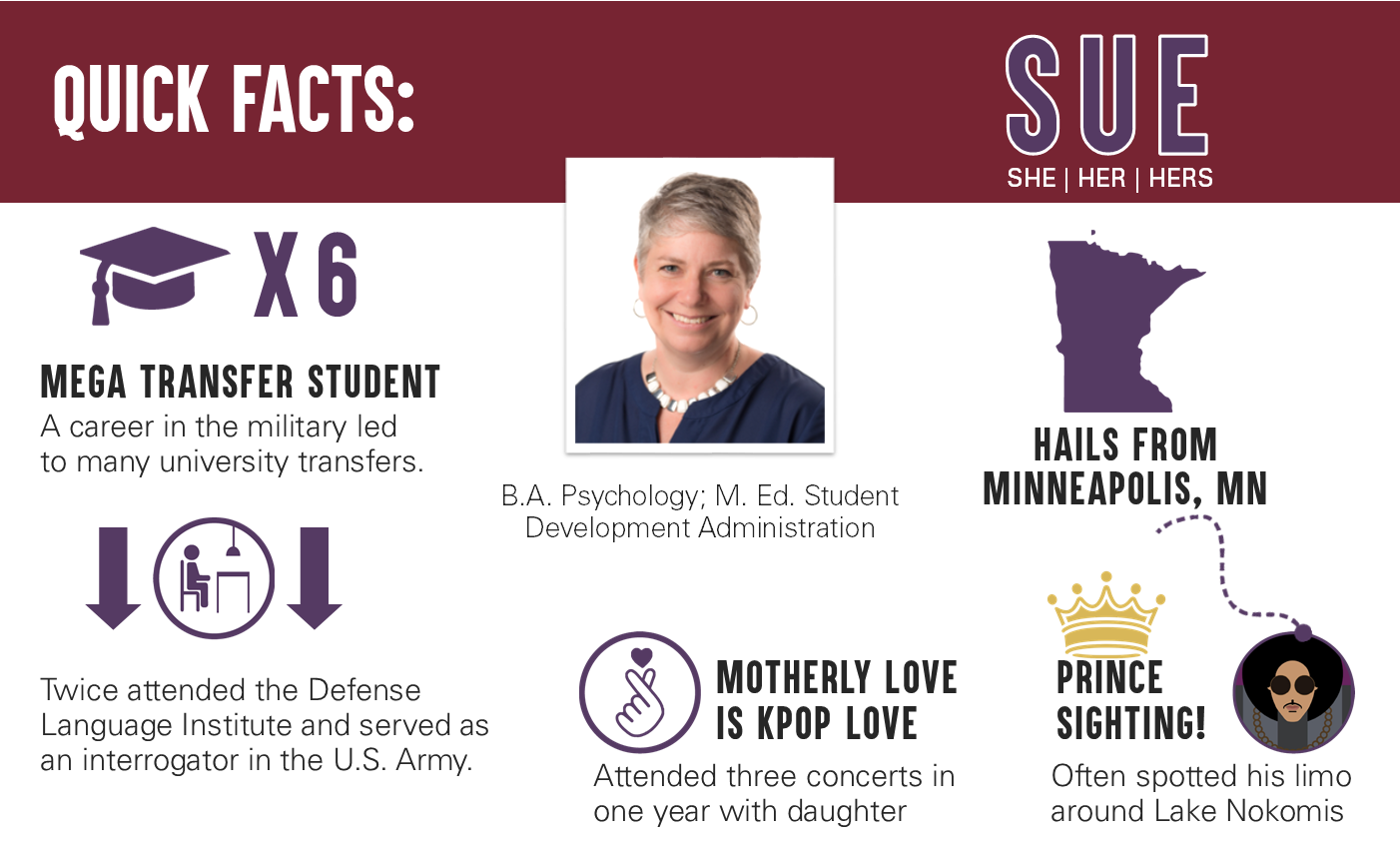 Sue oversees career advising and employer engagement at Puget Sound. She is our campus expert on Handshake, and organizes the annual career fairs. Sue uses her knowledge of student' interests and talents to attract the organizations and opportunities they most want to see.
When not busily networking on behalf of our students or scheduling the 100+ organizations that recruited Loggers on campus last year, Sue runs for fun and tries to paint.
What was your first, or an early work experience that impacted your career path?
I spent 6.5 years in the military where I served as an interrogator/linguist. Studying Russian and then Korean at the Defense Language Institute taught me how to be a good student, and I gained leadership skills as I moved up the ranks and started overseeing a team of soldiers. It also taught me I could do anything if I had to, whether that be rappelling down a cliff, low-crawling under live bullets, or marching for miles with 50 pounds of gear strapped to me. I'm prepared for the zombie apocalypse!
What other early experiences impacted your career path?
While working on my undergraduate degree in Psychology I spent a lot of time talking to my academic and career advisors. As a transfer student using VA benefits, I knew I had to maximize my time to make sure I fit all my degree requirements in and made good decisions about what came after. By working with both of them my eyes were opened to the world of higher education roles outside of teaching, and led to me interning in the transfer admissions team of my university, then pursuing graduate education in Student Development. I've now spent 20 years in universities where I've worked as both an academic and a career advisor.
What is your favorite location/event/hidden gem/thing about Tacoma?
While I love all things Tacoma (especially Commencement Bay and Point Defiance), I actually live in Kitsap County and enjoy exploring the Olympic Peninsula. My family and I have done many trips up Highway 101 towards Port Angeles and beyond, always making a point to stop at Hunter Farms outside Union to get ice cream.