CES Communications Coordinator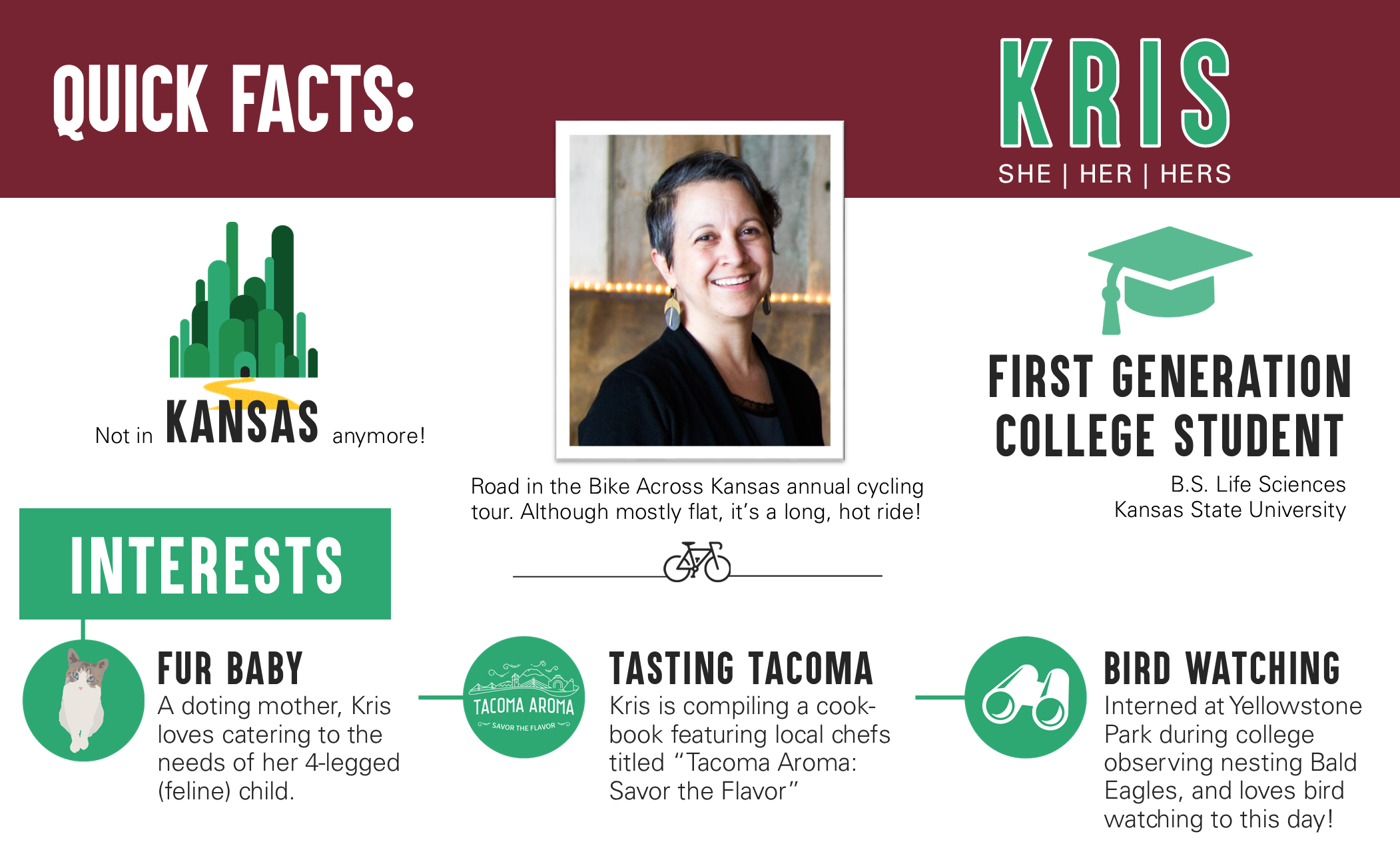 Kris coordinates efforts to connect students with CES people, resources, and events. In between consulting with team members, she stays busy posting on our social media accounts, updating the website, and sending CES Career Connections (C3) e-newsletters.
When not dreaming up new ways to engage students, Kris volunteers with the Puget Sound Women's League, and posts about her Tacoma food adventures. Check out the Arches article where Kris shares suggestions for local eateries.
What was your first, or an early work experience that impacted your career path?
My final summer before graduation, I held an unpaid internship as a wildlife research assistant in southern Montana. It was a beautiful landscape that made me want to burst into song ("The hills are alive, with the sound of muuusic!") I was certain that this was my first step along a career path as a Field Biologist... and then the mosquitoes came out. And it rained. (Poured.) And I was uncomfortable sitting quietly in the same position for (what seemed like) hours, waiting for the animal to appear. And I was bored. And I couldn't envision myself working in these conditions for longer than a few months, let alone a lifetime.
Although it was disappointing to recognize that I'd romanticized a career and life style that didn't suit my personality, I was relieved to make the discovery sooner than later. (And I still love to hike and observe nature — as a hobby.)
What did you learn in your major field of study that you currently use in your work?
The Scientific Method! Observation, hypothesis formation, experimentation, and refinement is how I carry out my work, whether I'm drafting a blog, conducting a meeting, or promoting an event. 
What is your favorite location/event/hidden gem/thing about Tacoma?
I love hanging out where I have a view of the water. Even on gray days, watching the water is soothing to me. In fact, I regularly walk on to the ferry for a round trip — just for the sake of being out on the water and getting a different perspective of Tacoma.