Prior-to-Arrival Testing 
All students are required to provide proof of a negative COVID-19 test upon arrival to campus. Both Antigen or PCR/NAAT test results are acceptable. The test should be taken within four days prior to your arrival on campus. Test results may be printed out or displayed on a phone. At-home or self-administered tests must be given under supervision of a telehealth visit, and a written test result report is required. Students will need to bring their test results to the CHWS office, located in Wheelock Student Center, Room 216, in order to be cleared for in-person activities on campus.  
Locations in Tacoma that offer testing 
CHWS Check-in and Gateway Testing 
All students (including students living off campus) are required to check in with CHWS prior to moving into their residence halls or houses, or to beginning in-person activities on campus. CHWS is located in Wheelock Student Center, Room 216. At check in, students will be required to:
Confirm that proof of vaccination or approved exemption has been uploaded to their CHWS portal. 
Provide proof of prior-to-arrival negative test results. 
Participate in gateway testing (pooled saliva test).
Obtain CHWS clearance documentation, which will allow students to begin in-person activities (including moving into their on-campus residences). 
For those who were diagnosed with COVID-19 in the three months prior to arrival to campus, you will need to present documentation of your COVID-19 diagnosis. This could be your original lab result showing the positive test or a note from your medical provider stating when you had COVID-19. You will not be required to provide a prior-to-arrival test result.
Health history and immunization message
Quarantine Requirements Upon Arrival 
Fully vaccinated students are not required to quarantine upon arrival to campus. Unvaccinated students or students who are not fully vaccinated must quarantine for up to seven days if prior-to-arrival testing has not been completed. Completing prior-to-arrival testing requirements will allow students to shorten the length of quarantine to three to four days. Please see the flow chart for more details and quarantine timeline estimates. If you are not vaccinated and plan to live on campus, please get in touch residence life to arrange an early move-in date to allow for quarantine.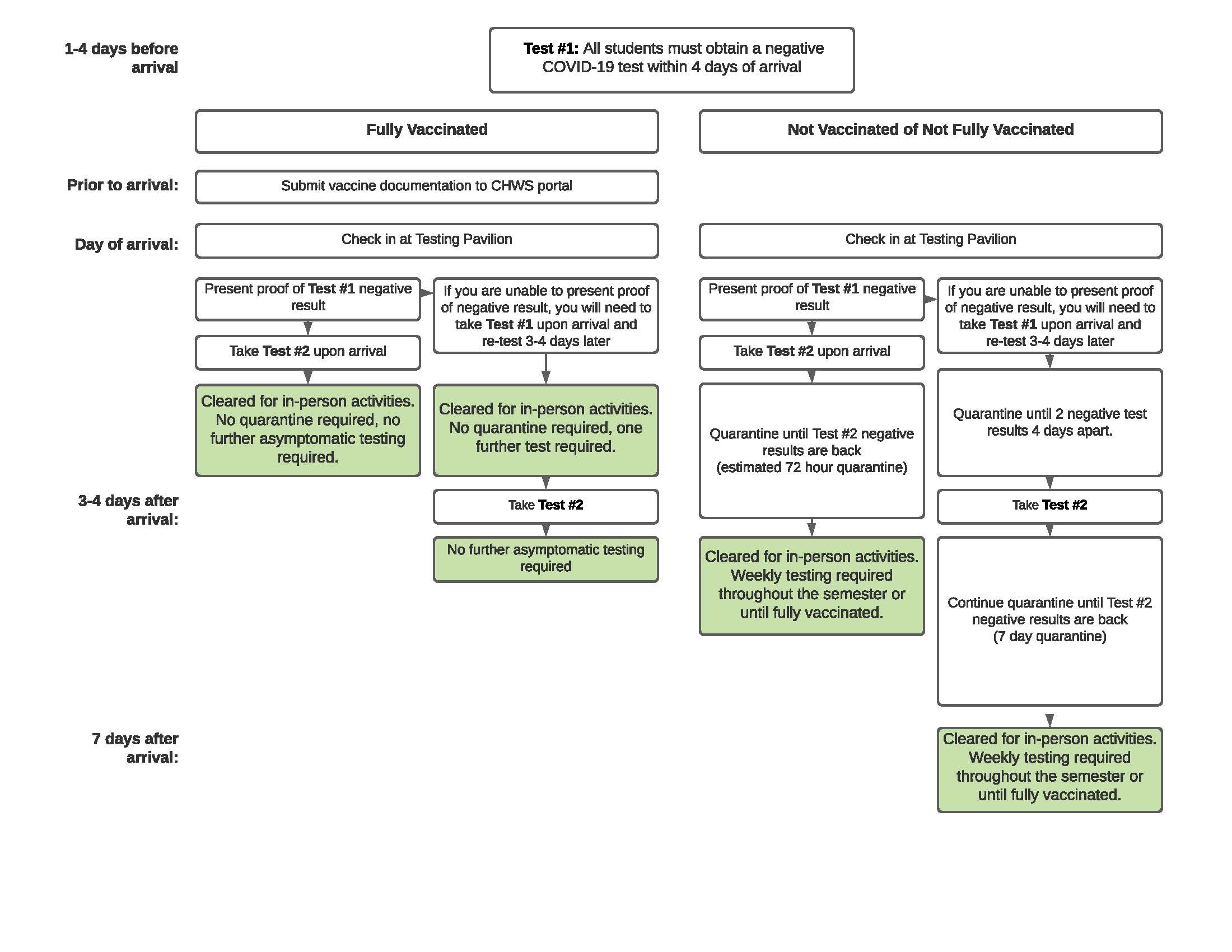 Download the arrival flowchart PDF
Continued Asymptomatic Surveillance Testing 
All unvaccinated students or students who are not fully vaccinated must complete weekly asymptomatic testing throughout the semester or until they are fully vaccinated.