"The Ants & The Grasshopper" Film Screening and Discussion with Raj Patel, Filmmaker/Visiting Chism Scholar
Add to Calendar
2021-12-01 18:00:00
2021-12-01 20:00:00
"The Ants & The Grasshopper" Film Screening and Discussion with Raj Patel, Filmmaker/Visiting Chism Scholar
Please join us for a special film screening of "The Ants and the Grasshopper" with filmmaker/ visiting Chism scholar, Raj Patel. Raj is a renowned author, journalist, filmmaker and research professor in the LBJ School of Public Affairs at the University of Texas in Austin. Raj received his PhD in Development in Sociology from Cornell University in 2002 and has gone on to write 4 books, including "Stuffed and Starved: the Hidden Battle for the World Food System", which is used in International Political Economy Food and Agriculture and IPE 101 classes. Raj is a member of the International Panel of Experts on Sustainable Food Systems at the United Nations, he has published dozens of academic articles, and has appeared twice on the Colbert Report. Raj's latest project is a film called The Ants and the Grasshopper (currently on the film festIVAL circuit), which follows a woman named Anita Chitaya from her farm in Malawi to the halls of US Congress and the farms of the Midwest as she tries to convince Americans that their inaction on climate change has global repercussions. It is a uniquely told talk, eschewing voice-over narration for the authenticity of Anita's story as told by herself. The film takes on patriarchy, global development, the hubris of industrial agriculture, and the ecological and human costs of climate change. This event is supported by the University of Puget Sound's Catharine Gould Chism Fund and brought to you by the Department of International Political Economy. All in-person event attendees must be vaccinated and are required to follow safety protocols announced by the event sponsor, such as masking and registration. We look forward to welcoming all guests, including children and other unvaccinated individuals, back to campus soon. For more information, visit pugetsound.edu/coronavirus. The Ants & The Grasshopper official trailer
Location
support@kwallcompany.com
America/Los_Angeles
public
Dec 01, 2021
6 p.m. - 8 p.m.
Please join us for a special film screening of "The Ants and the Grasshopper" with filmmaker/ visiting Chism scholar, Raj Patel. Raj is a renowned author, journalist, filmmaker and research professor in the LBJ School of Public Affairs at the University of Texas in Austin. Raj received his PhD in Development in Sociology from Cornell University in 2002 and has gone on to write 4 books, including "Stuffed and Starved: the Hidden Battle for the World Food System", which is used in International Political Economy Food and Agriculture and IPE 101 classes. Raj is a member of the International Panel of Experts on Sustainable Food Systems at the United Nations, he has published dozens of academic articles, and has appeared twice on the Colbert Report.
Raj's latest project is a film called The Ants and the Grasshopper (currently on the film festIVAL circuit), which follows a woman named Anita Chitaya from her farm in Malawi to the halls of US Congress and the farms of the Midwest as she tries to convince Americans that their inaction on climate change has global repercussions. It is a uniquely told talk, eschewing voice-over narration for the authenticity of Anita's story as told by herself. The film takes on patriarchy, global development, the hubris of industrial agriculture, and the ecological and human costs of climate change.
This event is supported by the University of Puget Sound's Catharine Gould Chism Fund and brought to you by the Department of International Political Economy.
All in-person event attendees must be vaccinated and are required to follow safety protocols announced by the event sponsor, such as masking and registration. We look forward to welcoming all guests, including children and other unvaccinated individuals, back to campus soon. For more information, visit pugetsound.edu/coronavirus.
The Ants & The Grasshopper official trailer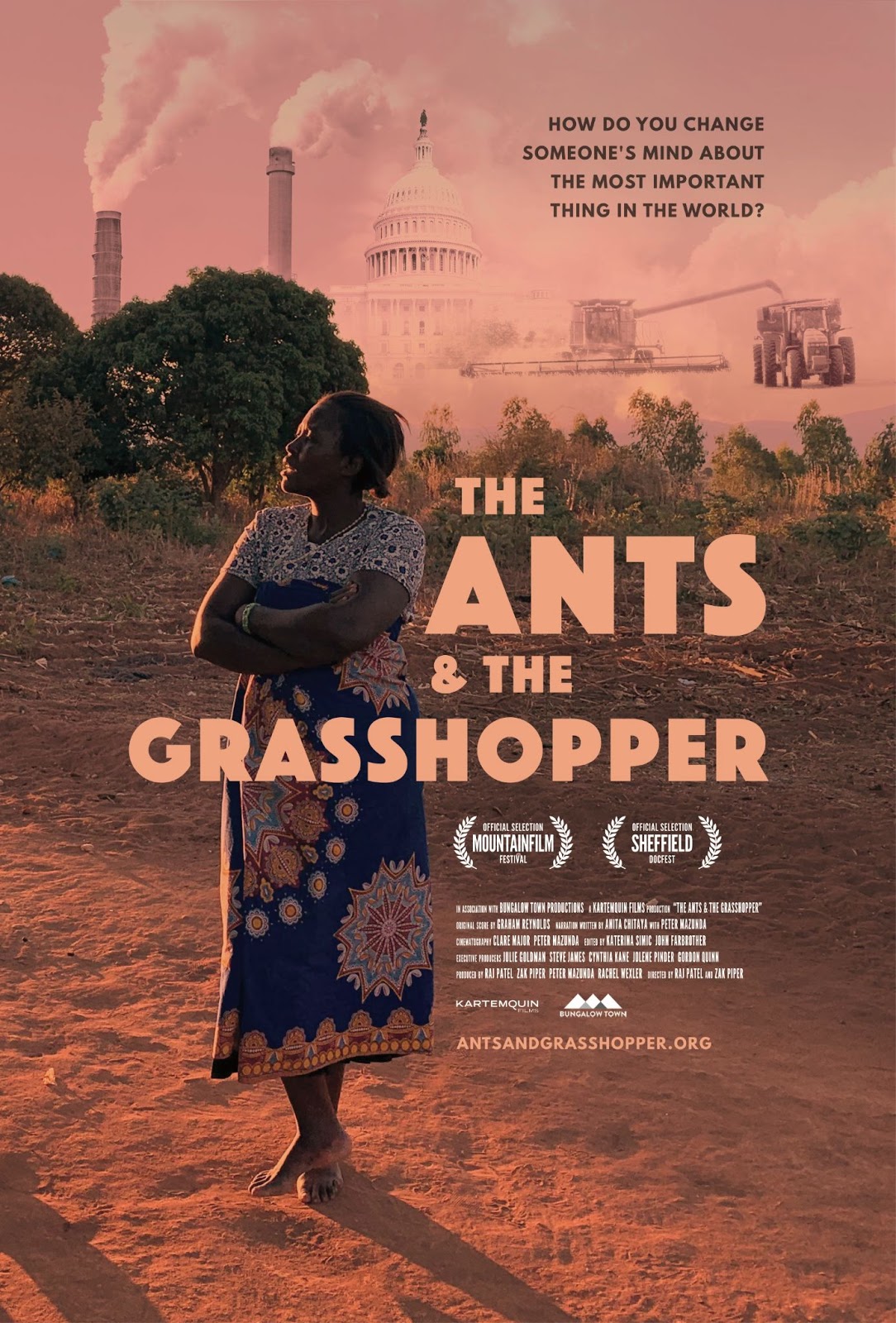 Event Location
Rausch Auditorium, McIntyre Hall