Associate Director of Student Employment Programs, Training, and Development
Connect with Elizabeth on LinkedIn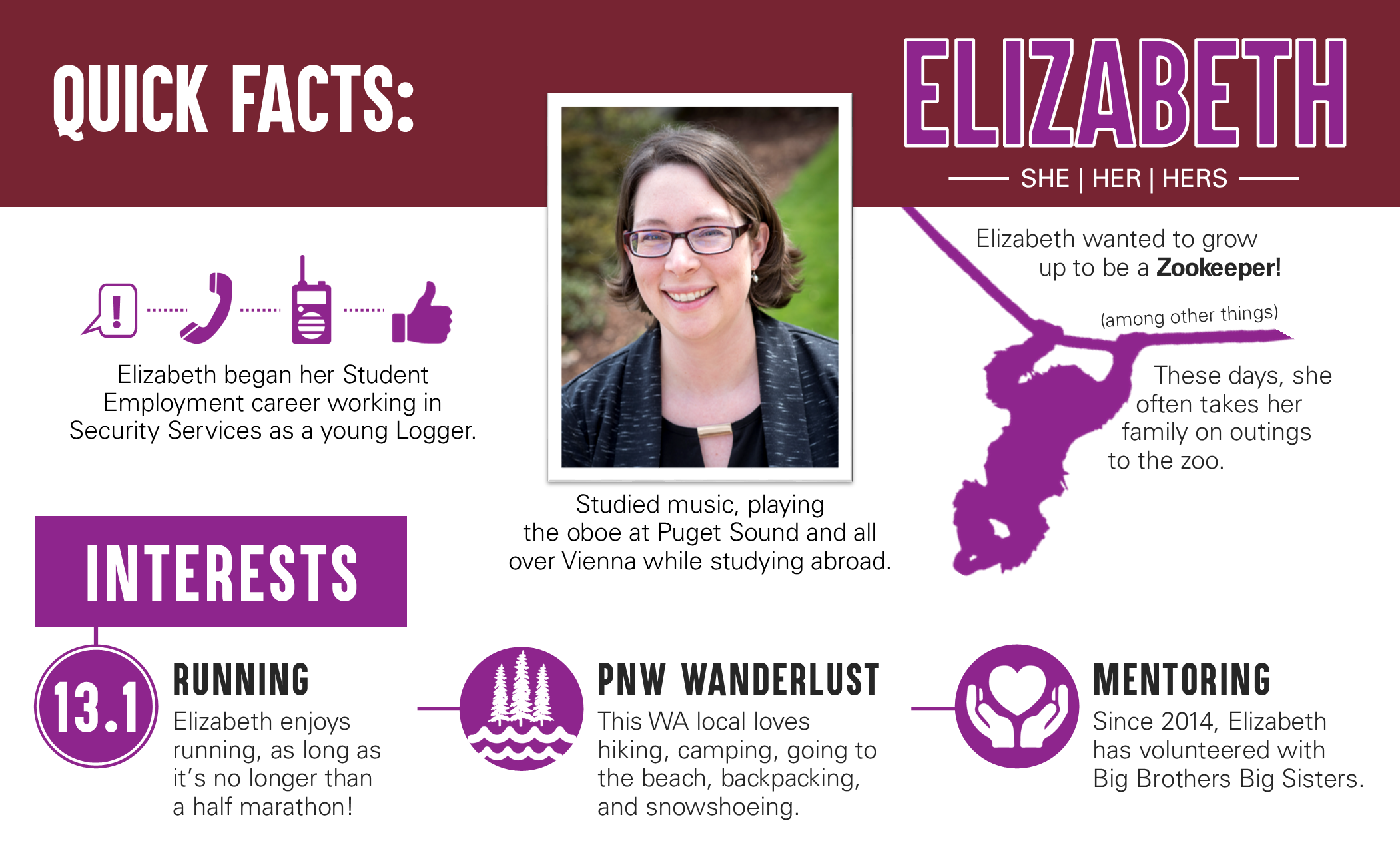 At Puget Sound, student staff members' important work and valued contributions are essential to institutional success! Elizabeth advocates for valuable student employment opportunities and experiences across campus—so that student staff members have the chance to develop skills and work habits that are valued by employers.
When not consulting with supervisors or meeting with students about their on-campus employment and career goals, Elizabeth hikes, camps, and plans social gatherings with friends.
What was your first, or an early job or work experience that impacted your career path?
One of my early jobs was as a pizza delivery driver. It was independent responsibility and I found that I really appreciated the connection with people when I could provide them with something they enjoyed. I also learned about team work dynamics, what I liked in a work environment, and that part of my job satisfaction would always come from how I could help others or contribute to someone's sense of well-being or happiness.
What did you learn in your major field of study that you currently use in your work?
My major was music and I learned that there are many ways to create or interpret something. Of course there are still 'rules' and it always requires an investment of effort, but embracing your own style and interpretation with confidence is what makes the most lovely and interesting music. This idea holds true throughout other aspects of my life. In my work training and consulting with supervisors, and in my work with students, I try to listen and help the person identify a path and actions that are true to their style and goals.
What is your favorite location/event/hidden gem/thing about Tacoma?
One thing that I love about Tacoma is how many ways that you can be outside and engage with nature and, especially, water. We have water on so many sides, from Commencement Bay, around Point Defiance and out to Chambers Bay. I love to walk along the water, hike to an overlook with water views, or even just walk to the end of my street to watch the sun set over the water.