COMMENCEMENT 2023: Sunday, May 14
Commencement is almost here! Please review the following information to learn more about stadium seating, parking, preparing for the weather, and more. 
Live Web Stream of Ceremony
For family and friends unable to attend the ceremony in person, live web streaming will be available, below. The stream will begin shortly before the ceremony at 2 p.m.
Entry
Every guest who will be attending the Commencement ceremony will need a ticket to enter. Tickets do not need to be printed but can be scanned directly from mobile devices.
For the safety of all those in attendance, we request no large bags or backpacks be brought into Baker Stadium. The university has strict policies prohibiting weapons on campus. All bags, regardless of size, are subject to search at the gates.
Pets are not permitted in Baker Stadium.
The university encourages masking outside if social distancing is not possible.
Concessions will be open and available for ticketed guests.
Seating
Gates will open at noon, and seating is first-come, first-served. In addition to seating in the Baker Stadium bleachers, ground-level seating will be provided on Peyton Field. Specific seats cannot be reserved in advance.
Considerations for Guests with Accommodations
Designated, ground-level seating sections will be reserved for guests with mobility issues. Seating within these sections is first-come, first-served. The ceremony will be captioned for guests seated on the east side of Peyton Field, near the platform. An interpreter will also be present in this section. Commencement ushers will gladly assist guests in need of these accommodations to their seating sections.
Weather
University of Puget Sound holds the Commencement Ceremony outdoors in celebration of the striking Pacific Northwest environment so make sure you and your guests dress for unpredictable weather! There is no protection from the wind, sun, or rain on the field; bring sunscreen, sunglasses, caps, ponchos, and umbrellas. The ceremony will take place "rain or shine," but in the event of hazardous weather, an announcement with instructions will be made from the stage, and information will be available on the website.
Parking
A limited number of accessible parking spaces will be reserved in the Memorial Fieldhouse parking lot. Please arrive early as parking is available on a first-come, first-served basis and the lot fills up early. To find available parking lots on campus, please consult this map. The Memorial Fieldhouse parking lot is labeled P3.
Professional Photographs
While family and friends are welcome to take pictures during the Commencement Ceremony on May 15, a professional photographer will also snap a picture of the graduates as they receive their diploma. An email message will be sent to grads within days of the ceremony with instructions about viewing their Commencement Ceremony photos. These photos are available online to view without obligation and may be purchased directly from the photographer's website. For more information visit GradImages.
Commencement Reception
Enjoy refreshments on campus immediately following the Commencement Ceremony on the Event Lawn.
Questions
Please contact the Office of Alumni & Parent Relations with any questions at alumoffice@pugetsound.edu or 253.879.3245.
---
May 5, 2022 Update
Important: Commencement Cap & Gown Distribution Reschedule
Dear Logger graduates,
We have just received an update from our regalia vendor that there has been an unexpected shipping delay and that caps and gowns will not be arriving in time for today's scheduled distribution. 
We will be rescheduling the cap and gown distribution to Tuesday, May 10 and Wednesday, May 11 from 9 a.m. to 3 p.m. in the Rasmussen Rotunda in Wheelock Student Center.
As a reminder, a family member or friend may pick up the cap and gown for a graduate who cannot attend during these distribution hours. They will need to show a note of pickup approval from the graduate or a receipt of purchase. There will also be a last-chance distribution on Sunday, May 15 from 11 a.m. to 1 p.m. on the garden level of Jones Hall.
We apologize for any inconvenience this delay may have caused. Please reach out to our office with questions or concerns at 253.879.3245 or alumoffice@pugetsound.edu.
Sincerely,
Office of Alumni & Parent Relations 
---
April 15, 2022 Update
Masking will now be required in indoor spaces as of April 16, including over Commencement Weekend. The university encourages masking outside if social distancing is not possible.   
---
April 4, 2022 Update 
SPRING COMMENCEMENT UPDATE
Dear Class of 2022 Graduates and Families,
As we approach Commencement Weekend, we have seen recent changes in health and safety guidelines on federal, state, and county levels. As a result, the university has implemented a new policy specific to Commencement Weekend activities, including the main Commencement ceremony on May 15. In an effort to ensure all students can have families in attendance to celebrate their graduation, we are lifting the vaccination requirement for guests to attend Commencement Weekend events on campus
While this Commencement-specific policy will now allow unvaccinated guests (including children under 5) to attend the ceremony, the university still highly encourages all attendees to be fully vaccinated upon arriving to campus. Furthermore, while it is no longer required, the university encourages masking in spaces where social distancing is not possible. Proper masking is an effective way to minimize the risk of transmission for those in our community who are vulnerable or live with people vulnerable to severe illness. 
The university will continue to closely monitor COVID-19 case counts on campus and in our local community and are prepared to adjust our mitigation and safety protocols if needed.
Attendees must still register for tickets for the Commencement ceremony. Graduating students can register for their tickets here. 
You can find more information regarding Commencement on the website. The Office of Alumni and Parent Relations will also be happy to help answer your Commencement-related inquiries. Please contact us at 253.879.3245 or alumoffice@pugetsound.edu.
Sincerely,
Office of Alumni and Parent Relations
---
March 22, 2022 Update
COMMENCEMENT CEREMONY TICKETS
Register for your ceremony tickets today! We encourage graduating students to fill out the form on behalf of their guests. Each grad will receive up to 6 tickets for their guests. Check out the Ticket FAQ & Instructions for help with questions and the registration process.
DON'T FORGET TO ORDER YOUR CAP & GOWN!
You will need a black cap & gown to participate in the Commencement ceremony. You can order caps, gowns, and announcements from our regalia vendor, National Achiever, below. Please place orders by April 1, with a final order deadline of April 15.
Caps and gowns can be picked up on campus during the regalia distribution days on Thursday, May 5 and Friday, May 6 from 9 a.m. - 3 p.m. in the Rasmussen Rotunda in the Wheelock Student Center. 
COMMENCEMENT SPEAKER & HONORARY DEGREE RECIPIENTS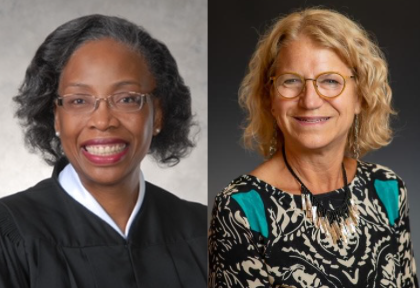 Washington State Supreme Court Justice G. Helen Whitener will deliver the Commencement address and receive the honorary degree Doctor of Laws. Justice Whitener is the first Black woman to serve on the Washington Supreme Court and the first Black LGBTQ+ judge in the State of Washington. 
Miriam Barnett, long-serving CEO of the Tacoma-Pierce County YWCA and director of the Fund for Women and Girls for the Greater Tacoma Community Foundation, will receive the honorary degree Doctor of Humane Letters. 
Read more here.
COMMENCEMENT WEEKEND EVENTS
Don't miss out on any of the weekend events, from Grad Party to Convocation to the Ceremony Reception! Information on individual department receptions will be forthcoming. Details on the event schedule from Friday, May 13-Sunday, May 15. 
"HELP ME PRONOUNCE YOUR NAME!" WITH PROVOST LAURA BEHLING
Name Pronunciation Sessions
We want to make sure your full name is pronounced correctly as you walk across the stage to receive your diploma. If, from experience, you find that people sometimes mispronounce your first, middle, or last name, Provost Laura Behling, who reads the names during the Commencement ceremony, will be available to go over pronunciation of your name. You can find the provost at Diversions/Piano Lounge in Wheelock Student Center during the following dates and times:
Tuesday, April 26 – 8 am to 10 am
Wednesday, April 27 – 11 am to 1 pm
Monday, May 2 – 8 am to 10 am
Thursday, May 5 – 2 pm to 4 pm
Monday, May 9 – 12 pm to 2 pm
COVID-19 POLICIES & CONSIDERATIONS
The health and safety of our campus community remains the utmost priority.  The following policies are subject to change and registrants will be notified by email if any changes occur. Please make note of the following policies:
The University of Puget Sound requires that all guests be fully-vaccinated (including booster) upon arriving on campus and attending Commencement events
  Pre-registration for tickets is required in order to attend the Commencement main ceremony.
  University policy currently requires individuals be masked when social distancing is not possible,   and when not eating or drinking. 
Read the full policy here.
---
December 17, 2021 Update
Dear Class of 2022 Graduate,
Commencement Weekend, the time to celebrate and recognize the achievements of the graduating class, is almost here! The final stages of your journey as a Puget Sound student will be fun and full of excitement, but there are several details you will need to take care of prior to graduation.
Use the following information to help prepare for a stress-free Commencement Weekend. As May 15 approaches, check the Commencement website and watch your inbox for the latest updates about graduation festivities, guest tickets, and additional details throughout the spring semester.
Commencement planning will continue in accordance with university protocols for COVID-19 health and safety management. 
The Office of Alumni and Parent Relations will be happy to help answer your Commencement-related inquiries. Please contact us at 253.879.3245 or alumoffice@pugetsound.edu.
Best wishes during this exciting time,
Office of Alumni and Parent Relations
Commencement Ceremony Details
The 2022 Commencement Ceremony will be held at 2 p.m. on Sunday, May 15 in Baker Stadium. Event gates open at noon and guest seating will be available on a first-come, first-served basis. The ceremony will conclude at approximately 4:30 p.m. and will be followed by a reception for all graduates and their guests on the Event Lawn.
Learn more about stadium venue policies and parking information, preparing for Washington weather, and considerations for guests with disabilities. If you have questions or accommodation needs, please contact alumoffice@pugetsound.edu.
Please note that tickets are required to attend the Commencement Ceremony. Each graduate will receive six guest tickets to distribute to family and friends. Tickets will be distributed electronically. Pending availability, additional tickets will be available by request in the spring. Graduates will be notified by email if these additional tickets become available. Please note that capacity limitations will be guided by the university's COVID-19 management protocols throughout the spring. 
Grad Fair
Attend Grad Fair! Stop by the Rasmussen Rotunda on either Tuesday, March 1 or Wednesday, March 2 from noon - 4 p.m. to order your cap and gown, take professional graduation portraits, get ready to join the Logger alumni community, and more! A Grad Fair email invite will be sent out in early 2022.
Completing Your Last Semester at Puget Sound
Don't forget the details. Tie up those loose ends and have a smooth and stress-free final semester. Get information about degree requirements and your diploma, student finances, and returning library materials.
December Grads
All December graduates are invited to participate in the May 2022 Commencement events. Please notify the Office of Alumni and Parent Relations of any change in your email and/or mailing address so that you will continue to receive Commencement mailings.
Places to Stay
Please find a list of area hotels here. Many on this list offer a discount to Puget Sound families.
Becoming Puget Sound Alumni
Your adventures as a Logger have only just begun. You are about to join an alumni community of over 40,000 Loggers across the globe with unique stories and careers. Our alumni want to meet you and learn from you. Use these resources to prepare for life after Commencement and connect with members of our community who stand ready to help.
---
Re-watch the Class of 2021 Commencement Ceremony.
Re-watch the Class of 2020 Commencement Ceremony.