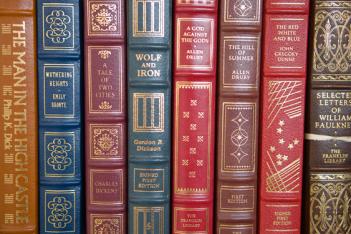 U.S. universities need philanthropies to stay the envy of the world
Seattle Times, June 30, 2015
Read article
Higher Education Will Step Up Experiential Learning
Seattle Business, January 23, 2015
Read article
Civic Scholarship, Inspiring Student Leadership
Diversity & Democracy, published by the Association of American Colleges and Universities, Fall 2013
Read article
Tacoma City Council proclaims March 17 as "University of Puget Sound Day" in honor of our 125th anniversary
TV Tacoma, February 19, 2013 (from 1:40; includes a statement by President Ron Thomas)
Watch video
Tacoma and UPS march arm-in-arm to the heights
The News Tribune, January 16, 2013
College is still our best hope
The Spokesman-Review, June 2, 2012
View Article
Q&A with Ronald R. Thomas
Business Examiner, January 9, 2012
View Article
More than a game
National Collegiate Athletic Association, May 19, 2011
View Article
They will listen, learn and perhaps make a difference
The News Tribune, February 22, 2011
View Article
Include private schools in the college funding debate
The Olympian, January 29, 2011
View Article
The one thing the state really can't afford
The News Tribune, February 4, 2010
View Article
The best investment for 2010
Tacoma Weekly, January 27, 2010
View Article
Avoid catastrophe: Don't cut Washington's higher-education funding any more
Seattle Times, December 8, 2009
View Article
In Search of Efficiency, We Shouldn't Surrender Our Soul to "University City."
The Chronicle of Higher Education, September 7, 2009
View Article
symPOEsium
February 16, 2009
The Best of Times in the Worst of Times
The Chronicle of Higher Education, November 21, 2008
View Article
Lessons for College Presidents from the 2008 Presidential Campaign
The Presidency, Spring 2008
View Article
The new Children's Crusade
Seattle Times, January 14, 2008
View Article
Reclaiming Leadership: The American College and University's President's Climate Commitment
May 1, 2007
View Article
"The Moonstone, Detective Fiction, and Forensic Science,"
The Cambridge Companion to Wilkie Collins, Ed. Jenny Bourne Taylor (Cambridge: Cambridge University Press, 2006): 65-78.
Left behind in the race for education
The Seattle Times, September 14, 2006
View Article
What the Olympics teach us about the role of higher education
The Seattle Times, February 17, 2006
View Article
The Trouble with Art
ArtsFund Keynote Address, November 18, 2005
View Article
Bush's budget leaves college students behind
Seattle Times, March 7, 2005
View Article
Defining Moments: A Vision for the University of Puget Sound
February 2005
View Article
Truth and consequences: the role of an educated person
Seattle Times, September 7, 2004
View Article
To Shine in Use: The Trojan Horse and the Sphere of Common Duties
Inaugural Address, April 23, 2004
View Article
Sacred spaces
Arches, Spring 2004
View Article
UPS, Tacoma benefits from joint lessons in citizenship
The News Tribune, Commentaries, and Letters, August 22, 2003
View Article
Tests of Time: Making a Case for the Liberal Arts in an Age of Assessment and Careerism
Planning for the Campus and the Community in Context: Turning Town and Gown Inside-Out